Welcome to my house tour…it's been a long time coming, right!? Currently my empty house tour tab is one of my most clicked things on my site, yet there has never been anything in it. To think of all the poor DIYers and curious souls I disappoint every single day. No more! So welcome to my always in progress, blurry pictured, somewhat messy house tour. In it you'll find before and afters and links to every project post I've written about things in each room.
In celebration if me finally conquering my blogging Everest I am making this into a party…a link party that is. After you see my house tour you are probably going to be in the mood to devour some more, so I have added a linky at the end for y'all to link up your house tours. So if you're a blogger, link up…don't embarrass me at my first solo linky by not showing up. Seriously, I'll be super disappointed. And please don't link up anything that isn't a house tour, because I will delete it and end up looking like the bad guy at my own party. Don't make me be that person.
So let's begin…
Wait, one more disclosure before we start. When we bought this house I wasn't a blogger (and never intended to be) and for that reason my before pictures are either really crappy, from the MLS, or don't exist at all. I know, I'm kicking myself, but how was I to know that they would be so important? Anyway, keep that in mind. Carry on…
Welcome to our house. It's a three bedroom, two bathroom, ranch house located deep in the heart of Texas. It's 1650 square feet and the front porch is bigger than our first apartment. This is it when we bought it back in 2008.
It looks sad and lonely, right? In my first post about the yard I lovingly referred to it as " an abandon house surrounded by a gravel pit." Also, it has two front doors and that looks really weird to me. (The one to the right actually goes into the laundry room).  So, here it is today….not finished  but so much better!
Outdoor projects : Driveway and grass, garage foundation, garage, fence, self watering garden, DIY playset, sod, side yard
Then you have our front porch, a work in progress for sure.  It's huge and feels like a giant outdoor living room.
Porch projects : Wooden welcome mat, flat entry table, built-in bench, pillows, Texas forever sign (and these aren't there anymore, but I also did the dumpster rocker, porch chairs, painted rubber mat)
Next we  have the entry. As you scroll through you will notice a theme in my before pictures. Salmon. Peach. Pink. Avid Apricot, if you want to get technical. You can call it whatever you want, but the walls, ceiling, and closets were all the same horrible color. For awhile there I felt like I was living in a stomach.
Here is the entry today. I haven't spent much time decorating it…it's usually just a dumping ground for shoes, keys, and diaper bags. I did manage to tidy it up for the internet though.
Entry Projects : None really, everything was done pre-blog. Unless you want to count really random stuff, like the closet organization, broken blinds frame or ruffle Christmas trees.
Take a left and you will enter the kitchen. Well, the kitchen and dining…they are pretty much one room. We have been working on this part of the house for a really long time…like two years. We are slow. No, we are fast, but our double toddler terrors really slow us down. Anyway, the kitchen and dining room are pretty much complete and I LOVE  THEM.  Looking back on these before pictures makes me cringe…woo doggies it was ugly!
Kitchen and dining projects : here we go…. curtains and rods, new appliances, paint colors, painting and raising the cabinets, butcher block countertops, toekicks, stenciled pantry, organized pantry, farmhouse table, penny countertop, planked walls, painted walls, chalkboard, pantry door, plate wall, windows, command center, yellow table, floating shevles, yardstick art, kitchen reveal
On the other side of the entryway we have a hallway that leads to the laundry room, bathroom, guest room, and boys room.
There aren't any posts about the hallway yet (and I don't have a before picture), though we did paint, replace the floors, and redo all the trim/baseboard/doorframes.
The first door on the right is the laundry room…
This was a pre-blog project, so there is only one post about this room: Laundry room.
Next is the guest room (and office/craft room).
Once again, it was completed pre-blog, so there are only two posts in this room: reveal, frame wall
Next we have the boy's room. I did some stuff in here when I was preparing for the birth of my second son, but now we are in the middle of a complete renovation. Somehow I managed to not take a before picture of this room (how???), but it looked just like the guest room, so here is a picture of that one again…
Here is what it looked like about a month ago…
and here is what it looks like at this very second…
Boys room projects so far: triple book slings, nursery chair, decoupaged star, motor oil on the carpet, growth charts, the plan, paper bag floors
Next we have the kids/guest bathroom. We have about halfway remodeled this and honestly I have no idea when we are going to get around to finishing it.
Bathroom posts: lazy girl tiling, vanity, shower curtain, step stool
That bring us back into the entryway, and if  you walk toward the back of the house you have our living room.
Here are the before and afters (so far). Wasn't that pink horrible?
In that last photo, I had cleaned up to take pictures of the living room, which of course means I just hid all the random crap from the living room in the kitchen. So there you have it, blog "backstage", including a little toddler director.
Living room posts: penny countertop, barstools, floors and shelves, toy box, side table, fabric letter, white wallpapered table, debrowning, hexagon leaf table, lampshade, ceiling fan lampshades, DIY curtain rods, homemade curtains, fake blossoming cherry tree
In the living room there is a little hallway that leads to our master bedroom…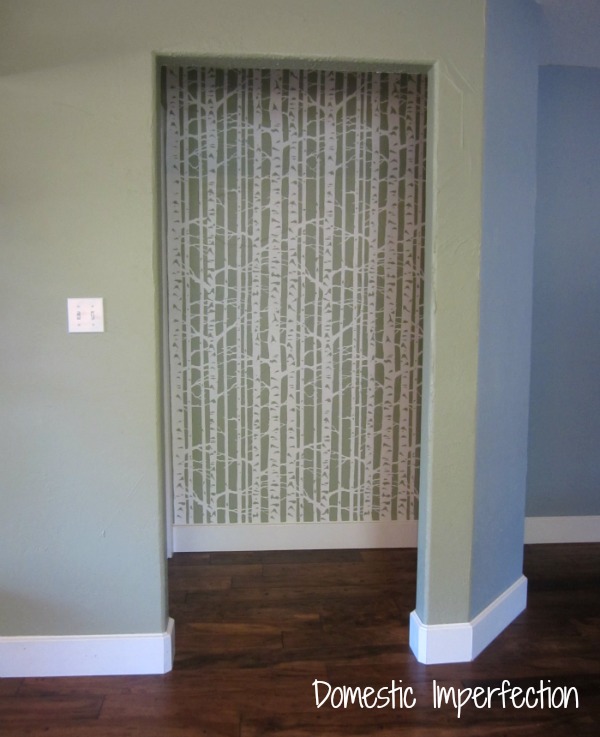 I have a few other things planned for this space (giant floor mirror and new light fixture) but haven't gotten around to them yet.
Hallway posts: just one, the birch forest stencil.
That brings us to the master bedroom. Oh, the master bedroom. I think most of y'all will nod your head in agreement that the master bedroom is normally overlooked. When we start decorating our homes we normally begin with the rooms that people are actually going to see, and we forget about ourselves and our "retreat". My master bedroom is undecorated and constantly messy. It is better than the before, but certainly nothing to brag about. I didn't even clean it up for the internet because that would just be a lie. It's never clean. Never.
Master bedroom projects: The bed that almost killed me.
Moving on to the last room, our master bathroom. This is the room we are currently remodeling (well, this and the boy's room). I haven't even put a picture of it in its current state on the blog yet, so y'all get a sneak peek. Here is the before and the current…
Master bathroom projects: green dresser, wood flooring countertop, wood flooring countertop part II, installing a faucet and sink, how to turn a dresser into a bathroom vanity
And that's that! Is your curiosity satisfied?
If you would like to see all my projects – including ones that aren't featured in the house tour – visit my project gallery. Also, I made a fun little image for your pinning pleasure :) *cough*wink*cough*

And now for the link party…