Dead Tree + Fake Flower Awesomeness
.
Pottery Barn had some
beautiful blooming branches
in their spring catalog. I love how they look, but dang…they're expensive! If I lived somewhere else I could have gone outside, snipped some perfect branches, thrown them in a vase and called it a day, but I live in south Texas and where trees consist mostly of scraggly cedar bushes. While looking online for a cheaper version if the PB branches, an idea started to form. I planted a live oak in the backyard a little while back and it totally didn't make it…
.
.
I know its hard to see, but it's there, right in the middle, dead as a doornail. So I chopped it down, brought it inside and got out my
glue gun
. I don't have any pictures of the process because this was a pre-blog project, but basically all I did was get some
faux pink flowers
and glue them to my dead little tree. My goal was to make it look like a blossoming cherry that you see in springtime. I'm not sure if it looks like that, but I like it anyway. And it only cost about 5 bucks (take that Pottery Barn)!
For the base I found a tall glass thingy at Ross and filled it with rocks from our
gravel pit
…here is the finished product!
.
.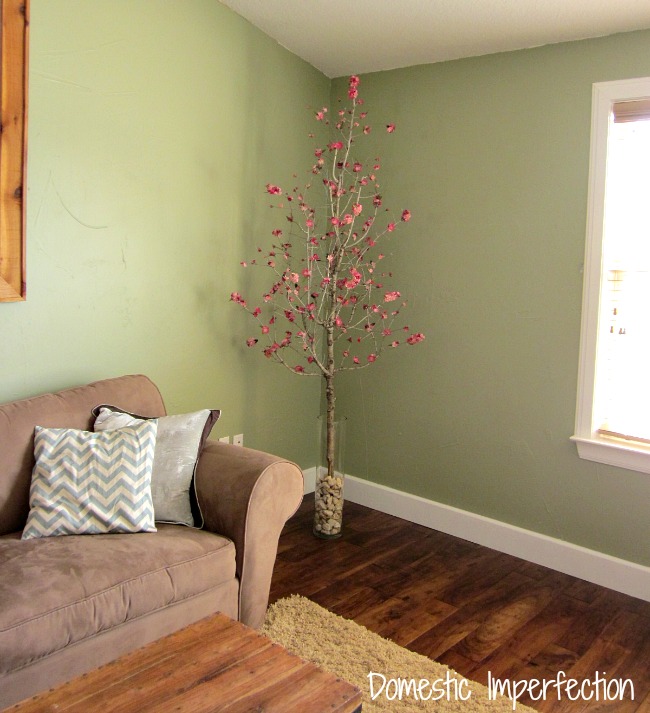 .
For more budget friendly projects and ideas visit the PROJECT GALLERY!