Last September we finished our butcher block countertops, but we didn't do our bar area. I mentioned in that post that I was open to suggestions and got the great idea to cover it in pennies and epoxy. Well, EIGHT months later it is finally finished!
This is one of those projects that if I was to do it again it would be super easy. I now know exactly what not to do, which means I'll fly through all the other penny coutertops I have planned. Oh wait…no, this was the only one. Sigh.
However, if any of y'all want to make a penny countertop, then you are going to LOVE me for saving you a headache. LOVE ME. So here we go…
First we de-laminated the contertop to make it easy to get to the nails to remove it… except that there was NO WAY that sucker was coming off. Turns out that installing this counter was one of the few things the builders of our house took the time to do right. New plan – make penny countertop while installed.
Step two was painting the countertop black, since you were going to be able to see bits of it between the pennies.
Next we had to figure out how we wanted our pennies. We bought a bunch from the bank, but I didn't like that some of them were really nasty looking. I wanted some color variation, but I also wanted all of them to be at least semi shiny. I did some research online and saw that people recommended Tarn-X for easy penny shining so I picked some up at… Home Depot? HEB? I don't really remember…it was awhile ago now.
Anyway, Tarn-X didn't work, it just turned my pennies and dull pinkish color….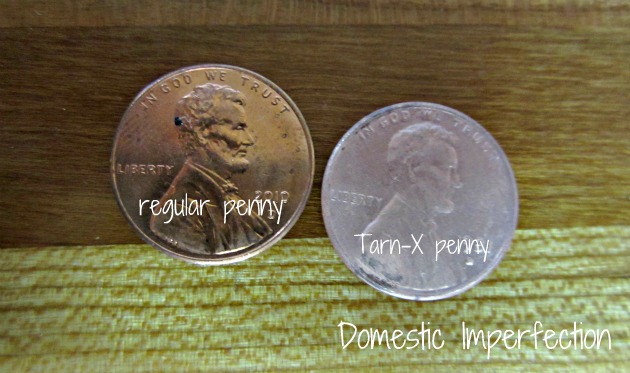 So I went about finding a new way to shine pennies….
So whats the best way? Soak the pennies in vinegar and salt (just a few good shakes of salt, not a ton), let sit for about a minute, then shine with a baking soda/water paste.
Then I set out to shine all 30+ dollars worth of pennies one by one.
Haha, just kidding. No way was I going to shine pennies one by one! What I actually did was go "buy" $50 worth of pennies from the bank (they come in HEAVY $25 boxes) and pick out the clean(ish) ones and deposited the dirty ones back into our account. So what do you do when you have a ton of pennies to sort? Offer free food of course!
Then the gluing began.
so.much.gluing.
(As a special treat, here I am and I'm NOT in my painting clothes….a real rarity around here.)
I know there is a bottle of wood glue next to me, but don't be fooled, it doesn't work. We used Gorilla Glue.
Here is where it gets messy. I wanted the pennies to wrap around the countertop and look all modern and awesome. To do this we had to cut A LOT of pennies… it's not easy to cut pennies by the way. I couldn't do it, Adam and his brother Taylor did all the grunt work there. They used "end snips" to do this, you can see them sitting next to the bowl in the picture below.
Now for whatever reason, the pennies kept not lining up. (Not because we started in random places like the picture above makes it seem..that was taken after I started taking pennies off). We did the entire side, then we started on the top and some of the pennies wouldn't fit. You can't try and force them either, because the pressure would just cause pennies elsewhere on the countertop to pop off like popcorn. Super annoying.
We came to the conclusion that we couldn't have the pennies wrap around the edge. It was a very sad moment. Not quite as sad, though, as the moment I realized that I had to pry all my carefully glued pennies off one by one.
So after about a week of working on it, we were back to an empty black countertop. We brainstormed about what kind of edge to use and decided on copper flashing (to keep it copper/modern on the sides.) Then I went online to buy some and saw that is costs about $1,000 a foot. Okay, so it's not quite that much, but you get the jist…it was too rich for our blood. So we fell back on 'ol reliable….cheap rustic cedar.
After adding the edge (with about a 1/8 inch lip) we filled it with pennies. We didn't use glue or anything, it was super easy. WHY OH WHY did we not just do this in the beginning?
Then it was time to epoxy. I only have pictures of the prep work because the rest of it was really time sensitive and messy.
The epoxy (which I bought HERE) was actually fairly easy. We just mixed according to instructions, poured, and spread with a putty knife. The epoxy was self leveling, so we didn't have to be too exact. We did get a ton of bubbles, so we went over it with the blow dryer to bring them to the surface. Whichever ones we didn't get with the blow dryer I popped with a toothpick. We let it sit overnight and in the morning it looked glossy and perfect!
The end, right?
Not quite. We noticed that the epoxy wasn't quite deep enough and some of the pennies were still exposed a bit. That's no bueno.
Since the epoxy was so easy we decided it was worth another coat. Baaaaaad idea, the second coat was a disaster. It didn't self level, so it was super wavy and looked terrible. Lesson learned…when doing epoxy, make sure you do a THICK coat – thin ones don't turn out well.
The box said you could get a satin finish by sanding and waxing so we decided to go for that and see if we could even things up. Here it is sanded, you can see where it was still uneven after sanding.
Waxing didn't help, you could still see shiny parts and dull parts. At this point I was over working on the countertop, so I decided to just give it a coat of polycrylic and call it a day (month). It worked perfectly… well, perfectly enough for me!
Whew, I'm glad this post is written and I can stop thinking about it! I do love the countertop though, it's one of a kind. I like that the color is similar to our counters in a totally not similar sort of way. Also, it's indestructible. Really, it can take a beating… you can leave water on it (it's where my dishes dry) AND it's easy to clean. Perfect :)