(Update: to read how it holding up after two years, go
HERE
)
.
When reading this post you might be under the impression that we  installed our counters in one really long day. Oh, how wrong you would be. This post covers an almost two week time frame…starting with removing the sink on day two, and replacing it with a new one on day twelve. What did we do for eleven days without a kitchen sink? Well, you will just have to read on to find out.
.
(FYI, this is a really old post and the pictures suck. I am sorry.)
So why did we choose butcher block?
First, we really like the look…it feels warm and inviting (unlike a lot of other countertop options). Second (and most important), they were affordable. We got quotes for all the other types of countertops…granite, marble, corian, laminate…everything was over $2,000. We bought our counters (12ft and 8ft) from
Lumber Liquidators
for $750 in cherry (plus $14 cash back from 
Ebates
…love Ebates!). You can also buy them from
Ikea
, they are slightly cheaper but come in lesser quality woods. Both come completely raw, so it's your job to cut them to fit your kitchen, router the edges, add a hole for the sink, and seal.
For this job we had a couple of Adams brothers come over to help, and the first think they did was measure and cut the counters, making them come together a 45 degree angle in the corner.
If this sounds a little intimidating to you, it's fine to just cut them straight and have them butt up against each other.
While Keith and Adam were cutting outside, Taylor (the younger brother) and I started demo. While removing the backsplash we noticed some pretty funky stuff happening behind them.
I know, ick …I bleached the crud out of them.
And here we go, with the removal of the sink (gosh I hated that sink) and the rest of the old countertop.
 I was told that this was a huge pain because we didn't have the correct tools. What the boys ended up doing was taping the sink template to a 3/4 inch sheet of plywood and cutting that out first.
Then they used that template to cut out the hole using what tools we had.
After much cutting, routing, and sanding…we had a sink hole!
On the underside of our 45 degree joint they added these brackets (called a
draw bolt
)…cause we like our stuff sturdy.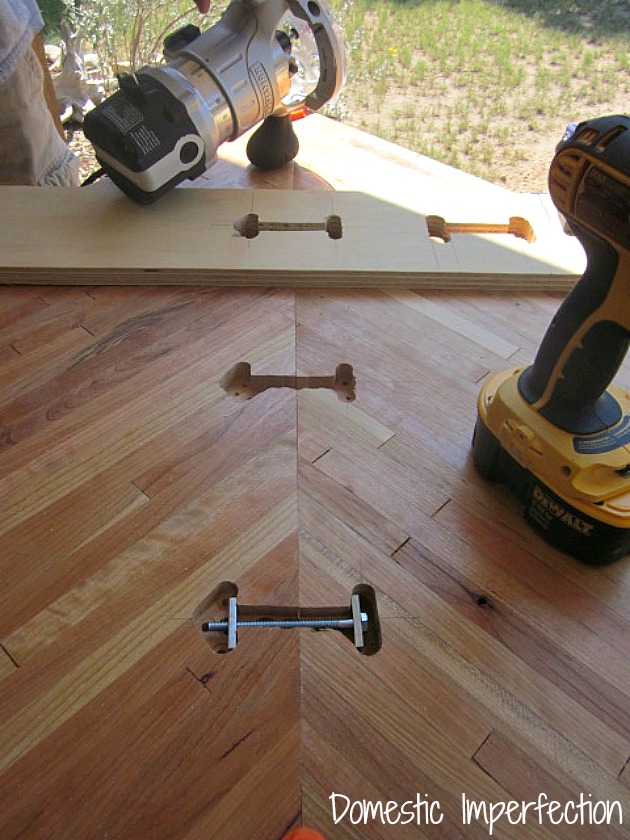 Here are the countertops installed without any sealant.
So sealant, I bet that's why most of you are here. We did quite a bit of research before picking one, but we ended up buying
Waterlox
.
It worked great, went on easy, and made the cherry really pop. (UPDATE- it's been nearly two years and it is holding up flawlessly.)
Everything has a downside though, the downside of Waterlox is that it smells HORRID. So strong that I would apply a coat..then me, my giant baby belly, and my toddler would leave the house for a while.
 We ended up doing five coats of Waterlox (three on the bottom). We applied it with a foam brush and let each coat dry for 24 hours before adding the next. Before the final coat we sanded with 400 grit sandpaper and its smooth as silk!
While this was happening, I was doing dishes (and all other kitchen sink activities) in….the bathtub.
You know what really fun at 34 weeks pregnant? Leaning over a bathtub doing dishes. Bathtub dishes are the best.
After our final coat of Waterlox dried it was really REALLY time for the sink. I only have one picture of the process because I was at a bible study for the rest. Usually you would install the sink before the counter is installed, but because of the size and angle of ours, we installed the counters first. I was told this made for a very difficult sink installation. Sometimes its nice to be a girl :)
I do, however, have pictures of the finished product!
As for the
countertop on the bar area
, we aren't quite sure what to do. We've though about having it wrapped in stainless steel or seeing if we can get some scrap granite (since Adam works for a construction company). We are up for something a little funky as well, if anyone has a suggestion!
And now, ladies and gentleman – the price breakdown. Since I forgot this part in
the last kitchen post
, we'll start there.
Blue/gray Duration form Sherwin Williams – $35 on sale (only used about 1/4 of the gallon)
Quart white Duration paint, also from SW – $15
New hinges – $50
Plywood for shelves in lower cabinets – $20
Butcher block countertops (including shipping and tax) – $750
Delta Leland faucet in stainless – $190
Quart of Waterlox – $30
Extras such as foam brushes, caulk, brackets, shelf clips, sandpaper, etc – $45
Total so far – $ 1,280
Not bad, if I may say so myself. The
backsplash
shouldn't be very expensive and I'm sure we can finish the whole thing for under $2000 (including lighting, shelving, new trim, everything). I think that would make for a successful budget kitchen remodel!