Installing Butcher Block Countertops
Updated June 4, 2023
There are many options for kitchen countertops, and choosing the right one for your space can feel daunting. Do you know what makes that decision easier? Having a teeny tiny budget. When your decision is narrowed down between laminate and butcher block, it's pretty much the easier choice ever. Fortunately, not only is butcher block easy on the bank account but it's also just as beautiful (or maybe even more beautiful) than the more expensive alternatives.
Are you looking for warmth and timeless design? Maybe something you can DIY? Look no further than butcher block countertops.
What is butcher block?
The easy answer is that it is a countertop made out of wood. The complicated answer is that butcher block is a type of wood construction consisting of solid wood strips tightly bonded together to form a thick, sturdy slab. The wood used for butcher block is typically hardwood species such as maple, cherry, walnut, or oak. These woods have dense grain patterns that help prevent the accumulation of bacteria and make the surface suitable for food preparation.
Why use butcher block?
I choose butcher block for three reasons.
Butcher block countertops are warm and inviting. I strongly believe that every room needs wooden elements. That can be anything…flooring, furniture, beams, or decor. My kitchen has none of that, it's just ugly pink beige tile, and now painted navy and white cabinets.
Butcher block is the most affordable option. I collected quotes for all the other types of countertops…granite, marble, corian, quartz…everything was welll over $2,000. We bought our counters (12ft and 8ft cherry slabs) from LL Flooring for $750.
Butcher block may be more easily damaged than other types of countertops, but it is also easily fixable. If/when butcher block starts to look a little rough, it just needs to be sanded and resealed to look brand new again.
Looking to save even more money and make your own wood countertop? I have a tutorial for that! 

HOW TO MAKE A COUNTERTOP OUT OF WOOD FLOORING
Choosing the right butcher block slabs
The final look of the countertop will vary greatly depending on the type of wood that you choose. While you can stain your wood countertop to get your desired color, I personally wouldn't. A much simpler, longer-lasting, more food-safe way to get your desired color is to buy a wood that is naturally a color you like.
We installed cherry, which is a warm red/orange. Also keep in mind that the wood will darken with age. Here is our cherry countertop just after install, and then two years later. It's way prettier with age, in my opinion.
After you decide what type of wood to get, you will need to know how much to buy. Butcher block comes in slabs, usually 6 – 12 feet long and 25 inches deep (a standard cabinet is 24 inches deep, so that leaves 1 inch of overhang). Measure how many linear feet of countertop you will need, keeping in mind there will be waste, corners, and you want as few seams as possible.
For our kitchen, I spent $750 on one 8 ft and one 12 ft cherry slab from LL Flooring.
Installing Butcher Block Countertops
Alright, now let's dive into the DIY!
Prep the space
The first step is to remove the sink. I can't give you any more details than that. Just make it happen.
Next you will need to remove the old countertops. Your old countertops could be installed in a multitude of ways, so climb underneath and see what you're working with. For me this part was crazy easy, I literally just had to remove a few screws and they lifted right off.
Measure and cut the countertops
When I say measure, I mean do it like 14 times. Don't jack this up, it would be a very expensive mistake. If you need to make a template out of cardboard or plywood to make sure your measurements are perfect, do it. Ain't no shame.
Every kitchen is going to be different, and you may or may not need to have two slabs join in a corner.
There are two ways to join the countertops. The simpler way is to have one slab go all the way to the wall and the other one butt up against it.
The more difficult and more professional way to do it is to cut both wood slabs at a 45-degree angle and join them in the corner. This is what we did. And by we I mean my husband and his brothers.
Please completely ignore the tools they are using in the photo, a jigsaw and a router are not the best way to go about cutting your countertop. Ideally, you should use a table saw or a circular saw with a track system (like the Kreg Rip-Cut).
How to join butcher block slabs
To join the two slabs my husband and his brother used wood glue on the edges and draw bolts on the underside. They made a template out of scrap wood and used that to to cut out the shape with a router.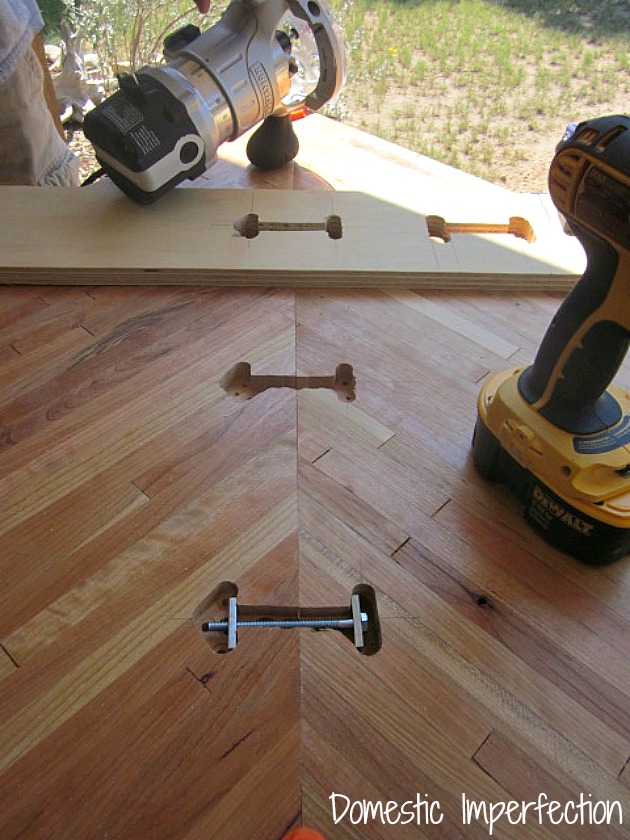 Other good ways to do this would be with a biscuit joiner or a pocket hole jig. Wood glue by itself will not be enough.
Create a cutout for the sink
The next step was cutting a hole for the sink. We choose and undermount sink, and admittedly this was a sketchy decision. A drop-in sink is a safer route with wood countertops, since it would protect the wood from water damage. The look of an undermount sink is just so much prettier though, so we decided to chance it.
The kitchen sink you buy will come with a paper template. You can put the paper template directly onto the butcher block and cut it out like that, but the boys opted for transferring the paper template to a 3/4 inch piece of plywood first.
Then they used that template to cut out the hole using what tools we had (which I was told, once again, were not ideal).
After much cutting, routing, and sanding…we had a sink hole!
Attach your countertop to your cabinets
This part is simple. Once your butcher block counters are in place, use a handful of L brackets to secure it. Clear silicone caulk is also a good solution, but don't use glue.
Here are the countertops installed without any sealant.
Sealing your butcher block countertops
Sealing your countertops well is essential. Sealer keeps the moisture out of your wood, repeals stains, and gives it a rich and beautiful finish. Also, it is much easier than all the previous steps. There are a ton of options when it comes to sealer, and I did quite a bit of research before choosing one. Water-based sealer is my go-to (it's so much easier to use and clean up) but for this project I knew I needed an oil-based sealer for maximum durability.
The winner? Waterlox.
What is the difference between water-based and oil-based sealer? Click below to learn the pros and cons of each. 

OIL BASED VS. WATER BASED SEALER - WHICH TO USE AND WHY 
Once again, I do NOT recommend staining your butcher block. If your wood contertop gets damaged (it will) you can easily sand down the small area, reapply the sealer, and boom…flawless new countertop. If you add stain this would be nearly impossible, you will never perfectly match it.
The oil-based sealer penetrates the wood and beautifully brings out the color and grain. It's really satisfying to watch the wood come to life, actually.
The Waterlox worked really well and was easy to use. I applied it with a foam brush (to avoid cleanup) and let each coat dry for 24 hours before adding the next. I ended up doing five coats, and before the final coat I sanded with 400-grit sandpaper, and it's smooth as silk!
Everything has a downside though, the downside of Waterlox is that it smells HORRID. So strong that I would apply a coat…then me, my giant baby belly, and my toddler would leave the house for a while.
In case you are doing the math here, this countertop project was not quick. If you are thinking you can get this finished in an afternoon or a weekend, I'm sorry to tell you that probably will not happen.
From start to finish, this butcher block countertop project took us two weeks.
During this two week process, I was doing dishes (and all other kitchen sink activities) in the bathtub. You know what really fun at 34 weeks pregnant? Leaning over a bathtub doing dishes. Bathtub dishes are the best.
After the final coat of Waterlox dried my husband installed the sink, and that was a wrap!
Want to know how the butcher block has held up over time? CLick the link below!

MY BUTCHER BLOCK COUNTERTOPS - TWO YEARS LATER
In conclusion…
DIY butcher block countertops are a cost-effective and timeless solution for upgrading your kitchen. With the right tools and a little determination, you can create a stunning and functional surface that adds warmth and character to your space.