Who here has ever tiled before? I have helped people tile, have watched people tile, but until we started working on our bathroom I had never actually tiled before. Nope, never. So if you have something you want to tile and are a bit unsure of yourself, trust me when I tell you…it's not that hard. Granted, I started off with a really easy tiling project, but I feel pretty confident that I could tile a kitchen backsplash or something without any problem.
Now let me tell you some shortcuts :) For this particular tile project I had a deadline (I was entering the bathroom in a contest) and we were running behind schedule, so I needed to finish tiling in one naptime. And I did! Here's how…
First I prepared my tile. I had found these tiles on clearance at Lowes years ago…like we still lived in New York type years ago. They were really cheap and I bought them even though I had no plans for them. The husband was sure they would never get used, so I think he was pretty surprised when he saw them up on the wall. Anyway, I didn't like the rounded pats on either side, so I cut them off. Don't worry, I kept them…eventually I'll find a use for them. That's for sure and for certain!
Usually the next step is to apply the mortar, but mortar takes about a 24 hours to set and I didn't want to mess with it. A friend recommended that I try a product he called "honey strips" that replaces mortar. It basically is just a thin, sticky, fiberglass sheet that you adhere to the wall and then stick your tile to. Now, I'm going to help you out here and just let you know that honey strips is not the proper name, and if you tell the guy at Home Depot that you are looking for honey strips he will look at you like your crazy.
This is what you're looking for, a tile setting mat.
Here is what it looks like up close.
I cut mine down to a little wider than the tile was going to be. To adhere to the wall you just peel off the backing…
then press it into the wall, making sure it's on really well (I went over it a few time with my fist). Next you just pull off the plastic to expose the "honey strips"…
…and press your tile into it. It's that easy! You just saved yourself at least 24 hours and avoided a mess.
From here on out the process is the same as if you had used mortar. I chose to make this tile job super easy, so I bought the spray sealer. Usually you seal the tile after you're completely finished and the grout is dry, but I sealed it before I put the grout on as well. The reason is that some of my tiles were tumbled (porous) stone and I didn't want the grout to stain them.
I also went ahead and bought the premixed grout since I didn't need much. (the color is linen, in case you were wondering).
To apply the grout you need to use the proper tools and try to keep it as neat as possible.
OR
you could do things Domestic Imperfection style and just scoop some out with your hand and smear it on.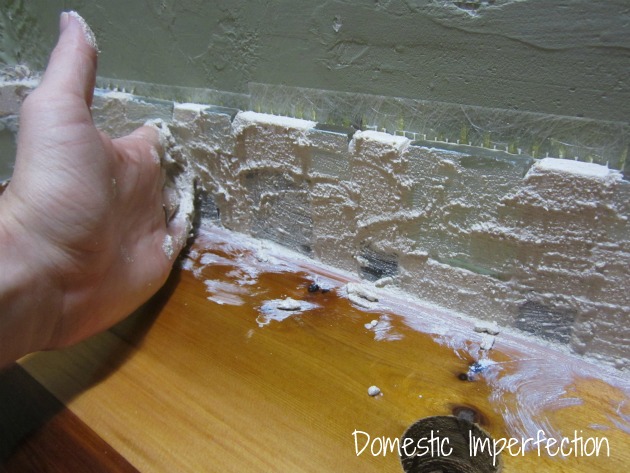 Yeah, the second one sounds more fun, I know. You do need to be careful to get the grout in all the spaces between the tiles though.
After you have the grout all pressed in wipe it with a damp rag or sponge to get all the grout off the front of the tile – you will probably have to go over it a few times. This part will probably be much faster if you used the proper equipment to apply the grout, lol.
After you have cleaned off all the grout, give it good coating with the sealer, and your done!