Okay, I have to admit something. I have the HARDEST time with the first sentence of a post. In fact, I usually write the first sentence last because I don't know how to start. I've been trying to come up with one for this post for awhile and I've got nothin, except for this confession. Now that I've said that your probably going to pay extra attention to all my first sentences, but please don't. Anyway, now that I have that off my chest let's talk about pouring foundations!
(Go HERE if you missed my first garage post).
The first step was to stake out where the garage (by that I mean metal carport/shed combo) is going. We just used stakes and string so we would know how far to spread the gravel. Then we got the gravel delivered…a total of 17 yards and $337. Jiminy Christmas stuff is expensive.
Then we spread it. Well, not "we" so much as Adam, Taylor and Elijah. I was just the photographer because I'm THE BEST at taking blurry pictures.
Even blurry, Elijah is the cutest little gravel spreader I've ever seen.
Here it is mostly spread – yes, that's dust on my lens and I didn't realize it until just now. Unfortunately I think this is also going to have to be my official before picture, as it's the only one I have of this side of the house. Live and learn…when we buy our next house I will know to take a picture at every possible angle and distance before starting ANY work.
The next step was to set up the formboards, which is just the wooden "mold" that you will be pouring your concrete into. To do that, you must first create the perfect rectangle. This turned out to be harder than anticipated. Not that I had anything to do with it, I was inside doing laundry, dishes and baby wrangling. But I saw them from the windows, measurng, remeasuring, adjusting, discussing….
For like four hours.
I would come out every so often to snap some pictures…I really wanted to capture the excitement of our helpers…
After many hours of trying to get everything square, Adam, his dad, and his brothers came inside asking for calculators that did square roots and if I remembered the Pythagorean theorem. I forgot the Pythagorean theorem about five minutes after I learned it, so I was no help there. As you might have guessed, math is not my thing…like most other creative minds, I want to run I the other direction the moment anyone mentions combing letters and numbers or multiplying things times pi.
They ended up getting it not much later, but not with math…guess and check baby, guess and check.
After all the forms were up Adam added rebar….this just reinforces the concrete, keeps it from cracking and having chunks fall off. My only job was to order stuff and take pictures…and I didn't take a photo of this step. Fail.
Next came the concrete.
I'm sure you have all been dying to know how much concrete costs, so let me just tell you…it's expensive. We had five yards delivered and it cost $450. Ouch.
Anyway, here are some pictures of Adam and my dad spreading our savings account…I mean concrete.
(Hey, and there's the rebar! Did I just totally redeem myself?)
We also decided – a little last minute – to add a sidewalk connecting the garage to our front porch. I'm really glad we did, as that simple little sidewalk is going to do a lot to tie the house and garage together.
After the formboards were filled with concrete they used a "screed board" to even it all out.
What is a screed board you ask? Well, it's just a board that gets a fancy name once you start using it for concrete. Or in our case two short boards screwed together.
Then we rented a something called a bull float that made the concrete really smooth.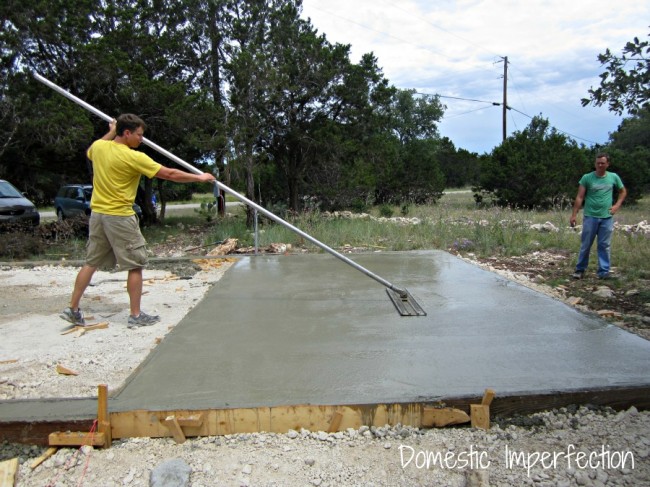 Evidently it wasn't that hard to use, since Adam did it while chatting on the phone.
We let it dry for a few days before taking all the formboards off. It turned out really well..not nearly as smooth as a professional one, but good enough.
Now we wait for the company to comes install it. Sooo…two days. We ordered it six weeks ago though, so don't be thinking it was that quick.
I really have to start writing shorter posts. I post these all these big long posts and they are daunting to write. It would be so much easier if I was one of those bloggers that showed a before and after picture and said "look what we did!". I just can't stop at that though. So I hope you enjoyed my wicked long post about making a foundation…I promise to tackle more feminine and copyable projects soon. Probably not before I show you finished pictures of the garage, since it gets installed on Tuesday and all.