The Grass is Always Greener (Three Years of Yard Work)
Lets start at the beginning…the very beginning. In 2008 Adam and I purchased our first home. It had been on the market forever and despite being a newer house it needed some serious TLC. One of the major downfalls and the first thing everyone noticed was that it had no yard. No grass, no driveway, just a lonely house surrounded by gravel…the gross white dusty kind that sticks to your shoes and is always on your car. Gotta love it.
(Also, I never took a before picture of our house, this MLS picture is all I have.)
I lived here for a year by myself and worked on the house when Adam was being a hero over in Iraq. During that time I planted flower beds along the front. It wasn't as easy as it sounds, I had to use a giant pick and literally chip away at rock to get them to be deep enough to plant anything in. Number of pictures I took during this process – 0.
Fast forward to Spring 2011. Adam was out of the Army and we were settled into our house. Elijah was about a year old, I had just (surprise!) found I was pregnant with Levi, and I had started this blog a few moths prior. One of my first posts was about Adam and I creating a driveway, flagstone path, and planting grass in the front of our house. I wrote one giant post about it (it should have been four or five) and it made a huge impact on the curb appeal of our house. (Go HERE to read that post…my pregnant hard working self of two years ago would appreciate it)
Good news! I did take pictures during that process, here is the general idea…
We spread dirt and planted buffalo grass seed in our new yard. I watered it like a good lawn owner should and it began to come up…kinda. It was loads better than the gravel pit of a yard we had before, but it was sparse and just…not great.
Spring 2012 I started to get desperate. "WHY is my grass refusing to grow?" I started to do crazy/genius things like soak the grass seeds (we had lots leftover) in water for a few days, spread them, and then cover the areas in dirt and old sheets to keep the sun from scorching the seeds/new grass. It worked better than not, but we spent about a month of spring with nasty old moist sheets littering our yard. Number of cool points we scored with the neighbors – 0.
Despite my best efforts and the moldy yard sheets the grass still never took off. Lets take a look at the paisley stenciled table I did last summer. Don't mind the table…look at the grass.
So this spring, when the grass looked liked this….
…we decided to give up. We tried to grow grass, and we suck at it. Enter $600 worth of wide blade Zoysia sod. Lush, drought tolerant, loves south Texas heat. Recommended by my can-grow-anything brother.
It's best that you lay sod all in one day, right when it arrives, so that it doesn't dry out and die. Adams brother Taylor (our perpetual helper) came over and helped me get started until Adam got home from work.
I just have to say, if you are not a patient person or love instant gratification you will LOVE laying sod. After two years or coaxing our grass to grow it was awesome (and maybe a little frustrating) to suddenly have a lush green lawn in the span of just a few hours.
We really should have just started with sod. Live and learn…our next house will get sod immediately.
There are a few dead spots where the layer on the top of the pallets dried out a bit much, but it will fill in eventually.
After the sod was in I felt obligated to pay attention to rest of the yard, so I let the boys pot some news plants….
And I weeded the flower beds and added some fresh mulch. I really should come up with another name for them since they never have (and never will) see a flower.
And then … then, we all took a step back and soaked up the awesome.
I've never had a lawn before. I grew up in the country where it was dirt, stickers, and fire ants. I feel like such a lush lawned city slicker when I look out into my front yard. It's so nice, green, and CLEAN. Great to roll around in and lounge on the porch pillows that never seem to stay on the porch…
Now for everyone's favorite part, the before and after pictures. Looking at these makes me feel very productive and accomplished… and maybe a little tired. Here is the first one, our house when we bought it in 2008 and today.
Here it is looking out from our porch. The first one was actually a pregnancy belly shot, it's the only picture I could find. This is May 2011 when I was about 14 weeks pregnant with Levi and we had just started our first curb appeal project.
May 2011 and today.
One more from the side (you can read about adding the garage HERE, HERE and HERE.)
Ahhh, I love it. Before and after pictures are the best, aren't they?
Now I have a random question. We want to refinish our front door, its a nice mahogany door that isn't in great condition. We would love to refinish it in a natural wood, but the problem is that the neighbors giant lab comes over during thunderstorms (and fireworks) and scratches it frantically. He hasn't been around in awhile, but the door has deep gouges that refinishing won't fix. We could fill it with wood putty, paint it, and never be the wiser, though it seems like kinda a bummer to paint over a nice wooden door. BUT a wooden door would never look great and the thought of a fun colored door makes me a little excited. Soo…paint it or refinish it? And if you say paint it, what color?
Heres a picture to help aid your decision, you can kinda see the gouges.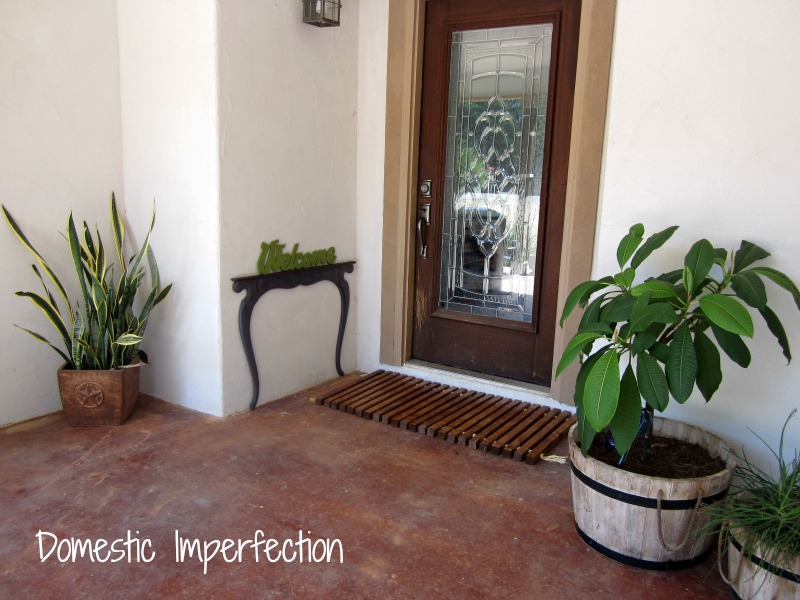 Update – see what I did HERE.