A better title for this post would be "Pinterest Challenge: Part II", since Pinterest Challenge Part I was a big 'ol flop.  To jog your memory, here is the rubber mat I painted and ended up hating…
and here is the mat (from marthastewart.com) that I should have made…
Now if there is one thing I am good at, it's perseverance. I keep at my projects until they look the way I want them to (like my white bed, hexagon table and penny countertop…though I did give up on my slipcovers…). Anyway, the day after I posted my ombre mat I was already buying supplies to replace it. Perseverance is a blessing and a curse, lol.
Martha's website recommends using cedar or mahogany 2 X 2's. At Lowes the cedar ones were $2.75 for four feet (two planks) and some quick math showed that it was going to cost  more than I wanted to spend. Then I spotted some pine ones that were less than $1.50 for eight feet (four planks). Much better. My husband warned me that pine would warp and wasn't the best choice for outdoor projects…but for half price I decided to throw caution to the wind and try anyway.
This project was really easy and my boys were all over it. Here they are trying to decide if I had bought the right amount of wood (I hadn't).
I didn't start the project for a few days after Adam cut everything down, but that doesn't mean Elijah forgot about it…
And when I finally got around to working on it Elijah was right there with me.  I drilled holes in all the planks and he diligently measured my feet.
I can't believe I just posted a picture of my foot on the internet…they are my least favorite feature. Somehow I was blessed with super flat "flipper-esque" size tens to go with my 5'3″ body. My old nail polish doesn't help things either, but it is what it is.
Moving on.
FYI for all you wooden mat makers…your holes may not be even. I measured and marked all mine at three inches in….the drill went in where it was supposed to, but where it came out on the other end was a surprise every time. Whatever, it's fine…rope is flexible!
I gave them a coat of stain (English Chestnut by Minwax) and polyurethane. I polyed them pretty heavily in hopes that it would help them not to warp. I have no idea if the two are related, but I figured it couldn't hurt. 
Then I just laced them together with the rope, tying a knot between each plank.  And yes, your fingers will hurt when you are done.
I kept knotting away, and the longer mat become the more I couldn't get Dances With Wolves out of my head. "Good trade" …I think I feel a movie night coming on.
And here is my wooden welcome mat (aka giant indian chestpiece). It fit's in sooo much better than the blue ombre one.
But wait, there's more…I made two! When you have two front doors hanging out awkwardly on your porch you have to make two mats. Also, when you are scooping things out of the way for pictures, its good to remember that the glass on your front doors will give you away, haha.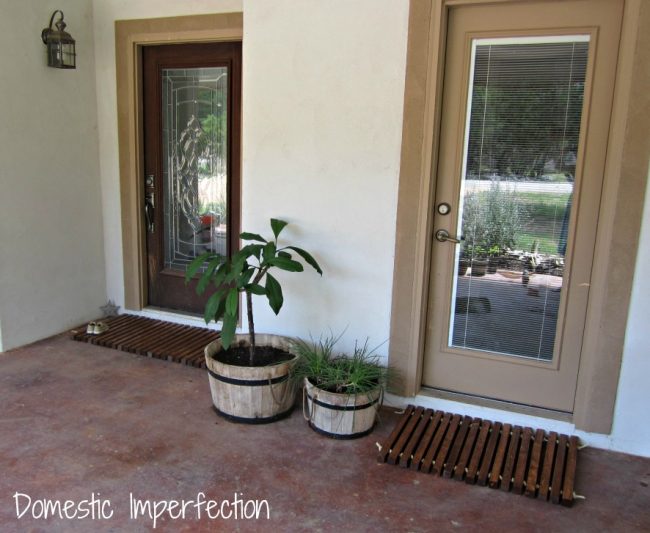 The second one is smaller than the first, we want to make sure the real front door gets all the glory. (If you're wondering where the heck this mysterious second door leads, it goes into our laundry room.)
And there you have it! I love them and will not be making a third mat :) If they start to warp I'll update the post so that future tutorial followers will know not to use pine. (UPDATE  7/2013 – they are holding up perfectly!)