Update: If you're actually looking to follow this tutorial, then please read this planking tutorial as well. It uses the same technique but turned out much better and was a smoother process.
I'm so excited to be writing this post…it means we're working on our kitchen again! The last significant kitchen post I did was nearly a year ago…. which means that most of y'all didn't even know that we are remodeling our kitchen. So allow me to do a super quick review of what we have done so far.
First, we have the before pictures…
Nice, right? The first thing we did was buy new appliances (after painting it, of course)…
After those were in I got the itch…the remodeling itch. The new appliances looked so nice and the rest of it looked so terrible. Adam surrendered to my pleas (really, there's no point in fighting me) and we started with painting and raising the cabinets. This is what It looked like after our first big kitchen weekend…
Next thing to go was the countertops…
And that brings us to a couple weeks ago. Now I have always loved plank walls, The Lettered Cottage has them throughout their house and I've always thought they added so much character. However, I live in a fairly new house and underneath my sheetrock is not planked awesomeness just waiting to be revealed. So one night I was perusing Pinterest and found a picture of a beautiful plank wall in a new house. I clicked over, read her tutorial, and got excited. I showed Adam…and he thought it looked awesome too.
Our conversation about it was pretty simple…
Me – "Baby, doesn't this look awesome? She has a tutorial and it looks fairly easy"

Adam – "Wow, that does look good. You wanna do it in the kitchen? I like it way better than the beadboard."

Me – "Heck yes I do! But I want to do the whole thing…kitchen and dining room, floor to ceiling. "

Adam – "Sounds like a plan."
And then something amazing happened….we actually did it. In a timely manner. And I love it. Go us!
So here it is! (Before you grimace, this is NOT the finished product. It is just the first step in a three-step process…we still need to paint and add trim.)
So here is how we did it.
(I know I keep saying "we", but rest assured, my only part in this project was standing around (aka. wrangling kids) saying things like "This is going to look awesome", "it feels so cozy now" and "ohmygosh I'm terrified to paint it and ruin everything.")
Materials needed –
5mm 4×8 underlayment cut into 6-inch strips (the hardware store will usually do this for you)
Nail gun
Spacer for making the gaps even (you can use a nickel, comb, framing square, etc.)
Sandpaper
Chop saw
Tape measure
Tutorial –
First we bought the supplies, which is really just plywood. Here is what we bought…
It's the cheapest, thinnest plywood we could find. We bought nine sheets, so it cost us less than $100 to plank the entire kitchen and dining room.
Here is the beautiful part of this project and the reason my husband was so willing to do it….the hardware store will cut the plywood into strips for you, for free. We had them cut into six-inch strips, long ways (so 6 in by 8 feet). It was A LOT of cutting and would have taken forever to do on our table saw. It took them awhile to do at Home Depot, even my boys got tired of watching the "big machine". I think I'll wait awhile before I show my face in there again. Haha, just kidding…I've already been back twice.
This next step we didn't do, but hindsight is 20/20. What you should do next is paint the wall the color you plan to paint your planks. If they are going to be white them paint the wall white, because painting between the cracks afterward is a nightmare. Also, take the time to run a piece of sandpaper over the edges, the final product will look much better if you do.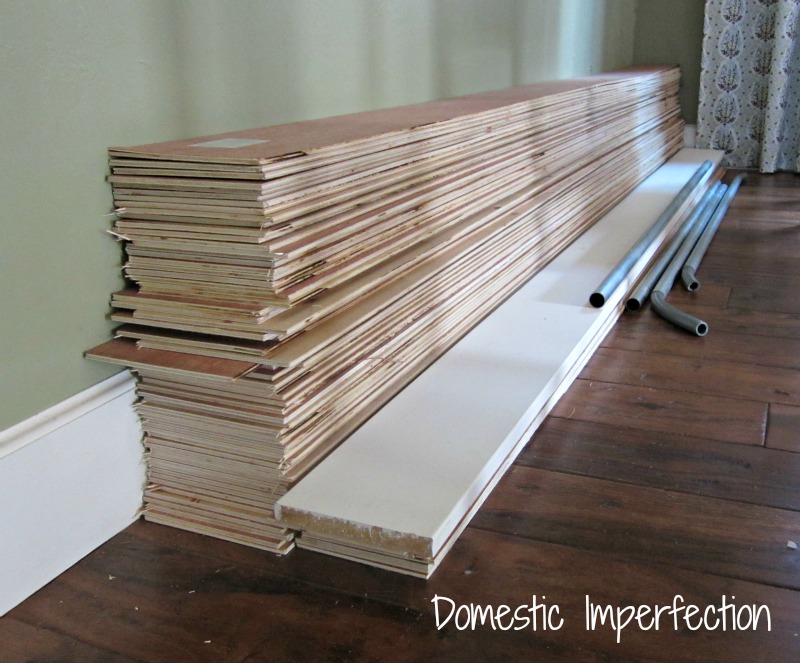 Putting it up was pretty simple. It took us a while because he had to cut around windows and outlets and all that jazz, but if you want to do a big blank wall then it would go really quickly. You just slap a plank up against the wall and secure it with a nail gun. The spaces between the planks are a little over a 1/8 inch…we used a comb to keep all the spaces the same.
The vertical seams are butted right up against each other because I want them to show as little as possible.
As far as the outlets and switches go, we chose to cut around them. It would have looked cleaner if put the planks behind the outlet covers, but then you have to move the actual outlets out be flush with the new wall depth. We did that with the beadboard and it was a pain, plus the outlets were always loose and the covers wouldn't stay on. Not worth it, it's a plank wall after all…imperfect is good! Update – we ended up fixing this and they look way better, here's how we did it.
That's pretty much the process! We have rounded corners in our house, so this is what the corners currently look like.
After I paint we will add trim to make everything look nice and clean. Not quite sure how yet, we'll cross that bridge when we get there. For now, here are a bunch more pictures…
My original plan was to paint them white, but I have a confession…I really like the wood. It feels like a cozy little cabin to me, like I should be cooking over an open flame and wearing a bonnet. I might just like it because it is new and different, but I just can't bring myself to paint it. I don't want to leave it wooden either, because it will always feel unfinished and would probably get old pretty quickly. So I've decided to whitewash it and get the best of both worlds…white, but still showing the knots and "woodness". Update- whitewashing was a total fail, go here to read about the process of painting the planks.
Shop the Look