You know how everyone has a spot in their house that just seems to collect stuff? That place that is everyone's dumping ground? Perhaps it's your entryway, mudroom, kitchen counters or your garage. Ours is our front porch. Yup, right out there in the open.
Let's just pretend for a second that I'm not a giant redneck who stores all her stuff on the front porch. Let's pretend this is a normal home decor blog where I don't show you horribly truthful pictures. Are you pretending? Okay then, here is my before picture…
Not so bad right? A little empty and a little plain, but nothing to cringe at.
The porch has been much better since we built a garage, really it has. The problem was that I had a ton of chairs sitting around from my $100 porch project (that I never finished), so even when the porch was spic and span there was still like six chairs in the corner. Adam wanted to get rid of everything and start from scratch, so we gave all the chairs away to family…including these three bad boys.
Yup, even the dumpster rocker (which was looking a little worse for wear). I did hold onto this one though, because it's sturdy and NOT miniature sized.
Adam decided a bench was in order, something that would seat multiple people and NOT move… because we saw what happens when furniture is allowed to move around on our front porch. The goal was to have it done before Thanksgiving so we could all sit outside and enjoy a nice cold drink…of sweet tea that is.  Because everyone knows that late November is the perfect time for some front porch sitting and some catch phrase playing with the fam.
So here is a quick tutorial that is mostly pictures, because everyone's bench will be a little different (sizes and whatnot) and a general idea is really all you need. Our bench is eight feet long and used three cedar 2×6's, four cedar 2×4's, and a few feet of scrap pine.
First Adam measured and cut everything and put together the frame. He used cedar around the edges and the scrap pine (ours was leftover from our DIY garage foundation) on all the parts that wouldn't be seen. Your free to use cedar for this, we just used pine because we're cheap.
Then Adam, his dad, and Elijah spent a good chunk of time trying to locate the studs on the outside of our house, which evidently are not where they are supposed to be.
Once the studs were located they just screwed the frame directly to the wall and added the angled supports.
It looks like they were working in the middle of the night, but it was like 5pm. This getting dark early thing kills me…and it doesn't even trick the kids into going to bed earlier. Such a waste.
So the next day Adam just screwed the three cedar 2×6's to the top of the frame and coated it with some water sealer.
And there you have it, our unmovable bench…finished just in time for Thanksgiving.
The reason we stopped it at eight feet instead of extending to a less awkward length is twofold…1) the boards come in eight foot lengths, and 2) eight feet just so happened to stop exactly before the only outlet on our front porch.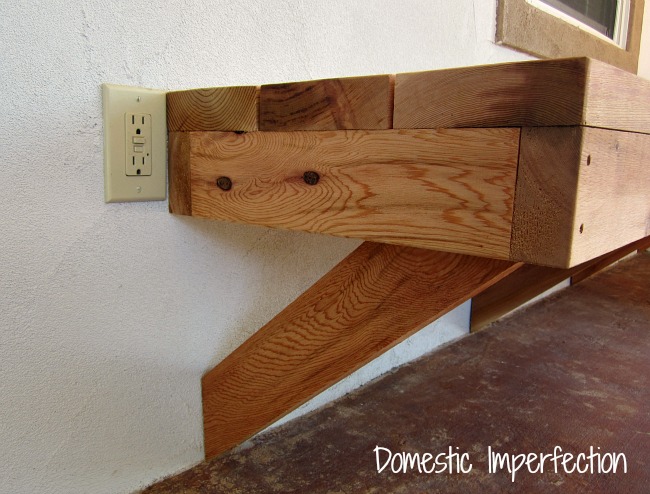 I'm fully aware that right now it looks lonely, plain, and uncomfortable. Just you wait though, I have things in the works!