Alright everyone, this is part two of my bathroom countertop adventure. (If you haven't read the first part you can do that HERE.) When I left y'all we had successfully made a counter out of maple wood flooring, which happens to be particularly hard to stain. Here was my first attempt…
It looked terrible and Adam vetoed it right away. And that's saying something because he never vetoes things, he  usually just lets me gush about weird new ideas that my brain comes up with and then tries his best to make them happen. So we sanded off the terrible stain job (twice, cause I tried to stain it again) and then we just sealed the natural maple with tung oil.
But, I hated it. So here I am, still trying to make a maple countertop dark and NOT have it look like poo.
I spent some time googing for answers and come across a lot of different ways to successfully stain maple. But most of these ways used tools I don't have (sprayers) and supplies I didn't want to buy (dyes), so I decided to just branch out on my own and experiment.
I had heard of pre-stain before but had never used it. We talked about using it when we built our farmhouse table but got lazy and just….didn't. So I figured I'd try my luck with it on this project… after all, I certainly couldn't make it any worse.
But before I went to town on my countertop (which we already had sanded down three times at this point) I used pre-stain on the sink cutout and tried a few different sample colors…
Yes, I'm learning…always the hard way though, haha.
At this point I was already impressed with the pre-stain, and ended up going with Dark Walnut (the color on the far left, although I ran out after one coat and used English Chestnut for the second and third coats).
It turned out great, I couldn't believe it. I think pre-stain and I have a long and meaningful relationship ahead of us.
To seal it I planned to use Minwax water based poly for floors. The Rustoleum version is holding up amazingly on my paper bag floors, and since I love Minwax products I thought I'd give it a shot.
But I brushed some on and it immediately beaded up. I had assumed it was made to go over oil based stain like the Rustoleum stuff was, but I was wrong…my fault for assuming. That's okay, I have other plans for it.
So I wiped it all off and grabbed my (nearly empty) bottle of water based poly that I had used on my paper bag floors.
It went on perfectly…UNTIL I went to lightly finish sand it before my final coat. Once I did that the whole thing turned white. It didn't wipe off, it was just…white. Sound familiar? I swear, I feel like the poster girl for Murphy's Law DIYing. So, just like on my paper bag floors, I had to stain back over the poly…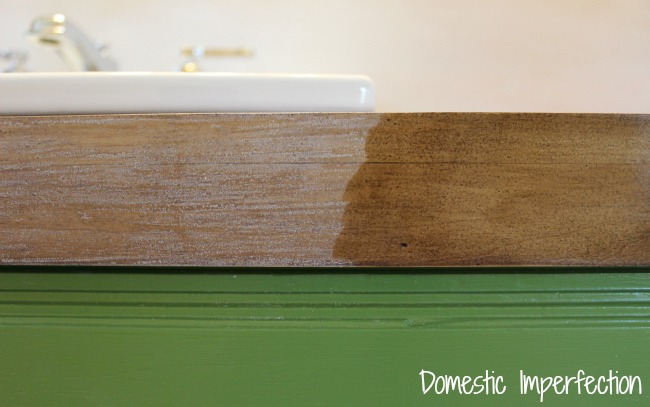 So I decided to fall back on 'ol reliable. Hello best friend…
Perfect.
Here is a side by side of the stained maple, with and without pre-stain.
Quite a difference, eh? Adam approves, compromise accomplished. High fives all around!
And here is the counter – au naturale, and now…
So. Much. Better.
And there you have it. Not the most mind-blowing post by any means, but another project-gone-wrong conquered.  Actually, I'm going to brag on myself for just a second. Brace yourself, here it comes… a lot of my projects go wrong. A lot. Like most of them (is that not how you brag? haha).  BUT, I always get them done and they always turn out well…eventually. I hope y'all find both of those things encouraging, sort of like "if that hot mess Ashley can finish a project disaster, so can I".  Actually if you want a great example of a project gone wrong, go read about my bed. That was the closest I ever got to giving up… Adam offered to burn it for me multiple times. Okay, brag over. So, did y'all do any projects this weekend? Dish.