DIY Screen Door For The Pantry
Way back in February, when I organized my pantry, I mentioned that I was looking for an old screen door to replace our current pantry door. I looked for an old screen door for a while, then a new one…but then realized that finding one in the size I needed was a pipe dream. Our pantry door is so narrow (24 inches) that screen doors in that size pretty much don't exist. Which is okay, because new screen doors cost about $150 – $200, and the one we built cost us a whopping $18.
Here is the previous pantry door…it's a plain jane, cheap as they come, builders grade door. That's not the worst part though, the worst part is that it opened the wrong dang way. It makes no sense and has driven me nuts from day one.
Your going to have to forgive me for this tutorial, it isn't as thorough as most. My husband and his brother Taylor built it while I was inside painting the plank walls and I missed some golden photo opportunities. So I'm not going to get too specific, which is okay because everyone's measurements and door designs will be a little different anyway.
So here's how it went down.
I've been planning this screen door for a while, so naturally when I told Adam it was screen door time he thought I had a solid plan in place. In reality all I had was pretty pictures of screen doors floating around in my head, and I was sure he would take care of the details, since he's a dude and does most of the building around here. When we got to Home Depot we quickly realized that no one had a plan and ended up just grabbing some 1X4's and heading home.
Adam and Taylor cut everything to size and we started fiddling around with the design …while Elijah gave himself the important task of measuring everything in sight. Also, he seems to have lost his pants somewhere along the way.
Originally I had thought we would make the screen door be mostly screen, but Adam pointed out that it wouldn't be sturdy enough, especially made out of cheesy 1×4's. His solution was to mount the entire flimsy 1X4 door to a piece of 3/4 inch plywood that we had lying around AND make the bottom half be solid. What they did was cut the plywood down to door size and cut a window out with a jigsaw. This means the entire back of the door is a solid piece of plywood. (This is where extra pictures would have come in handy…)
After deciding on a design for the front they just screwed the plywood and front pieces together.
Here is what it looked like all put together.
(Also notice – different day, different clothes….still no pants. That's how we roll.)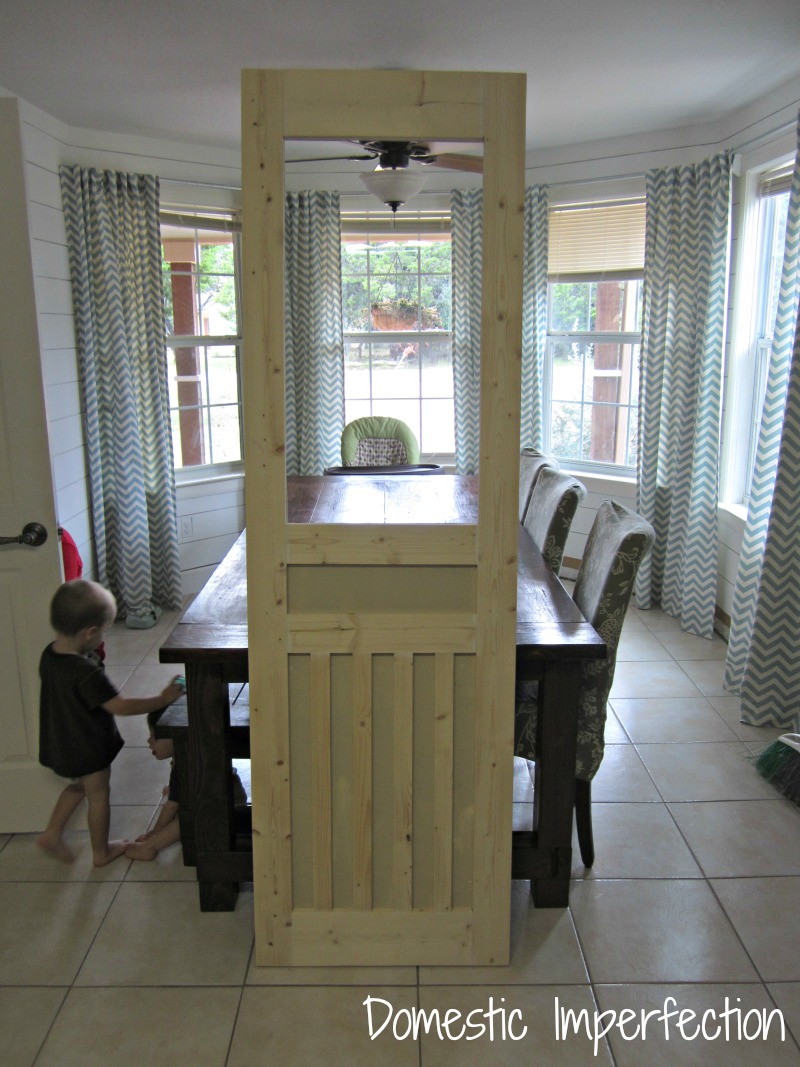 Here is when I decided I was really glad our new door has a solid bottom half. My kids think the pantry is the best toy box ever, so the bottom section is hard to keep organized. That's okay though, cause no one can see it. Nice one Babe.
For the hardware we used this screen door kit that was about $8 at Home Depot. It had the handle, hinges, screws, a spring so it will close on its own, and a lock. A lock!
Adam readjusted some stuff to fit the new door, sanded and painted the door frame, then painted the door and re-hung it. To make things easy (and keep from having to chisel out new insets for the hinges) he just slapped those suckers on the front. Works for me! Remember the motto… "Farmhouse baby!". Everything is acceptable if you just call it "farmhouse".
So here is the new door! Let me just preface this picture by saying that I'm freakin in love with it. Like big puffy heart, make out with it in front of my locker, doodle "Mrs. Ashley Screen-Door" all over my notebook kinda love. I love how it looks with the plank walls, I love how tall dark and handsome it is, I love that you can finally see all my beautiful organization. I love that it looks like it should be outside and I love that it opens towards my kitchen.
Here is the backside, we used a staple gun to attach the screen and then added some trim. I might end up adding some more small baskets to the back of the door, it's begging to be given a purpose. Also, I added a bead of hot glue to the door jamb to keep if from being too noisy when it shuts, and it actually works really well.
Just for fun, here is a little collage of how far the pantry has come. It started out plain and pink, then got messy and pink, then I painted and stenciled it, organized everything, we added the plank walls and now we added the new door and can officially call this space finished!
I'm so happy to have this project finished, I knew it would have a big impact on the space and make it feel …whats the word…homey? Custom? Awesome? Let's go with awesome. Next I'm moving about three inches to the right and working on a ginormo feature wall for the space between the door and the curtain. Everything is finally starting to come together and I'm excited!
Update: The dining room is finished (for now), here is a shot of the whole thing…
To read more about the projects in the dining room click on the links below…
                  Organized Pantry, Farmhouse Table, Planked Walls, Painted Walls, Pantry Door, Chalkboard, Plate Wall, Windows, Command Center, Yellow Table
The dining room and our kitchen are the same room, and the kitchen has received a complete remodel as well.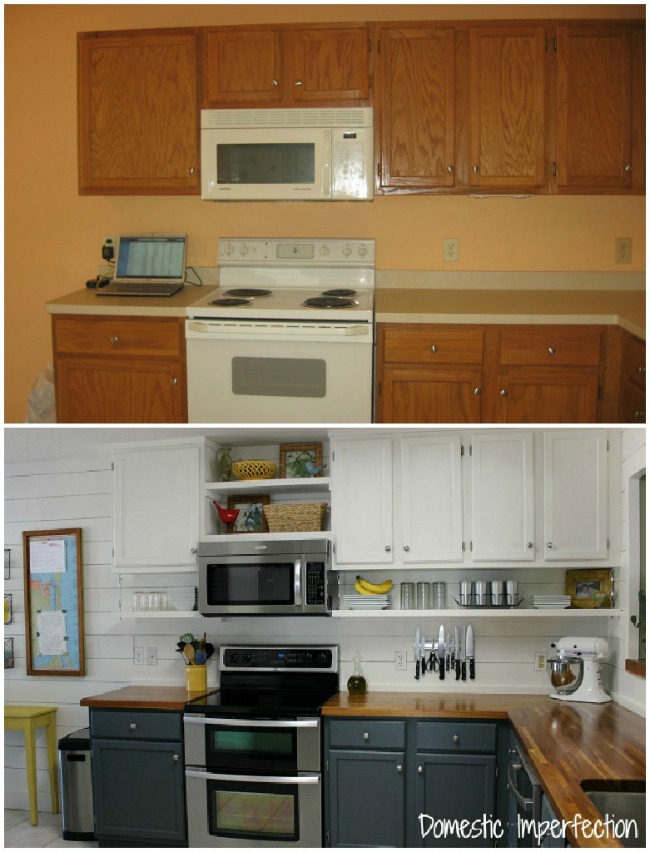 Shop the Look