DIY Chalk Paint Fail & The Bed That Almost Killed Me
So unless you've been living under a rock, you know that chalk paint is all the rage here in crafty blog land. As a member of crafty blog land, I felt as if it was my duty to give chalk paint a whirl. Annie Sloan makes the stuff everyone raves about, so I went online to order some….that's when I saw that it is crazy expensive. Like over $40 a quart expensive. Now I might have ponied up and paid it if I wasn't going to catch a ton of flack about it from the hubs, who already thinks my paint collection is ridiculous AND is the cheapest man alive. So I did a little more hunting and found a recipe to make your own chalk paint. Perfect!
The recipe called for calcium carbonate and latex paint.
I mixed them together as directed, three parts paint to one part powder.
Then I got right to painting! I was pretty excited not to have to sand at all and figured that with Adam and I both painting, we could finish in a single naptime.
Wait, I forgot to tell you WHAT we were painting. Remember back when I did my Union Jack coffee table? Well, the friend that gave us that table also gave us a bed….an old four-poster queen bed.
Here it is in their garage…
Anyway, we don't currently have a bed, just a mattress and a bed frame. Actually, our whole master bedroom is pretty horrific, just an undecorated dumping ground. Hence the reason you have never seen pictures. I have big plans for it though, and if you follow me on pinteret you probably already have a pretty good idea as to what I have in mind. It's going to be awesome, colorful, and a little out of my comfort zone. Since the bed is in the middle of the room, I didn't want it to take over by painting it something colorful, so boring old white is what I decided on. Anyway, we started painting the bed, and I thought it was going to be a quick naptime project.
The good thing about my chalk paint is that it dried really quickly. The bad thing about my chalk paint is that it looked horrible. Even after a couple of coats, this is what we had…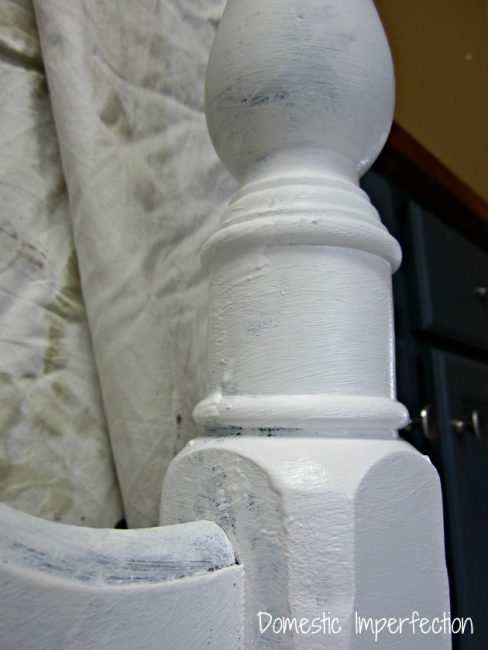 Adam said it was basically crappy Kilz and wondered why people thought this paint was so awesome. I assured him that the real stuff had to be better than this. After all, I don't think I've ever seen a bad review. Ours was turning out so bad though, that we decided to ditch the whole chalk paint idea and just paint it normal. Three weeks later I was done.
No really, that's how long it took me. To paint a bed white. I KNOW.
Let me just give you the quick and dirty version of why it took me so long.
First, the chalk paint fail. Then I sanded the thick, cracked, chalk paint smooth and gave it a coat of real Kilz. It still looked really uneven after that, so I decided to spray paint it. To do that I had to set up all four pieces up against different trees in my front yard. They were probably there for the better part of a week, getting coats of spray paint whenever I got a chance. Then I discovered that wasps had found some tiny little holes in the bed and were using them to house their offspring. Seriously, here is a pic…
Gross, right?
It took me so long to notice because the wasps sealed up the holes with mud and I had spray-painted over them. Anyway, I had to dig those suckers out and clean the holes. Twelve holes in total…all occupied.
Then it rained (crazy thunderstormed, actually) for a few days and the bed got blown over on my front porch and broke. Fixed that with wood glue and clamps (it was just a pole).
Then I decided to give my plain jane white bed a quick coat with dark glaze to bring out some of the character. Total fail…the glaze dried really quickly and didn't want to wipe off. Also, the wasps found the holes again laid more eggs…you can even see one in the picture…
Maybe the glaze didn't work because the spray paint finish was with matte paint? I don't know, but I had to repaint it…with regular paint, because I had used all my spray paint. Oh, and I cleaned out all twelve holes, again.
THEN, once it was white again I gave it a quick distressing (no way was I going to try glaze again), a coat of polycrylic, and called it. Before the poly was even finished drying Adam was dragging it into the house to set up, which means that I have to show you the after pics of it in my bedroom. Taking any pictures of my bedroom was definitely not my plan…guess it serves me right for letting it litter the front yard for three weeks. Anyway, here it is…
You might be thinking…"that bedroom doesn't look so bad." Yeah, well, I cleaned it up for pictures. Here is the pic I took before I cleaned it up…
Consider that your ego boost for the day.
Anyway, here is a close-up of the distressing. I only distressed it because the paint still doesn't look that even, so I figured I would make the crappiness look purposeful.
I do really like it though. After eight years of marriage this is the first time we've had a bed…kinda makes me feel like a real adult!
Has anyone here had a DIY chalk paint success? I'm thinking I'll try again on a smaller project and just use less power. Or should I just pony up and buy some real stuff? They sell some sample containers…that might be a good place to start.
You may also like –