How to turn a Dresser into a Bathroom Vanity
Dressers are super versatile, you can transform them into a host of things. I've seen them made into media centers, changing tables, buffets, benches, bookshelves, toy storage, and last but not least, bathroom vanities. When we decided to start renovating our bathroom last month I knew I wanted a dresser as my new vanity. I liked the idea of the vanity looking like a piece of furniture and I wanted the storage.
I've written a few posts about the process so far, but this post has all the information in one spot, including cutting space for the drain pipe (the most daunting part).
Step one – Find a dresser that is the right size.
If your bathroom doesn't have walls on both end of the vanity than this will be fairly easy, if it does (like mine) this may take a while. I hunted for weeks before I realized that the dresser in my boy's room (which we had been using as a changing table) fit perfectly. Seriously perfectly, it is about half an inch shorter than the space between our walls.
Step two – Make it pretty.
My dresser was handed down from my grandma and it was bright yellow. I painted it white a few years ago, but for my bathroom I wanted it to be a pure green. You can read about the dresser transformation by CLICKING HERE.
Step three – Cut a hole for the sink.
For us, this step included building a whole new top for the dresser, but depending on your dresser and the sink you choose this step may not be necessary. We wanted a larger sink, but the problem was that any decent sized sink was too deep for the counter (as in it hung over the dresser in the front.) We decided to build a countertop out of hardwood flooring, which is a great solution for those of you (us) that don't own a ton of tools. You can read about that process, including cutting a hole for the sink, in THIS POST.
Step four – Remove the old vanity.
This is easy…just unhook all the connections (have a towel handy!) and get to ripping.
Just FYI, the drain pipe that sticks out of your wall will stink. Bad. Adam swears it not just us (he worked as a plumbers assistant a long time ago) and that all drain pipes smell horrid. Whew. Just cover the pipe with a plastic bag and rubber band until its time to hook everything back up.
Step five – Install your faucet.
You can read that process HERE. You can obviously skip this step if you are using your old sink and faucet, but if you bought a new one of either you will want to install the faucet (before you install the sink!)
Step six – Put your new vanity in place, assemble everything, and cut a path for your drain pipe through the drawers (this is where this post kicks in).
This part is going to be different for every dresser, but the general idea is the same. Hers is our dresser all stripped down, and you can see that the drain pipe is right in the middle of everything. Bad news for the drawers.
This is where you get out your jigsaw and go to town. That's really about as much advice as I can offer, but I think these pictures might give you a better idea of what is involved…
I know, those pictures makes this look like a daunting task. The drawers do complicate things, and if you could find a dresser with a door in the center it would make this part much simpler.
After everything was cut we just put it all together – installed the drain and made sure it was leak free, put the countertop on and screwed it in place, dropped in the sink, caulked around the sink, and then organized all the drawers.
Quick tip about caulking the sink. You want your caulk lines to be straight because they will be right out there in the open. The best way to do this is to use painters tape along both sides of where you are going to caulk (I wrote a tutorial about that HERE). Also, I found that smoothing it out with a baby wipe works great.
Also, make sure you wait until the sealer on your countertop is cured (so like 72 hours) before you put painters tape on it…it WILL pull up the sealer. Trust me on this.
And that is that, our master bathroom vanity is complete!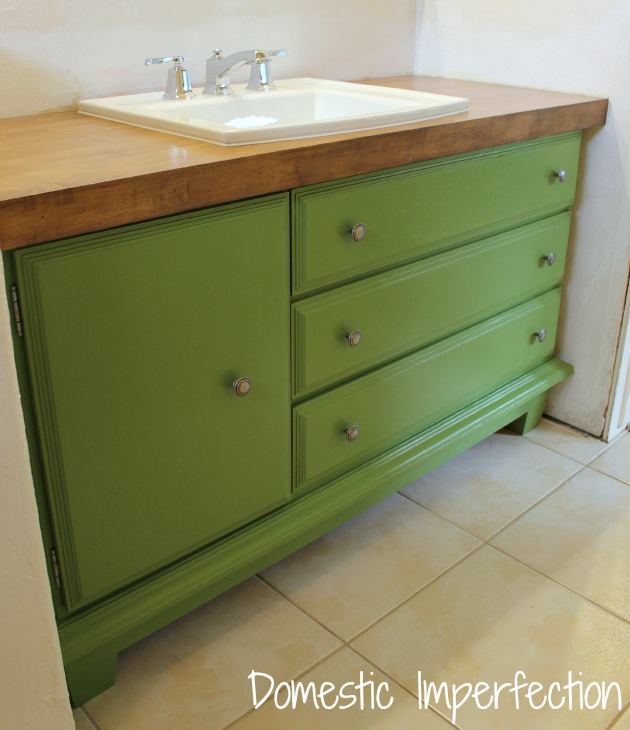 It has a ton of room for storage…
(We thought about adding surrounds around the holes to keep stuff from falling in the holes, but decided to see if it's a problem before we make more work for ourselves. It's been a few weeks and we haven't had any "incidents", so I think we may just leave it.)
and is WAY better looking than our old vanity…
(It is nearly impossible to take a decent picture in this bathroom – I had to stuff myself in my linen closet and take a million photos to get that after shot!)
Next, we tackle the rest of the bathroom….
You might be wondering "Ashley, what the heck is up with the green? Where are you going with this?" Well, I've never decorated our master bedroom (this bathroom is in our room) but I do have a plan and have bought a few things for it. Here is the quilt for our bed, this is where I am drawing my color inspiration.
Don't get too excited, I don't think I'm going to get to the bedroom for a long time…but at least now you know where my colors are coming from!

To read the other bathroom remodel posts click the thumbnails below…