Painted Plank Walls, Finally
Who knew that painting the plank walls would turn out to be the major project of the month? Seriously, painting the walls was more labor intensive than actually putting up the planks. Okay I may just be saying that because installing the planks was completely done by my husband, but still…painting these suckers took forever. And if you're wondering what the heck happened to the whole whitewashing thing, I'll get to it, don't worry. First though, let me show you some before and after pics, because that's everyone's favorite part!
So here are my plank walls, pre-painting…
And here is my ultra bright and majorly white kitchen now…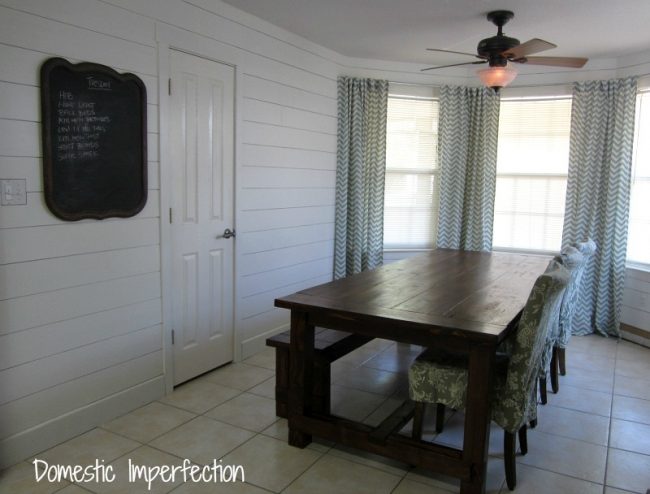 Granted it looks really bare, but that will change once we get to the decorating stage.
Those of you that are here only to see before and after pictures can stop reading and move on, but if you're interested in why whitewashing didn't happen, trim details, and my kitchen to do list, then read on!
So whitewash. I was pretty excited about the prospect of whitewashed walls, I thought they would be fun, different, and stand out in from all the white planked walls I've been seeing across the internet. I had never whitewashed before, so I turned to Google and pretty much everyone says that a 50/50 mixture of water and paint is the cat's pajamas. The bee's knees. The top banana, if you will. Let me tell you something about a 50/50 mixture of water and paint….it is superbly runny. It's pretty much like painting with milk.
Now as you might have noticed, I'm a pretty messy painter even when the paint is thick, so this was pushing the limits of what my non messy husband could handle. I had paint dripping down the walls, spots on the floor and table….I even had it running down my arm and dripping from my elbow. There was no way I was going to make it through the whole kitchen and dining room like this, so I started to experiment with different paint consistencies.
Here is what I found – a 70/30 mixture was the easiest to work with. It provided decent coverage and wasn't quite as drippy as 50/50 (though still messy). 100% paint looks about the same and is by far the cleanest, but it dries so fast that you have to be super quick to wipe it off and can't do big areas at once.
So I mixed up a big batch of 70/30 and got to work. I forgot to tell you how to whitewash, though I'm sure you've inferred it by now. You simply paint it on like normal, and then take a rag and wipe it off. Really, that's it…and it's hard to mess up and is very forgiving. So here I am whitewashing my messy little heart out.
So here is one wall finished. Well, kinda..it needed another coat. Adam kept coming in and asking me "Soo0…how do you like it? Is it turning out the way you thought it would?", to which I would step back and stare, willing myself to fall in love (with walls…I'm already in love with my husband). Finally he just said "I think it looks terrible" and I said "Thanks goodness, me too. Let's just paint it."
We made the right decision, I really love the fresh clean white walls.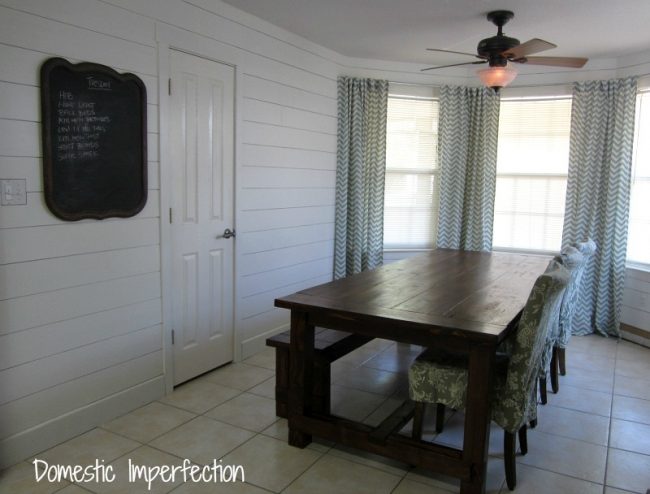 Let me tell you why painting these walls took about a month. First, the area between the planks was tan (the wall color before). I thought that would look best and make the planks stand out, but it just looked….weird. So I had to go through and paint all the cracks with the whitewash mixture and a teeny artists brush. Then I puttied and caulked all the holes from the brad nailer, since they really stood out once the walls were painted solid white. Then the walls ended up taking five coats of paint in some places…three of Kilz (primer) and two of the paint. The wood just soaked up the paint and it kept looking blotchy. Then we needed to add trim, so we went to Home Depot and quickly realized that it was going to cost us $50 – $100 to do the trim (depending on what kind we choose). It cost us just under $100 to plank the entire kitchen and dining room, so paying that much for trim just seemed absurd. Then Adam had the awesomely cheap idea to make our own trim out of the leftover plywood from the walls.
It's not perfect, but that's okay. We treated these walls the same way we treat our homemade table….imperfect is good. When the table get's a new dent or scratch or warps a little we just proclaim "Farmhouse, Baby!" and move on. Calling something "farmhouse" covers a multitude of sins.
So that's pretty much what I've been spending my nap time and post bedtime hours doing the last few of weeks. Did you think I'd forgotten about you?
Anyway, here are some fun collages of our progress so far….
Looking pretty good if I may say so myself! Granted, when I look around, THIS is what I tend to see…
If you're a really close follower you might have noticed that "new floors" is now on the to do list. We tried to fight it, saying that there is nothing wrong with the tile. There really isn't…they are big, ceramic, neutral tiles. Nothing is chipped or broken. And the number one best argument for leaving them…they are already there. But the truth is…we both hate them. They are IMPOSSIBLE to keep clean and show every speck of dirt. They are too light, too uniform and too shiny. If we are going to do all this work to the kitchen we might as well not stop short of making it something we love. If we didn't have a budget (wouldn't that be nice) I would love to do the floors in a natural shaped flagstone. But we do have a budget, so I'm leaning towards a darker rustic travertine done in an interesting (non-grid) pattern. The challenge will be to find what I am looking for and spending less than $2 a square foot!
Update: We planked the boys room and it went much smoother. Read about what we did differently HERE.
Shop the Look