Bay windows, though beautiful, can be a problem when it comes to adding window treatments. The main problem is that hardware can be crazy expensive, if you can even find any to work for your particular window. But I found a way to my windows go from the bare before to the much better after for only $100 (including the curtains!).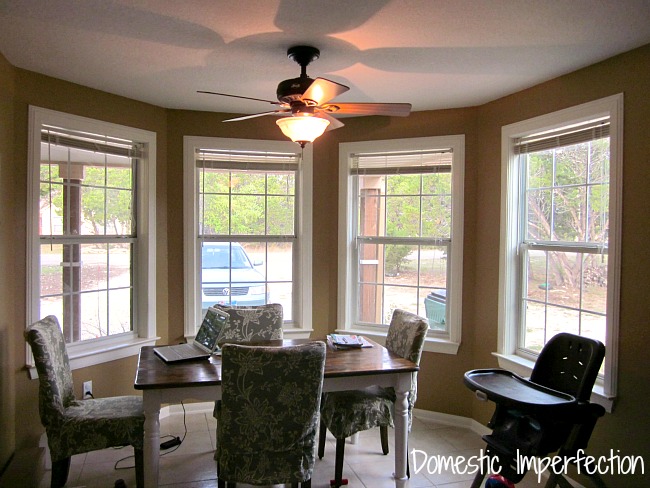 .
Here is what you will need to make the bay window hardware –
Materials
The first step was to measure and cut all the conduit. I measured my windows from wall to wall and took off about 3.5 inches to leave room for the joints (not all of mine were the same length).
Next I hung the brackets and put the conduit in place, then I stuffed some plastic tubing in the joints to connect the rods. This will give you one continuous rod and assure that the curtains won't fall between the cracks. I know it's not the prettiest thing, but it will be covered by curtains and you will never see it (also, you can spray paint the whole thing if you want a different color). Here is what it looks like finished…
Next step…make the curtains. After a few rejects, I ended up choosing a
grey/blue chevron pattern I bought off of fabric.com
. I bought 15 yards and had juuuuust enough. I had to make back-tab curtains to that I could lace them around the hardware and have a clean finished look. I'd never made them before so I just winged (wung?) it. First I made the tabs by cutting 4-inch strips, folding in half and sewing. I did this so it would have a nice edge when I turned them pattern side out.
(Also, I've discovered a way to make "back tab" curtains without actually having to make tabs. It really is so much easier and I don't ever think I'll make tabs again. CLICK HERE to read that post.)
Here they are finished, I made eight for each curtain for a total of 40.
Next, I hemmed all the four edges of each curtain, then I folded down the top edge of the curtain (4.5 inches) and pinned the bottom part of the tabs to the edge, sewing the tabs and seam all at once. For the top of the tabs, I folded them over to be even with the top of the curtain and sewed them individually.
 Here is a view of the back of the curtains all hung up…
 And here it is finished! My casual dining room looks much more "grand" now!
The grand total for this project ended up being just under $100. Not bad considering I've seen the same curtains (shorter, rod pocket) selling for $150 a pair on etsy. Hmm…maybe I should sell curtains…
.
Update: This post was one of the first posts I'd ever written and we have done a ton to the dining room since then.
You may also like –
Farmhouse kitchen on a budget – the big reveal!
How to update your shower with paint (no, really)
How to make curtains the easy way
Flooring that won't break the bank (because it's made out of paper!)