Paper Bag Floors; A Step by Step Tutorial
Welcome to the first post of my (seven-part) paper bag floor series! Here you will find more information than you ever wanted to know about installing paper flooring in your home. Let's go ahead and jump right in, because I know you have questions.
What is a paper bag floor?
Paper bag flooring is a do-it-yourself flooring solution that is made out of paper, glue, stain (optional), and sealer.
Originally it was made from the brown paper bags you would get from the grocery store, but these days most people use a roll of Kraft paper.
Why choose a paper flooring?
The most popular reason is cost. Paper bag flooring is very inexpensive. I did my kids' bedroom (10 x 12) for about $80, and I have enough supplies left over that doing my guest room will cost about $30. That's dang cheap.
The flexibility. There are so many ways you can go with this project…brown flooring, grey flooring, colored flooring, patterns, wallpaper flooring, etc. If you can dream it, you can make it. My final product turned out great and looks like leather.
How difficult is it to install?
Not hard at all! This is a beginner project that anyone can do. That's the good news. The bad news is that it is tedious and time-consuming, and you spend a whole lot of time hunched over.
Time-wise, installing my brown paper floor took about a week.
Here is what my floor looked like after it was finished (and before baseboards and furniture were added back into the room).
I know…it's pretty nice looking. Especially for just being paper!
How to install a paper bag floor
Materials needed
Elmers Glue (I used a gallon)
Oil-based stain (I used a quart of "Provincial" by Minwax)
Water-based floor polyurethane
Something to apply the stain and polyurethane (I used a 9′ Shur-Line "deck pad")
Steps
1. Prep your space and your floor
The first thing I did was empty the boy's room and rip out all the trim. We were planning on replacing the trim anyway, but even if you aren't I would remove it and then replace it when the floor is complete, that would be much easier than trying to work around it. I wasn't planning on starting the renovation that day, I just got a wild hair and started moving furniture and tearing stuff apart. Elijah got in on the fun, he actually removed most of the trim after I showed him how. How cool is that? His future wife is going to sing my praises, I'm sure of it.
Next I prepped the floors. I mixed up some concrete and patched the holes left from the carpet tacks, and then gently sanded.
*Prepping your floor correctly is very important*
I did my floor over concrete, but you can put paper bag flooring over pretty much anything…plywood subfloor, linoleum, even tile. Concrete is probably the least desirable floor to this over actually, due to possible moisture issues. No matter what type of floor you have, make sure you fill any cracks (literally every imperfection/unevenness, crack, etc will show through), decide if you should gently sand for smoothness/adhesion, and make sure it is as clean as it can possibly be.
*UPDATE – I have been told by readers that paper bag flooring will not work on a concrete floor that hasn't previously been sealed. If you plan to paper over raw concrete then you must first seal it with either a coat of poly or a coat of floor paint.*
2. Rip your paper
What you want to do is rip the paper into natural-looking pieces, kinda like stones. Mine were about 12 inches or so in diameter. Don't cut them, just rip…you don't want them to be perfect or even close.
What I would recommend doing is after you rip a piece, ball it up and wrinkle the crud out of it, then flatten it out and move on to the next piece. You want to wrinkle them so that when you add stain the wrinkles will show through and give it that awesome textured "old leather" look, like this…
3. Mix your glue and start applying the paper to the floor
Then you are ready to mix your glue. For my paper bag floors, I did 50% water and 50% Elmers glue mixture. If you are doing this on a wood floor then I think a 3 to 1 water and glue ratio is the one you want. Don't mix all your glue at once, gluing the paper to the floor will take longer than you think and you don't want it to dry out.
I really thought in my head that I would be able to slap these puppies down and be done in a night. Truth is it took my husband and me five nights of both of us working to be complete. We just chatted, watched Netflix on the laptop, and had a jolly good time. That might be exaggerating a bit, mostly I just scolded him every five minutes for trying to glue a straight edge piece in the middle of the floor. He loved that, as you can imagine,
The easiest way I found to apply that paper is like so: Take your piece of paper and hold it over the bowl. Use your hands to scoop up some glue and spread it evenly over both sides. Then lay your paper down on the floor and smooth flat, working from the inside out to remove any bubbles. Keep in mind that the paper will shrink as it dries, so give each piece a decent amount of overlap. Don't be stingy with the glue, you want them wet.
4. Apply stain
You could leave your floor this "natural" color if you want and skip the whole staining process, but I think the stain looks great and really gives it depth and character. Plus staining is the quickest part of this whole process (if you do it correctly). I applied the stain with a "mop", actually I used this by Shur Line. It worked great and went on really quickly… I snuck this in while my kids were busy watching an episode of Dinosaur Train (so less than 30 minutes).
Make sure and "feather" the stain so that you don't end up with any lines, it will dry just like you put it on. Also be aware that you will get a little bleed under the edges of the paper, like this…
I'm honestly not sure how you would avoid this, you are just going to have to embrace the imperfection.
5. Apply sealer
After I had finished staining I let it sit for two days before I added the first coat of poly, and even then it was slightly tacky. I added the polyurethane the same way I added the stain, but I was extra careful to make it a thin coat…at least I thought. When it was dried I came back and it looked like this…
About 50% of it had dried white. Crap. I wasn't sure what to do. I didn't know this when I started, but the "builders paper" that I used has two sides and they look different after they are on the floor. It looked as though the poly had dried white only on one side of the paper. I tried to sand it off on places, but that wasn't working so I did something that I was sure was going to be a terrible idea…I stained over the poly.
It worked, and you couldn't see where it used to be white and where it didn't. So I "mopped" the stain over the whole floor again and let it dry for FOUR days this time. Even after four days it was still tacky and I couldn't step on it to re-poly. So this time I worked backward…I started at the doorway and added a THIN layer with a small foam brush (by hand), let it dry, and then stepped on that to do the next section. I was terrified that after all that work it would dry white again, but it didn't, not even a little. Phew.
After that, I added about ten more layers of poly with the mop. This didn't take as long as you would think, it only needed to dry about an hour between coats and took about 20-30 minutes each coat. As an added bonus, the water-based poly has almost no smell at all, so your not going to need to air out your house or feel lightheaded while doing this. Now, you should let the final coat cure for about a week before you put anything on it, but I was so antsy to get the kids out of my bedroom that we put everything back the next day. We did get a few scratches, but I just added some poly over them and it looks fine. It looks better than fine actually, it looks freaking awesome.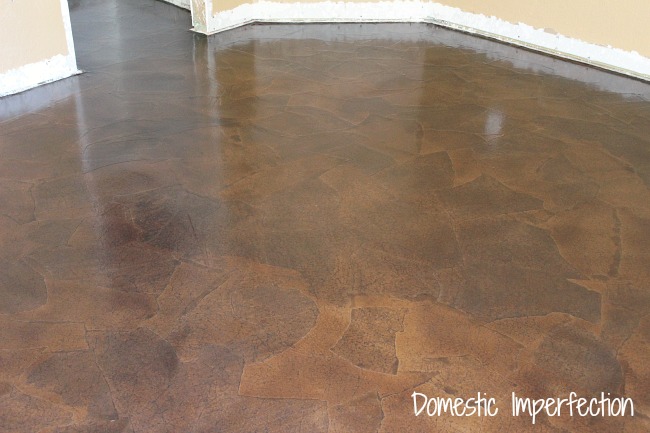 So there you have it! It's a bit shinier than I would have liked, but I do think it has dulled down a bit since I took these photos (about two weeks ago.)
This isn't the end though, no no….I have six more posts about my paper flooring. You've got questions, I've got answers! Links to the other parts of this series –
Links to the other posts in this series