I love that when people in my life see old junk lying next to a dumpster, they think of me. I love it even more than those people put that junk in their car and bring it to me. My aunt is one of these people, she found this antique broken vanity top/mirror/thingy and thought I could do something with it.
She was right! As soon as I saw it I knew it would be the perfect replacement for my kitchen chalkboard that I was never really in love with. (I also have something fun planned for the other part…)
You can tell from that picture that it was really really dirty. It was also really really broken…
Nothing a little wood glue and patience couldn't fix though, so Elijah and I pieced it back together while enjoying the crap out of some  sliced pears.
After it was dry I traced the shape onto a scrap piece of plywood and cut it out with my jigsaw.
After sanding, I applied the chalk paint. I used chalkboard paint by RustOleum and did four coats, sanding lightly with 400 grit sandpaper between each one. After the last coat was dry I covered the entire thing with chalk. I've heard that if you don't do this it will be hard to erase the first thing you ever write on it and you may always see it a little.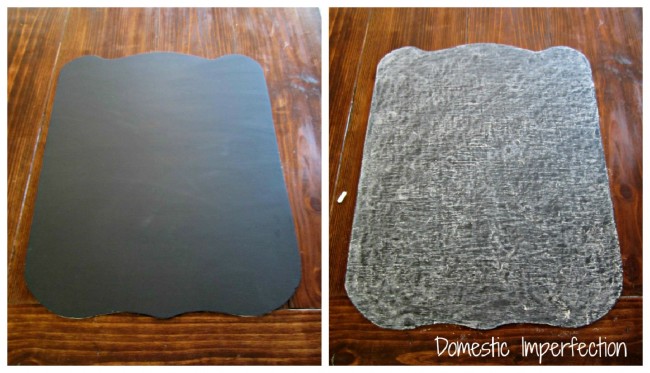 Then I just used wood glue to adhere it to the frame. Also, we only own two clamps so I had to improvise a little.
To hang it I used a little trick I learned. I usually end up using the "guess and check" method followed by the "that's good enough" conclusion, but with this shortcut none of that is necessary. You just take a piece of tape and put it where you want your nails to hit, then tape it to the wall. And then  put your nails/screws at the end of the tape! Easy…you can even use your level on the tape to make sure your frame will be straight.
And just like that, I have a new chalkboard for my daily to do list!
(Enjoy reading my list for today…I finished everything but the last two.  And do you like how I forgot the "t" in comments? No spell check on a chalkboard, lol.)
The picture doesn't really do it justice, but it is really big…way bigger than my last one. Hopefully I can keep myself from filling it up with chores, though it's not looking good.  I also really love with the shape, it feels very feminine and looks like nice decor rather than a giant black hole.
Since this is kinda a before and after, here is a side by side of my first chalkboard and this one.
You might be looking at my new plank walls wondering what happened to whitewashing (go here to read about that). Well, I'm sorry to say that whitewashing looked terrible. I'll tell y'all the whole story later, for now just know that we're in the process of painting them white (and it's taking forever!) but they look awesome.
Anyway, go forth and make chalkboards :)
To read other kitchen renovation posts click the links below…
New Appliances, Painting and Raising the Cabinets, Butcher Block Countertops, Organized Pantry, Farmhouse Table, Penny Countertop, Planked Walls, Painted Walls, Pantry Door, Plate Wall, Windows, Command Center, Floating Shelves, Kitchen Reveal