Farmhouse Kitchen on a Budget – The Reveal
(Update: I hadn't really intended for this to be my kitchen reveal post, I really just wanted to show y'all how I "decked out" my new floating shelves. Anyway, it has become fairly popular as a kitchen reveal post so I went ahead and added the prices for everything we have done so far in the kitchen to the end of the post.)
Well, my internet is working again and it's time to show you my shelves! They are decked out, colorful, and oh so functional. This post doesn't really have a story to go along with it like all my other projects, it's mostly just a photo bomb of some pretty sweet kitchen pics. Also I bought a lot of stuff for this post (I know, deep breaths) and I am going to link to each one of them so you know where to get everything if you so desire. So colored text = link.
Two weeks ago (wow I'm good at making y'all wait, huh?) I showed you the empty shelves that my awesome husband built.
And now, here they are…decked out with kitchen goodies!
Okay, lets just work our way around the kitchen. First off we have the little shelf next to the command center, this one just holds some mason jars we use as cups and our bowls.
That utensil holder is new… I can't seem to find it online, but picked that up at Target. I already had a stainless steel one of these, but this one matched my yellow table so well that I couldn't pass it up!
Next up we have the area above the microwave.
That green vase is actually from when my husband was deployed to Afghanistan, so you probably won't be able to get your hands on one of those. The yellow bowl is also from Target…I can't find a link online to it either, maybe it's because they were on clearance. That bowl has spent a few days on every surface of my kitchen, I could not figure out where to put it. At first I had it in another part of the kitchen with fruit in it, but I quickly remembered why I keep all my fruit in the fridge…room temperature fruit is seriously not good. After a few more rounds it ended up above the microwave and it holds the most random thing ever…play dough (and play dough toys of course). It actually is working out very well! The yardstick framed art I showed y'all last week, and the little birds are from Kirklands (in store only). The little one was only $2.99, and the bigger red one was $6.99. I seriously fought myself over the red one… it seems really random and out of place, but in the end I decided that was good. Plus there is some red in my plate wall, so it ties in there. That basket is from HomeGoods, it hides our router and a ton of cords and outlets.
Next up we have the big shelf, which holds plates and more cups. Underneath it is my new favorite thing ever, the magnetic knife holder.
I'm seriously in love with this thing, it's a million times better than my clunky old knife block. I bought it here on Amazon, it was only 19 bucks.
On the far side of that shelf there is a little decor in the corner. I found that frame at our church garage sale for $1…I didn't even mess with it, it was that perfect when I found it. In it is a picture of a Adam and I back in the day….I know we look crazy young, but had actually already been married for over a year in that picture!
Next we have the little shelf on the far side if the kitchen. At first I was determined to put that yellow fruit bowl here, but that fell through and I made it into a mini Starbucks.
That shelf includes a Bodum french press, a tea kettle by Paula Dean, and a new paper towel holder. We've never actually had a paper towel holder before, our paper towels have always just floated around. For our entire marriage we have been searching for our paper towels… at least once a day we ask each other where the paper towels are. For years. Frequent answers include things like "I cleaned the bathroom earlier so they might be in there" "I think I took them out to the garage" "the last time I saw them was in the boy's room when I was soaking up pee." Well, no more..$11 measly dollars has saved us from ourselves and our paper towel dilemma.
Lastly, the yellow striped runner is the Olin rug from Crate ad Barrel in gold. I tried really hard not to buy this because its more than I usually spend and stripes are really easy to paint, but I was having a hard time finding a plain runner that was any cheaper than the rug. Plus I like that this one is a flat weave and you can just toss it in the wash. It does really need a rug pad though, cause it moves around like crazy.
And that's pretty much sums up the kitchen tour!
Now the kitchen isn't done, we still need lighting, floors and dining room chairs. I'm not quite sure when we will get to those things and I'm ready to move onto my boy's room makeover. If money wasn't an obstacle here is what I would finish our kitchen out with…
For the floors I would use one of these two beautiful, rustic, stone tiles from The Tile Shop. I know these pictures are grainy and terrible, but if you click-through to the website you can see how beautiful they are. The first one is the Baoding Creme in Brick and the other is Baoding Creme in broken random. Both are -hold onto your britches – $10.99 a square foot. That's a little rich for our blood, though only by about $9.99 a square foot. Maybe they will read this and give me free tile a la Katie Bower. What do you think my chances are? Yeah, I agree…not good.
For lighting I want to do canned lights and some pendants over the sink/pass-through/bar area. I want something kinda industrial/rustic and like all of these from Restoration Hardware. Even the cheapest one of the bunch (the first one) is still over my budget at $119, but I feel pretty confident that I can DIY something similar to these for a fraction of the cost.
And I know I've mentioned these chairs from Crate and Barrel in like three different blog posts, but I am seriously in love with them and might have to find some way to make these happen. After all, unlike everything else on my "crazy expensive" list, these get to come with us when we move.
Here are a couple of before and after shots of the kitchen. This is always my favorite part of blog posts when I read other blogs…there is just something about a good before and after!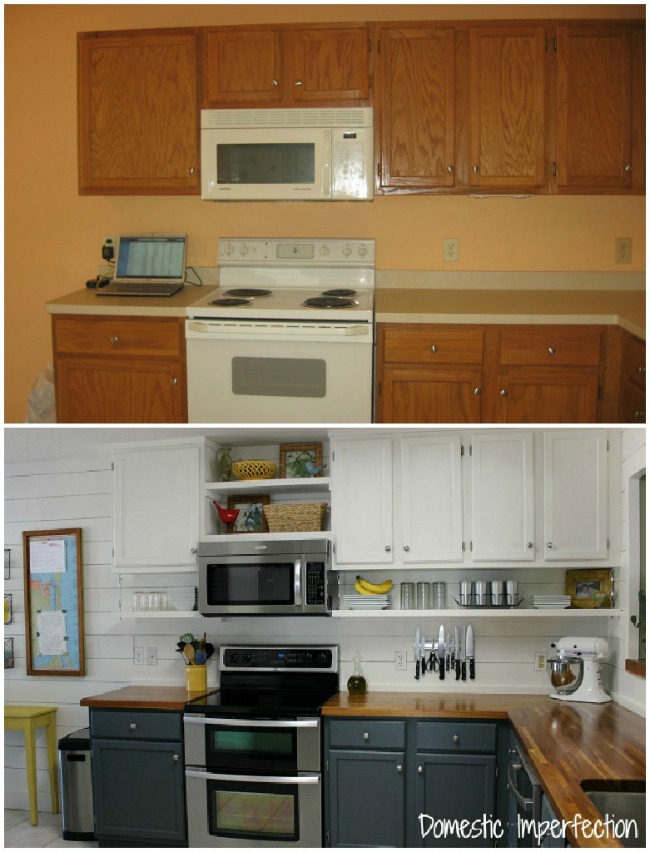 While snapping pictures of my (perfectly clean and sparkly) kitchen I also went ahead and snapped a picture of what lies on the other side of the bar area….
Ah yes, there it is….real life.
Here's the budget breakdown…
Paint for cabinets, new hinges, floating shelves,trim (everything cabinet related, really) – $150
Butcher block countertops (including tax and shipping) – $750
Sink and faucet – $350
Plank walls, trim & paint (includes planking the dining room) – $150
Supplies, decor and everything else – roughly $200
Total (so far): $1600
(Unless you count the new appliances we bought before we started, then that takes it up to about $3700).
Shop the Look