DIY Farmhouse Table and Bench
Look what now resides happily in my dining room…
Yeah, I'm pretty much in love with it.
Here is how the dining room has looked for a while now.
Okay, that's not totally true – it's rarely that clean and usually includes a particularly messy high chair. I bought that table for $50 about seven years ago. It even came with chairs, but we had to leave those in New York when we moved, since we ran out of room in the moving van. I'm sure your familiar with it, it's pretty much the backdrop to all my craft projects…my dining room serves double duty as my craft room as well. Ahh, the beauty of small houses. Anywhoo, we've need a bigger table for a while but didn't want to spend a ton of money on one.
Thats when I found it. An awesome tutorial for a farmhouse table…beautiful, simple, and best of all…cheap!
Unlike most of my blog posts, this one isn't going to be a tutorial. There really isn't a need for me to write one, since the one we used was awesome. I wasn't involved enough to write up a decent tutorial anyway, and Adam didn't want to write up a "guest post"…trust me, I asked. So go HERE if you are interested in building one yourself. It's awesome, really…way better than I could write. I did take a lot of pictures of the progress though, so I'll show you all those. Also, we finished it differently than they did in the tutorial, mostly because we have kids and need it to be bulletproof.
Before we begin, I think it's time to formally introduce you to Keith. You've met him before, he is Adams older brother and is part of pretty much every wood related project that we do. So this is Keith…
and sorry ladies, he's taken.
So here is Keith, starting work on the top. This table is really very simple (well, in relation to other tables) and is just pine planks from Home Depot. The top is 2X10's and 2X12's and is held together by wood glue and pocket screws. I know Keith is reading this and rolling his eyes at my description…I'm not claiming this is a tutorial. And I'm just a girl. (ladies, have you ever used that excuse? It works awesome :D)
The legs are 4X4's and are notched out (to look awesome).
Here is Adam (my husband, for all you newbies) distressing it. I wanted the table distressed so that I won't have to freak out when the kids abuse it. He used all kinds of stuff to distress it, chains, chisels, a hammer…he even hammered in different items like screws to add character.
And you know I can't show y'all a project without showing you what Elijah was up too. Even when we're not at home he's part of the action.
Here is proof that we do projects just like the rest of y'all…by getting ideas from(or straight up copying) someone else!
Here she is all put together!
But wait, it gets better… here are BOTH tables, packed away for the night. That's right, we built two. The second one was done by our friend Darin (whose garage and tools we used to build them) and is up for sale. So if you're in the San Antonio area and want to purchase an awesome farmhouse table and bench, please e-mail me! (UPDATE: the table has sold.)
Then we brought the table back to our "garage" for finishing. Here is Adam sanding it…
( In the background is a hint to another project we are working on…and no, the project isn't decrapifying our front porch, lol)
After sanding came the staining. Pine soaks up stain, on my test strip I had to do four coats to get it to the color I wanted. Adam said "heck no!" to doing four coats and I don't blame him…one coat seemed to take all day. He did One REALLY thick coat and never wiped it off…it looks just like my four coats did. The stain we used is English Chestnut by Minwax.
Here is Adam and his brother Taylor putting the bench together.
Since I introduced you to Keith I guess I should introduce you to Taylor, Adams younger brother (Adam has four siblings). I've mentioned him a few times, he has at least some part in most of our projects. Literally the only decent headshot I can find of Taylor is his Marine photo from 2007, lol. So here is a very young Taylor…and yes ladies, he is available :)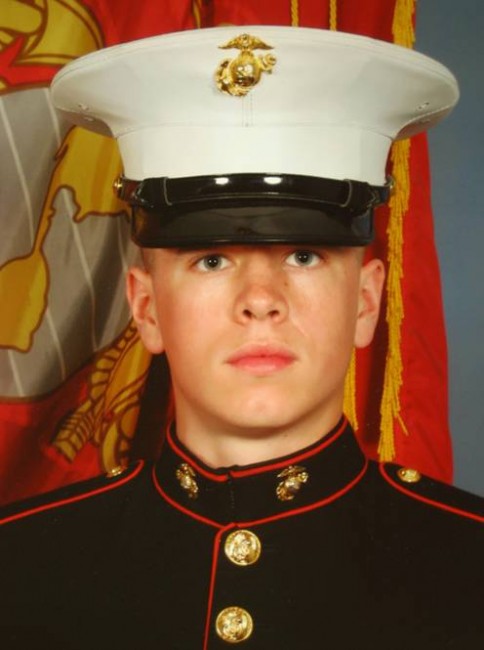 I did a bunch or research on what kind of finish to use, but after all that we ended up just using polyurethane. We already had it on hand and we could finish it in a day (instead of weeks like a lot of other products that were recommended). We used gloss, sanding with 400 grit sandpaper between each coat and then finished it with a satin poly.
The table is about 8 feet long and 3.5 feet wide. Last weekend we fit eleven adults and two babies around it, and that's without the extensions (which we haven't built yet). Sooo much better than dragging in card tables like we usually do! Despite being so large it doesn't look cramped in our little dining room, which I was a little worried about.
Total cost was about $150 and three full days of work.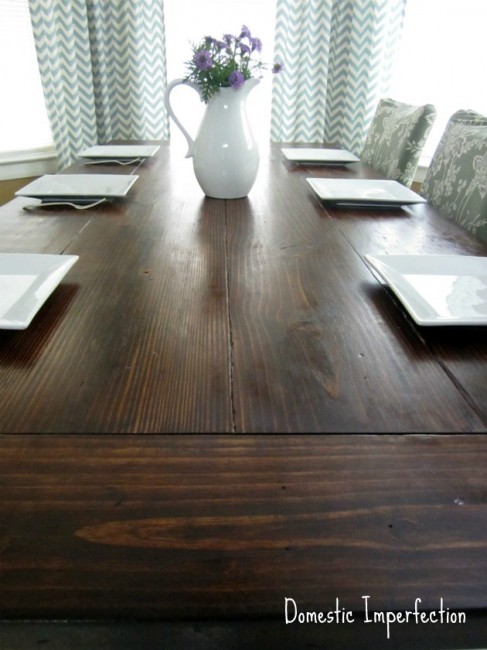 Looking for more furniture ideas? Check out
THIS POST
.