Last month marked 12 years since I started this blog. 12 years! Freaking crazy. I wrote my first post on February 13, 2011 without any intention of it becoming a thing. I would have laughed in your face if you told me that 12 years later I would still be plugging away at it and still thoroughly enjoying it. I've always blogged pretty casually, writing a post when I have something to write about and time to write it, and never forcing myself to stick to a schedule or post at a certain frequency. I fully believe that kindness to myself is the only reason I am still here. Otherwise, I would have burned out ages ago.
So today, let's look back at some stats and projects from the last 12 years.
First, the stats. I went to my analytics to look up the top posts over the life of the blog, and got distracted looking at numbers. I thought I'd share some of them… because if I think it's interesting, you may too.
Total pageviews over the life of this blog – 25,673,258
Highest traffic day of all time – February 7, 2014, with 156,904 pageviews in a single day. (For reference, I get about 2,000 pageviews a day now.)
Average session duration (amount of time a person spends on my website before leaving) – 1 minute 43 seconds
Traffic sources –
Pinterest, 32%
Google search, 25%
Direct (type URL directly, or bookmarking), 20%
Facebook, 6%
Gender of readers – 75.2% female, 24.8% male
Blog Traffic by Year
2011 – didn't track pageviews….didn't even know that was a thing
2012 – 1,752,640
2013 – 2,885,285
2014 – 3,747,768
2015 – 3,783,898
2016 – 3,713,123
2017 – 2,216,418
2018 – 1,658,920
2019 – 1,553,681
2020 – 1,839,244
2021 – 1,408,395
2022 – 737,096
As you can see, traffic hasn't exactly been on the upswing. Blog reading in general has decreased over the years, with the growing popularity of things like social media (which I'm terrible at keeping up with).
Then last year, in 2022, I rebranded the blog from Domestic Imperfection to Wildfire Interiors. As you can see, that URL change killed my traffic, cutting it in half. I knew changing it would negatively impact things, but I severely underestimated how much and how permanent that decline would be.
Do I regret changing it? No, I don't. While I liked the previous name, it no longer fit my life and goals. I am branching out from blogging to also doing design work for clients, and I needed a professional name to go with that new direction. The decline does suck though, because with less traffic comes less income.
Ok…Ready to see what the top projects are?
Let's do this.  
The Top 12 Projects of all Time
This post may have been written a decade ago, but I think the solution is timeless. "What to do with the space above my cabinets" is a question that probably everyone has asked, and this gives your kitchen a custom look, adds storage, is an easy DIY, and is basically free. Can't beat that!
This post is at the top of the list of posts that surprised me by being popular. To be all the way honest, I didn't even want to write this post, because it seemed so basic that it wasn't even worth writing a post about. It was written as more of a project update post than a "how to" post. Either way, it took off and consistently gets Google traffic. Note to self – simple posts are good. Write more of them.
I'm really glad this one made the cut, because I think it turned out really well for a $1,600 kitchen renovation ($3700 if you include all the appliances.)  If you click through to the post there are links to all the projects and costs.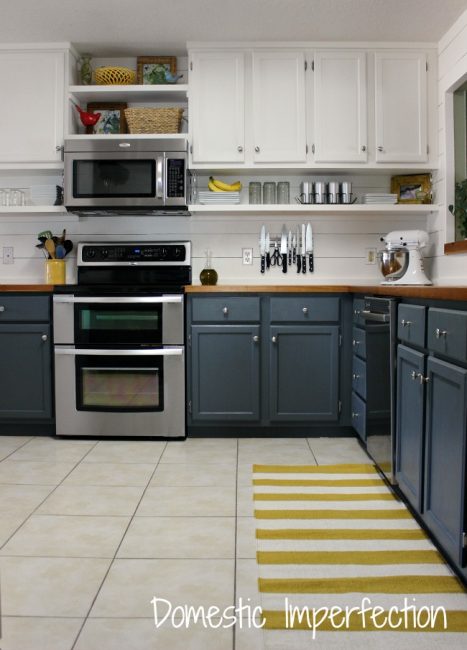 Most of the posts on this list are old, because blog traffic was higher in the past, and also they have had more time to rack up the pageviews. This one was written only a few years ago though, and gets all its traffic from Pinterest.
This is one of my very first blog projects, and it still gets traffic today. Also, I look back on stuff like this and smile, because I was one creative and determined woman. The amount of extra money I had to spend on home decor a decade ago was basically nothing, but I found ways to get what I wanted on that budget.
For this project, I wanted curtains for the dining room –
It was a four-bay window, and finding a curtain rod for that was proving impossible. Most of them were for three bay windows, and either way, they were far beyond my price range. So instead, I crafted my own using brackets, electrical conduit, and plastic tubing.
Then I made some back tab curtains, and you know what? It turned out awesome and cost almost nothing. 38-year-old me is proud of 26 years old me.
I have to laugh at this one. Like…why is this on the list? It wasn't a new idea, or a mind-blowing tutorial, or even a very Google-able post. Literally it is just distressing furniture with stain to make it look old. Then I gave it a funny name, and boom…one of my most viewed posts ever. This makes me miss the good old days of blogging, because I guarantee you I spent like an hour writing that post, and these days I swear I spend weeks writing just one. Simple and informative…that seems to be the key.
This pantry post is another great example of simple content doing better than much more attractive complicated content. I've blogged about two pantries on this blog. This popular one from 2012 –
And this one in my last house which I absolutely loved and was WAY prettier –
The first one is motivational and achievable…if you read about that post, you will probably want to organize your pantry immediately. The second pantry, probably not. You will look at it, likely think "That's pretty" and go on about your business. I get that, because I do the same thing.
Here is an even more specific example. The exact reason that the first pantry post was so popular was this photo/idea –
I needed spice storage but didn't have a good place for it in the kitchen, so I added these mesh drawer organizers to the wall. They were the perfect size, worked great, and were crazy easy to install. Some website (BuzzFeed?) picked up this idea and featured it, and then once that happened a bunch of other websites included it in roundup posts. And that's why this post is on the list.
Sidenote – I also remember calling this post the "Less Mess PANTY Reveal" and not catching it for a long time, until a reader finally pointed it out. Maybe that's the real reason it got so many views…
Another frequent misspelling of mine was t-shit instead of t-shirt. Good times.
Out of all the projects on this blog, I think this one is still my favorite. It just looked cool, it held up well, and was such a unique feature right in the middle of our home. I'm not sure if it inspired other people to make this kind of countertop, but I think it falls under that "weirdly creative" category that attracts visitors and shares.
The original post about installing butcher block countertops? Almost no views. The update? Crazy popular. In fact, this post is still one of the top five most visited posts on my website every single month. I can't say that for these other top posts, but this one answers a question that gets asked a lot on Google.
This was my first blog post/project to take off instantly. I thought this table turned out great, and evidently, others thought so too. Not only was it an easy DIY, but it also produced something totally unique and customizable on what is probably the most common table in America.
This table led to all sorts of other stencil projects…I stenciled everything I could get my hands on for a while.
This one doesn't surprise me at all, it was popular from the get-go. So popular that I wrote a follow-up post a year later about how it was holding up.
None of the other top posts come even remotely close to this one. There is no competition, paper bag flooring wins by a mile.
This was not an original idea, I just tried it and blogged about it. The project was so unique, creative, and CHEAP that it drew attention, and people shared it like crazy on Facebook. After it took off, my full-time job became answering e-mail questions about the flooring. I genuinely love helping readers and answering questions, but this was too much. That's when I decided to write a whole series on paper bag flooring that answered every question imaginable.
Click the links below to learn more than you ever wanted to know about paper bag flooring.
Did I want to be known as the person that glues paper to her floor? No, not really. But here I am…paper floor girl. It is what it is.
I have so many projects that didn't make the cut….here are a few of my favorites, in no particular order –
So now I want to hear from you! Do you have a favorite that wasn't listed here? Did you try any of them? Do you have any requests for things you want to see in the future? Talk to me.