Mudroom Reveal – Where Form Meets Function
IT'S MUDROOM REVEAL DAY!! Let's just skip the forced introductory paragraph and get right to the good stuff. Here she is!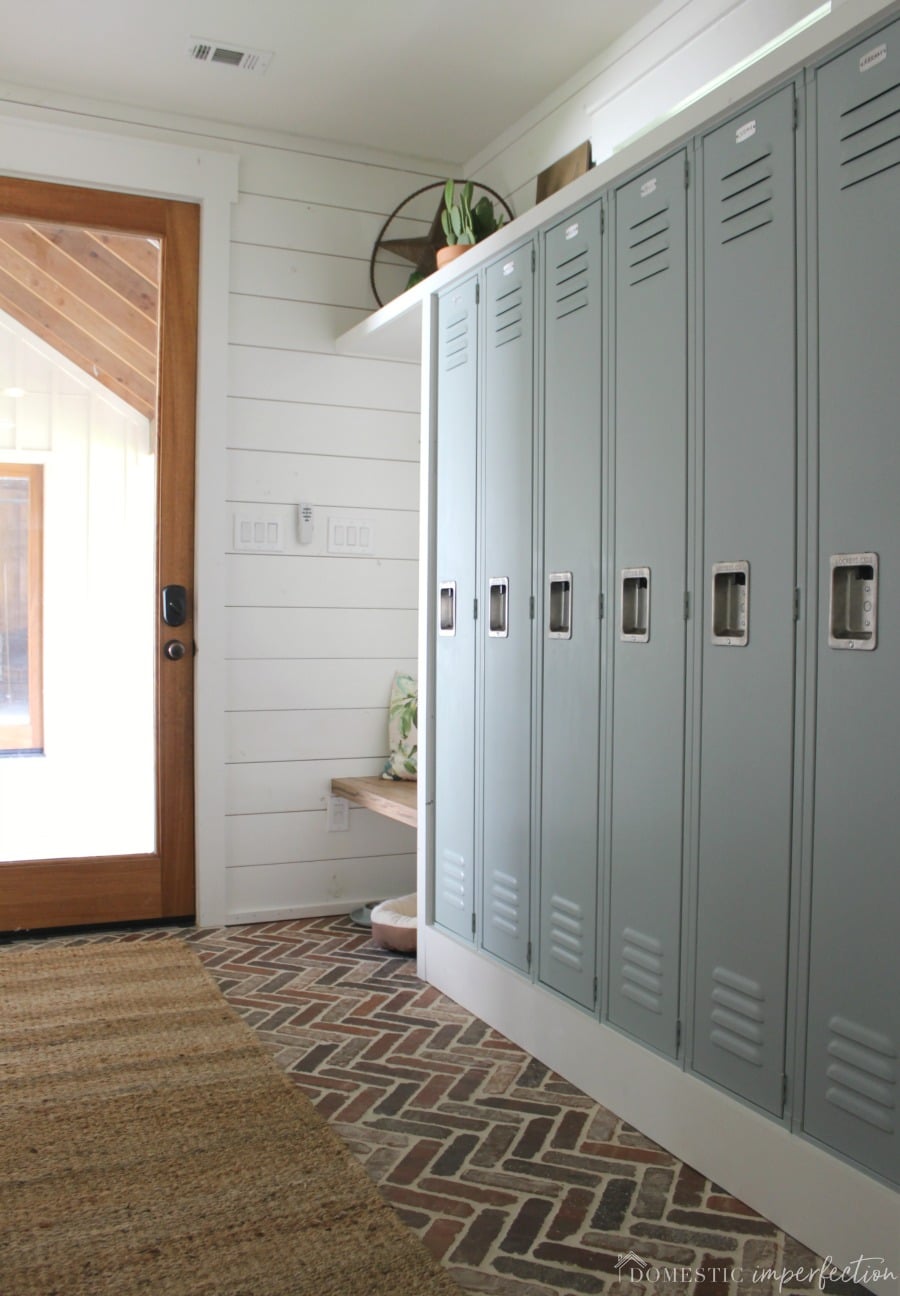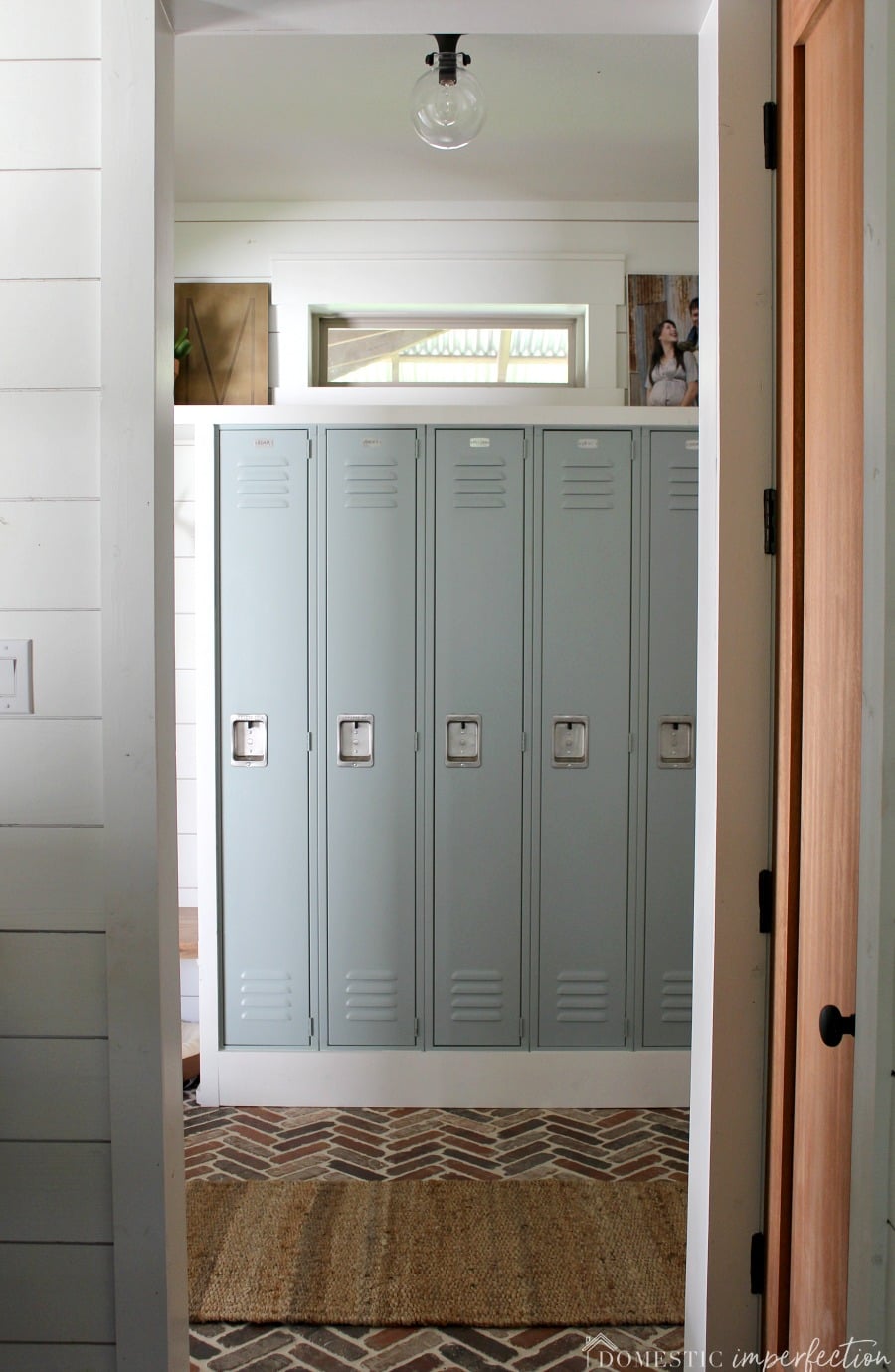 I don't think I could love it more. It's so satisfying to have a blank space and a vision, and then watch that vision actually come to life!
From start to finish the mudroom remodel (makeover/finish out/whatever you want to call it) took us almost exactly six months. That definitely isn't a short amount of time, but I think it's realistic for a DIY family with very real time and budget constraints (if you are a DIYer then you are nodding your head in agreement, because the timeline is never what you think it will be.)
So back in January Adam and I came up with our design, which somehow (despite the number of lockers) looks nearly identical to the finished product.
The main goal for the mudroom was for it to be extremely functional. I wanted each person in the family to have a space for shoes, backpacks, coats, rollerblades, swim goggles, guitars….all that stuff that has been scattered all over the house for nearly two years now. Secondly, but nearly as important, I wanted it to be beautiful. I wanted it to flow with the rest of the house, but also be a room with personality that can stand on its own.
To get a better handle on things, here is the floorplan to our house. The red arrow points the mudroom, which is really just a glorified hallway.
Our family comes in through the mudroom almost exclusively, since the garage is just on the other side of the breezeway. Guests use it a decent amount of the time as well, mostly family. The Jehovahs Witnesses use the front door exclusively.
So here is what I'm using as the official "before" picture. It was just a plain drywall box with absolutely nothing in it, which is how the entire house looked when the builder handed it over to us.
The first step was to add shiplap and trim (you can read all the thrilling details here)
Next came the white paint (this post has all the shiplap painting details and tips).
And then it was time for the most highly anticipated part, the brick floor. I've been lusting over brick floors for a few years, so the fact that we actually installed them and they turned out amazing was pretty dang exciting (read all about that project here).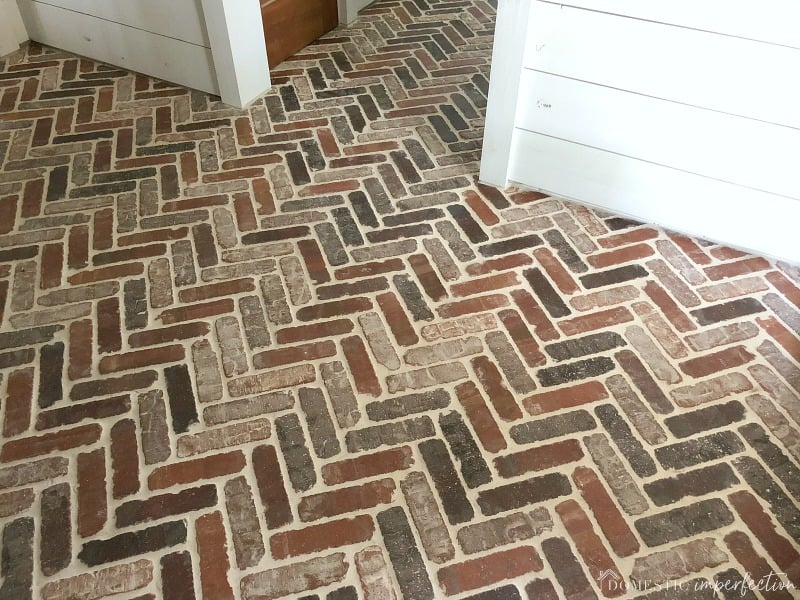 Next came the whole reason for the mudroom in the first place, the lockers. They are just standard lockers from Home Depot, and I painted them to get the exact color I wanted (tutorial here).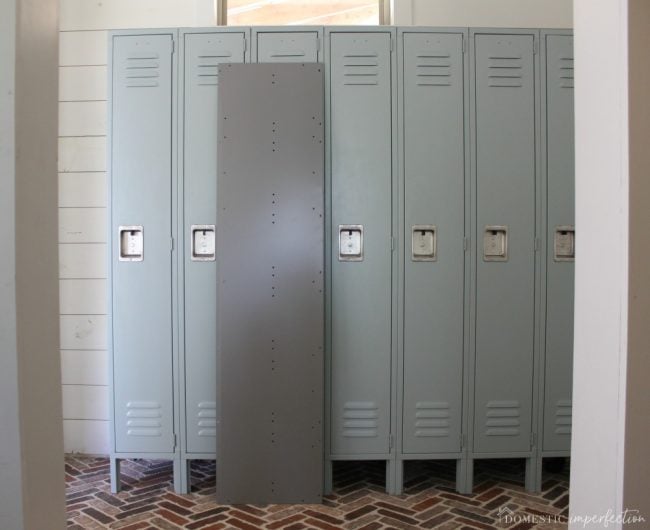 After that we built them in and added the wood bench, which I just realized I never blogged about. Building them in was pretty much the last step, and I'm just so excited to finally be finished that I skipped ahead and went straight to the reveal post. Anyway, the bench is made of two sandwiched together pieces of plywood covered in oak wood flooring.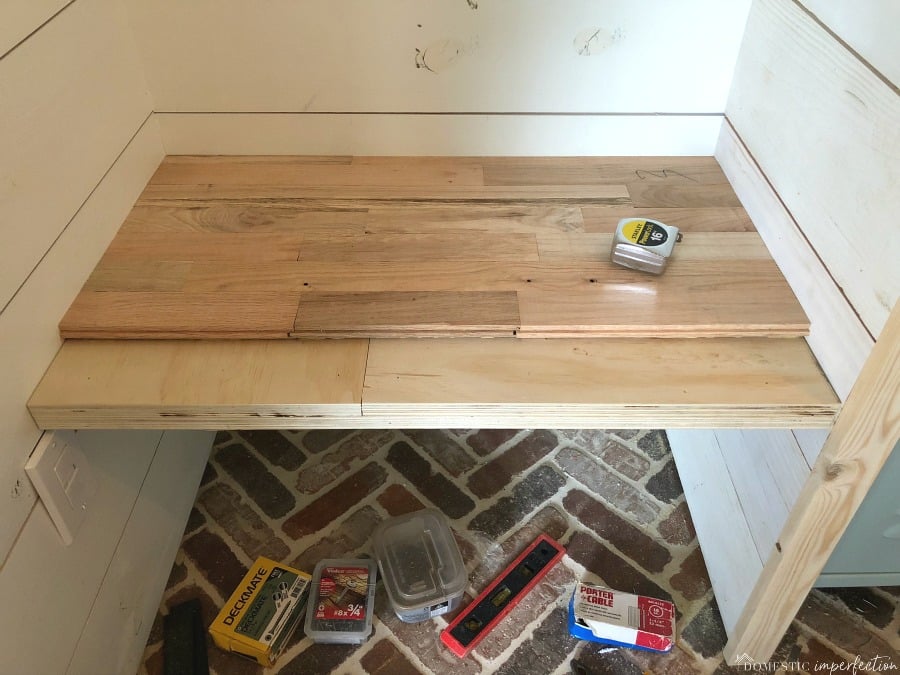 The flooring is utility oak from Lumber Liquidators. This is basically their cast off/flawed pieces that they sell for .99 cents a square foot. I stained it a very unique blend of stains (because I couldn't get the color right) and sealed it with a matte poly.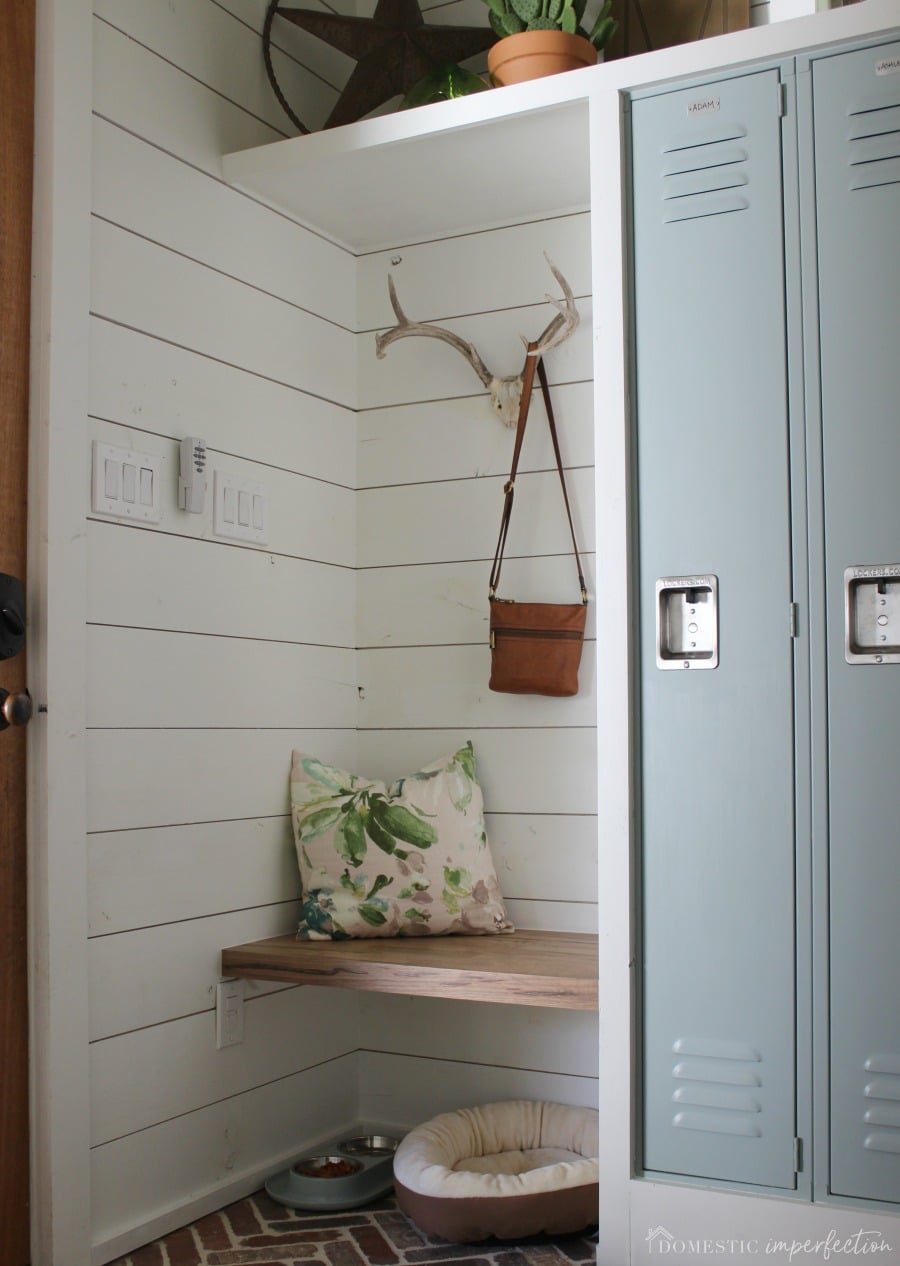 Building them in was simple. The most complicated part was the bottom trim piece, since there was nowhere to attach it. My husband came up with a great solution, which was to add a board behind the legs, then add smaller pieces in front of a small lip on the legs. Once screwed together this made a sturdy point of attachment for the front trim piece.
After that I just had to paint, caulk, and decorate. I didn't spend any money on decorations, everything in here was something I already had (obviously, since the family photo is missing 3/4 of our kids).
I also added a home base for the cat, and that bowl set…could the color BE any more perfect?!
I also customized the nameplates on each locker. Originally these said Lockers.com all over them, but I flipped them over and added our names with a sharpie.
Also, I have to admit that I had a major internal debate with myself whether to put "Adam" and "Ashley" or "Mom" and "Dad" our lockers. In the end I put our real names, because there is so much more to me than being a mom, and I want my kids to see me as a whole person and not just the lady who gets them snacks. That's pretty deep for a locker nameplate, huh?
Alright, let's talk about the elephant in the room….price. So how much did this whole thing cost?
Mudroom Cost
Shiplap – $200
Brick floor – $990
Lockers (7) – $600
Paint and supplies – $75
Wood for bench, trim, and shelf – $50
Light fixture – $90
Decor – $0
Cat stuff – $30
Jute runner – $45
Total – $2,080
Mudroom Source List
And this is repetitive, but people are skimmers, so…
Links to other Mudroom Posts
I can't even tell you how good it feels to have this room finished! The laundry room is next on the list, and since most of the big elements of that room are already complete (walls and floor) it shouldn't too hard to wrap up!