7 Mid-Century Modern Kitchens That Inspired My Own
Kitchens are fun to design, but also a little scary. Designing a kitchen isn't like designing a bedroom, where you basically take a box and add things, and you can easily change those things later if you decide you hate them. Kitchens are not easily changeable, and the things that go into them are expensive.
You have to choose wisely, adding elements that you love, but also keeping in mind that you need to love them forever. So that super colorful bird tile that pulls all the colors you love and will be a bold statement in your kitchen? Maybe think twice.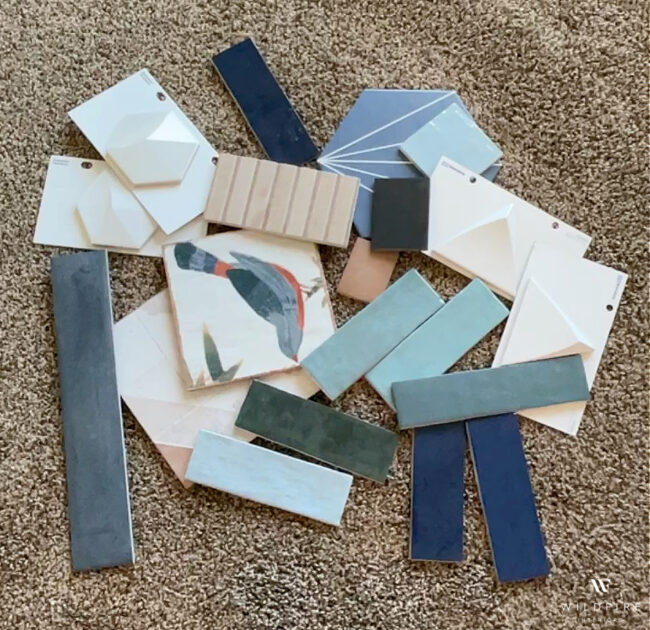 Also, you have to make it functional. The work triangle is a real thing. Storage needs to be usable. The materials need to be durable and within your budget. And then, on top of that, it all needs to be something that is nice to look at.
It seems like a lot.
So where do you start?
Personally, I begin by scouring the internet for inspirational images.
Before I start putting a room together I usually have a good idea of what I want, which is a blessing and a curse. I'm one of those people that can close my eyes and see the completely finished space in my mind. Problem is, can see it finished in so many different amazing ways and have trouble selecting just one to pursue. Images always help to narrow it down for me.
If you aren't someone that can visualize a finished space in your head, collecting images of spaces that make you smile is the best way to get started.
The point is, no matter who you are, go find photos first. Houzz, Pinterest, Instagram, and Google images are my go-to's.
Today we are going to look at a handful of kitchens that inspired me when designing my own. Also, I could have had 100 on this list, because there are so many absolutely stunning and unique kitchens out there. But for today's purposes, I narrowed it down to only seven.
SEVEN MID-CENTURY MODERN KITCHENS THAT INSPIRED MY OWN
Kitchen number one is by Brave New Eco, which is an Australian design company. They do crazy beautiful work, and three of my seven kitchens are theirs. The one below (Tuppen Street) is my absolute favorite, and if you've been reading this blog for any amount of time, you know why.
It's green and wood. Need I say more? I love that every inch of this space has been considered…nothing is left untouched. I love that the appliances don't match, but they do complement each other. I love that the tile is the same color as the cabinets but still has its own personality. And that little wooden under cabinet box shelf thing (I think that's the official name) might be my favorite part of the whole kitchen. It's perfectly placed and subtle, while adding enough contrast to break up the green.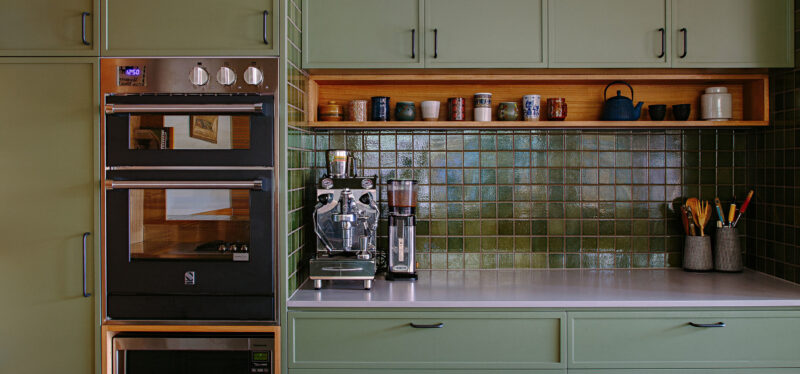 Just look at the personality and attention to detail. This is a beautiful, well-designed, one-of-a-kind kitchen and at the top of my list.
On the other side, here is a mid-century modern style kitchen that goes a totally different direction. This one is clean, bright, and has just the tiniest amount of color.
The are no upper cabinets (which I really like), and it feels light and open. The flat-panel wooden cabinets are stunning, and the glossy white tile offers a bit of glam while being something you would likely never tire of. You could easily change the decor in this kitchen and change the whole feel.
Next up, we have this kitchen by Murray Barker (Sailor's Hill House), which looks like the first two kitchens fell in love and created this beautiful little bundle of joy.
It's got the wood. It's got the green. It's clean and interesting without being too much. And it has that offset square window, which may drive some people crazy but I think is charming.
Also, this backsplash sent me into a spiral of tile research. I discovered it's called Kit Kat tile (like the candy), and if you are looking for something up and coming, this seems to be it. I've also seen it called finger tile, or just stacked linear mosaic tile.
This kitchen remodel by Tiffany of Hello Refuge was beautifully executed (seriously, go look at the before pictures!)
The walnut wood cabinets with wood handles are gorgeous. I particularly love the vent hood and how clean and subtle it is. Maybe this style is popular in other areas of the country, but here in south Texas you never see it.
Then you have the single open shelf and the tile. The whole kitchen is timeless and Tiffany did an amazing job with it.
OK, I lied about the first kitchen being my favorite…this one might be the leader one of the bunch. This is another Brave New Eco kitchen, and it has so much dang personality that I want to give it my phone number.
I LOVE the fluted wood cabinets and vent hood. It adds boatloads of texture and interest while still being an organic material that reads as neutral. Then the backsplash tile flows into that, giving it a cohesive feel. Then of course all the natural light is a huge bonus, and those contrasting blue cabinets are the icing on the cake.
Kitchen #6 is another kitchen by Brave New Eco. I swear, everything they touch turns to gold.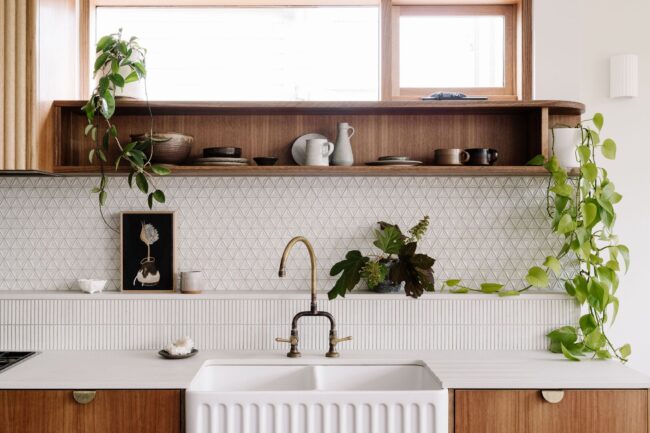 Unlike the others, this one is just white and wood, which is a combo that is never a bad choice. But even just being white and wood, look at all the interest and attention to detail. The backsplash is kit kat tile, that dies into a stuff ledge (so great), that morphs into white triangle tile. Then there's that box shelf which is my new favorite thing, and the fluted wood vent hood. Is it possible to not love this kitchen? I can't imagine.
I found this last kitchen all over Pinterest but cannot seem to find the original source (update- this looks like it may be it). This is the one picture I actually saved to my phone (I'm a desktop girl all the way) because it actually feels realistic. This kitchen looks like something you can recreate on a budget, since none of it is so complicated and unique that you will have to pay some specialty trade loads of money to get just right. It is mostly timeless white and wood, but also has green cabinets above to add some life. This kitchen checks all the boxes.
So, after scouring all those inspiration images, what are the elements that actually made it onto my must-have list?
MUST HAVE KITCHEN ELEMENTS –
flat panel wood cabinets
skinny box open shelving
interesting but not obnoxious tile
white countertops
barely there vent hood
Some painted cabinets
Stay tuned, because next we will dive into sketching the kitchen layout and design!
You may also like –