My Butcher Block Countertops, Two Years Later
A few weeks ago I got an e-mail from a reader asking me to write a post about how our butcher block countertops are holding up. I have to admit, I'm a little embarrassed I didn't think of this myself….of course I should write a follow-up post. My main concern when we choose them was how they would hold up over time and I'm sure many of you are wondering the same thing. So here it is, a completely honest update on our wood counters.
Two years ago, in September 2011, I wrote a post about how we installed our own butcher block countertops. We had looked at a lot of countertops options and ended up choosing butcher block, mainly because we liked the price and the look of wood. Here they are right after installing and sealing…
And here they are today…
(Okay, so they actually look better in that second photo, but that's just because we finished the kitchen, I bought a real camera, and wood darkens with age.)
Generally speaking, they are holding up really well. The Waterlox that we used to seal them does a fantastic job and they are still shiny and smooth. Since installing them I haven't added more sealer, I don't use expensive cleaners, I haven't done anything special at all.
They aren't scratched, or dented, and they don't have any marks from hot pots. But I am very careful to always use cutting boards and hot pads, I rarely do anything directly on the countertops beyond kneading bread and whipping up a delicious PB&J.
We haven't gotten out scot-free though. See all these little circles?
Those are from the rubber feet in our knife block. They will not come off. (We have since replaced the knife block with a magnetic knife holder – best purchase ever). The odd thing is that other things with rubber feet, like my mixer, don't leave marks. Weird.
Next up we have a crack near the sink. I think it was a normal hairline crack that became exposed when we cut out the sink…just a bit of bad luck, really. Here it is from the side…
and from the top.
It's not noticeable unless you know it's there, though it is slightly raised/swollen.
Last up we have this spot…
That spot is from standing water…it is just to the right of the faucet, under the handle. We wondered what it was for a long time, then one day Adam cracked the code…its from turning on and off the faucet with wet hands. The water transfers from our hands to the faucet, then drips from the handle to the counter…where it sits, burning a hole in my wood.
So that's the bad news. The good news is that everything can be fixed by sanding down and resealing the counter. And besides those three flaws the counter still looks great, even around the sink.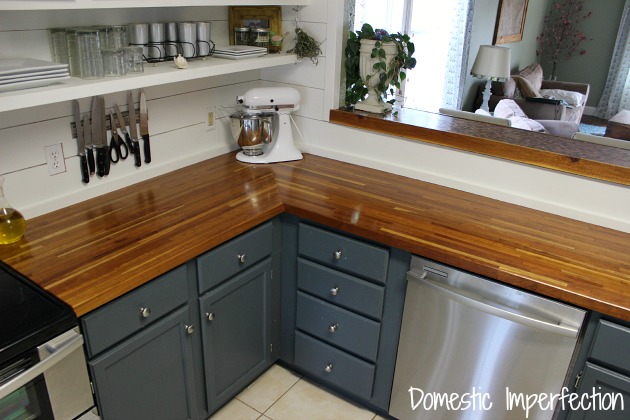 So now for what I'm sure is everyones burning question –
"Ashley, if you had to do it all over again, would you still choose butcher block for your kitchen counters?"
And my answer is…maybe. Hear me out.
I'm leaning toward saying yes because I love the look. They are warm and natural and I like that. Besides my counters the kitchen doesn't have any wooden elements in it, and I love wooden elements. Also, the price. Butcher block (that you install yourself) is SO much more affordable than other options (besides DIYing your own concrete counters or something). We spent $750 for butcher block and all the other options were in the thousands…multiple thousands. They are also getting prettier (darker) with age, and imperfections can be fixed. Being able to make your countertops good as new with a little elbow grease is a cool trait that's unique to butcher block.
Here is why I want to answer no to that question. I hate that I have to think about them. It seems like I'm always wiping up water, washing cutting boards, searching for hot pads, and generally worrying about not causing harm to my counters. Countertops are not something I want to think about…I want to abuse the crud out of them and never think twice about it. I know you can sand them down reseal them, but doing a ton of dusty sanding inside does not sound like fun to me. And even though the wood around the sink is holding up great it still feels like a ticking time bomb.
So would I use butcher block again in this house? Yes, probably. Will I put them in our future homes? No, I won't… unless it's on an island without a sink.
So there you have it, hopefully that helps someone make a hard decision!
Shop the Look