The Most Organized Pantry in the World
Okay, that title might be a biiit of a stretch, but either way…the pantry is complete! I posted the first part of the pantry redo months ago, and even though we finished a majority of it soon after I refused to post it until it was 100% complete. Adam and have a problem of only finishing things 90% of the way and moving onto the next project (I even wrote a post about it years ago) and I'm breaking the cycle.
So as a refresher, here was the before…
(Yes, my house is messy. It's pretty much messy all the time…. that's just life these days.)
Here is the plan that my husband and I came up with. The pantry is situated under the stairs and is about 3 ft x 7 ft, with a sloped ceiling.
We finished the top half, which I posted about here.
Just having the top part finished and organized has made such a huge difference in general kitchen craziness over the last two months, but there was still the whole issue of the unfinished bottom half.
Adam decided that instead of making the bottoms cabinet style (like the kitchen cabinets he is building) he was just going to build it hodgepodge using leftover building materials we have in the garage. Afterall, there's nothing better than free.
I love how in blogs (and more so DIY TV shows) it seems as if the projects just happen and everyone was happy and smiling the whole time. You get to skip the part where your husband is crammed into a tiny room, cursing his face off at inanimate objects after the nail gun breaks and he has to use actual nails and screws, and you are forcing the kids to go play outside to save their innocent ears from the tapestry of obscenity your husband is weaving.
Just a little but of blog truth for you on this Monday morning.
Aaaaanyway, for the basket drawers we decided to make it easy and buy these from Home Depot for $9 each.
Adam installed them on drawer slides and they function like a dream.
Okay, enough progress pictures, let me just show you the finished product and then I'll talk about the other features.
So here she is!
So first, the counters.
These are actually made out of the bleachers from the high school Adam and I attended, he traded the baseball coach a case of baseballs for the wood or something adorable like that. They were cool looking before with chipped paint and all, but we weren't able to save any of that because they needed to be planed and sanded. We really could have bought new wood and the result would have been the same, but that's okay…we know they have a cool story.
Adam made the tops like he makes all wood surfaces, with the Kreg jig. Then stained it with Minwax Provincial and sealed it with my favorite sealer, Vermont Natural Coatings.
The drawers function awesome and hold breads, chips, potatoes, and onions.
Next to that is a hidden can storage. Adam designed and built these out of more garage scraps, and they even include cool elements like beadboard backs, hardwood trim, and soft close slides.
Also, I quickly realized that we don't actually have that many canned goods. Our preparations for the apocalypse have been lackluster at best….when the zombies come we are in trouble.
The other side of the pantry has open shelving for small appliances.
One of my favorite elements in here is the chalkboard. It holds our running grocery list, and when I go to the store I just take a picture of it. Well, I take a picture when my phone isn't too full to take a picture…so basically I transfer the grocery list down on a piece of paper and take that to the store 90% of the time.
I love the way it looks through the closed glass pantry door the most though.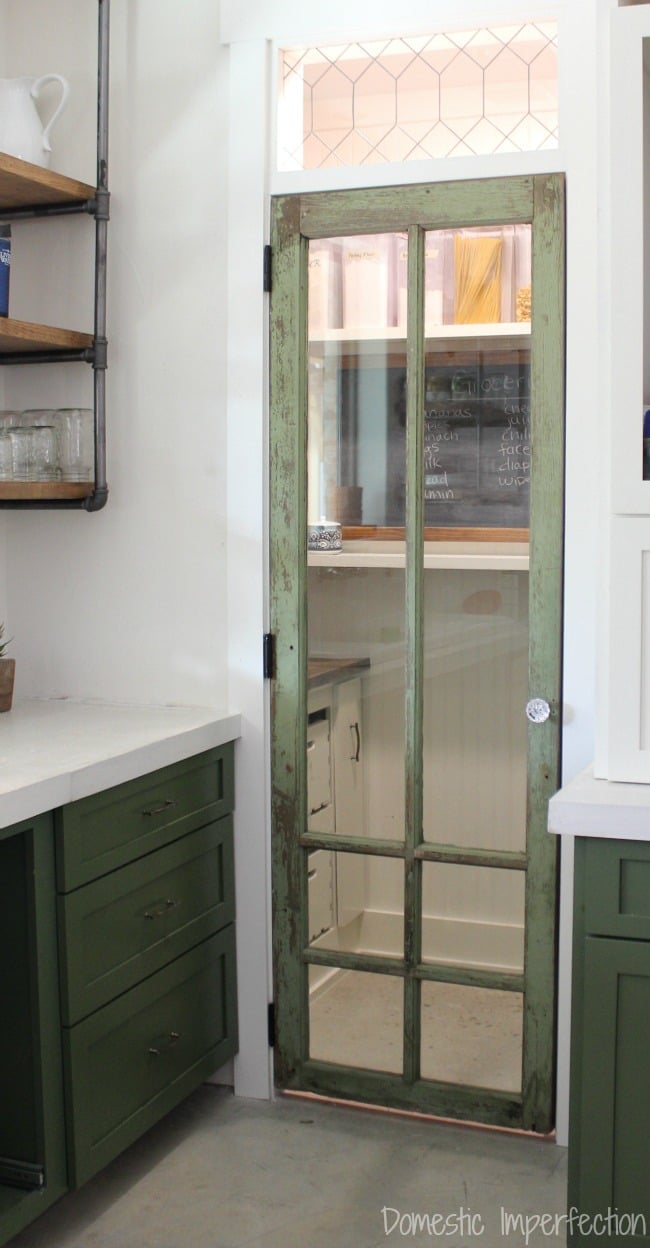 We also installed a grocery bag holder, which is great because after I go shopping I plunk the bags (non cold bags) down on the pantry counter, unload them into their proper places and containers, and tuck the bags into the bag holder, and I'm done. It's so streamlined…I want my whole house to function like this one day.
So that's the tour! I love it so much and am thrilled to now have two finished spaces in this house, now only like 20 more to go. We should be finished any day now, haha.
Update: Click here to read about the antique pantry door and the glass transom (a DIY).
You may also like –
Pantry reveal – how to make the most of a small space (house 1)
Farmhouse kitchen on a budget – The big reveal!
My experience with DIY concrete countertops
My butcher block countertop – Two years later