The "Dirty Cowboy" Treatment
Ahh, the Dirty Cowboy…a great way to give your furniture some personality. That's right… furniture. Is that not what you were expecting? What kind of blog do you think I'm running over here?
So I didn't entirely make this technique up, it is really just dry brushing… or antiquing, or distressing with stain, or a variety of  other names. I've tried to dry brush furniture a few different ways and this is the way I found worked the best, was the easiest  and gave me the best result.
First your going to need a painted piece of furniture. (This is the side of a "mystery table" that I haven't shown you yet.)
Then you'll need some stain and the crappiest paint brush you can find. Remember that brush that you accidentally left sitting in paint thinner, then you tried to rescue it but couldn't, then your toddler found it and used it as a shovel? Yeah, that one…well now you have a use for it.
This is a really simple process and it would be hard to mess up. The goal is just to make it look dirty and used, so don't take yourself to seriously :)
First dip the brush in your stain.
Then "paint" your dropcloth (or old towel or whatever you use to clean up project messes) until hardly any stain is left on it.
Next, brush it onto your surface. Just brush it on real quick, the side of this table took me about five seconds to do (not counting the picture taking, of course).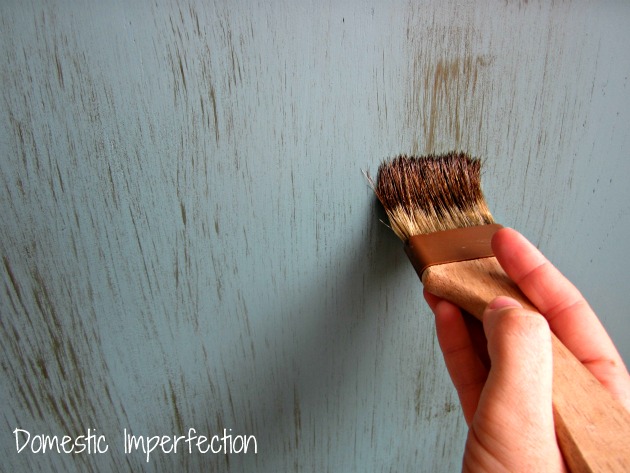 I like to add a lot of stain to any corners or grooves.
Then grab a rag and wipe it all down until your happy with the way it looks.
If you need more stain just repeat the process, or if you used too much then do the same thing with your paint color.
Lastly, seal it (I use polycrylic) and your done!
Also, it is hard for stain to dry over paint and it may be tacky for awhile. You can wait it tout, or you can just poly over the tacky stain. I didn't wait :)
And that's that! I think my dirty looking table matches my dirtfest of a front yard quite nicely, wouldn't you agree?
(Special note – using a flat paint will make this harder, I used eggshell and it worked well.)
Want more furniture ideas? GO HERE