Southwestern Guest Room Reveal
Time for another reveal post! Can you tell I'm trying to tie up loose ends on this house before I completely move on to the next one? Although this room turned out so well that I think I'm just going to move it right into the next house and try to change as little as possible. Anyway, here it is!
Here is what the room looked like previously…the one on the left is just after we bought it, and the on the right is after the first makeover.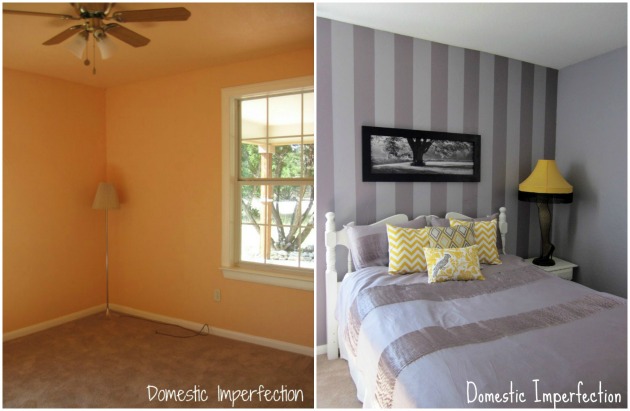 I've written posts on every project in this room, so click the links below if you are looking for more photos and information.
Southwestern Guest Room Project Links –
This is by far my favorite room in the house. I think it came together really well and just feels like…well, me. Like home. I like it so much more than the master bathroom (my last reveal), which turned out great but (if we're being honest) errs on the side of looking too juvenile.
Unlike the rest of the house, I chose a neutral paint for the walls and I think it really gave me freedom to do whatever I wanted in the room. There are a lot of neutrals in here for sure, but also lots of color. And I think the icing on the cake is the texture in the room. Overall it feels mature but not stuffy, which think matches my personality pretty well (if I may say so myself).
Also, the bed is wicked comfortable. Adam has a weird schedule so he sleeps in here a lot, since it's the quietest room in the house (which really isn't saying much.)
Here is a shot of the very plain, very boring, other side.
If you are a regular reader you may remember that my plan was for Adam and I to build double bypass sliding barn doors for this closet. Well, we did…and they were one of the biggest DIY fails to date. Also, they took forever and were kinda expensive. I'll tell that story in my next post, it's definitely one that needs telling.
Another thing I like about this room is the mixed metals. When I first started remodeling and decorating our house seven years ago, I thought all the metals had to match. I chose pewter for all the door hardware and from there out all metals had to be pewter. I eventually gave up on that because that is no fun at all, plus pewter is not easy to find. Lesson learned. In this room I chose three metals…bronze, gold, and galvanized, and they work well together because they are so different. Plus it makes the room feel like it was collected over time, which is always a good thing.
The Airstone wall is really what makes the room though. Without that wall it would just be your standard nice guest bedroom, but nothing to write home about. Adding the stone gives it that wow factor and was completely worth all the time it took to install (which was mostly because I was super pregnant and everything hurt).
So that's the tour! It feels so good to finally call this room finished!
Southwestern Bedroom Sources + Links
Paint Colors
Walls – Sculptors Clay Behr PPU5-8
Trim – Pure White SW7005
Shop the Look

You may also like –