If this sounds oddly familiar to you, it's because I've already done (and blogged about) this project. I made my first set of book slings a few years ago while pregnant with boy #2, but I'm going to throw it out there again since 98% of my current readers probably haven't seen that post. Plus these slings have been really great… I mean, we're renovating the room and these are the only things that are staying. So here is the new set….
and here is the old one.
I made this new set all the same size rather than three different sizes, I liked the variation but honestly no one ever put the books back in the appropriately sized book sling (myself included).
So here is how you make these bad boys –
First, buy your fabric….you will need about 1 1/3 yard per book sling. I choose this bandana fabric from fabric.com for my boys slowly progressing cowboy room.
Before you start making book slings you will need to wash and dry your fabric. I know, I hate this step too…but do it anyway. Anyone remember when I didn't prewash my dining room curtains and they shrank A FOOT? Not fun… wash your fabric.
Next cut them into a 42 x 40 inch rectangle. You can actually make them 42 inches x whatever,  40 inches is just what happened to fit between the two doors in my boy's room.
Next fold your fabric in half, patterned sides together (so mine was 21 X 40 inches) and sew everything together except half of a short side.
Then pull it inside out…
and fold the raw edges in and sew it closed.
The last sewing step is to make a pocket for the dowels. Fold over each long edge by two inches and sew.
To hang the slings you will need to buy one set of double curtain hooks (I bought these) and two dowels per book sling. The dowels I have are 3/4 inch and we had to trim them a little so they didn't have too much overhang. Make sure you are screwing the curtain hooks into studs, they will be holding a lot of weight. Also, some overly energetic and highly rambunctious children may use the slings as a ladder to try and reach the light switch. Not that I know any children like that…
And that's it! Such a simple, practical DIY that also happens to be really, really, really, ridiculously good looking (name that movie!)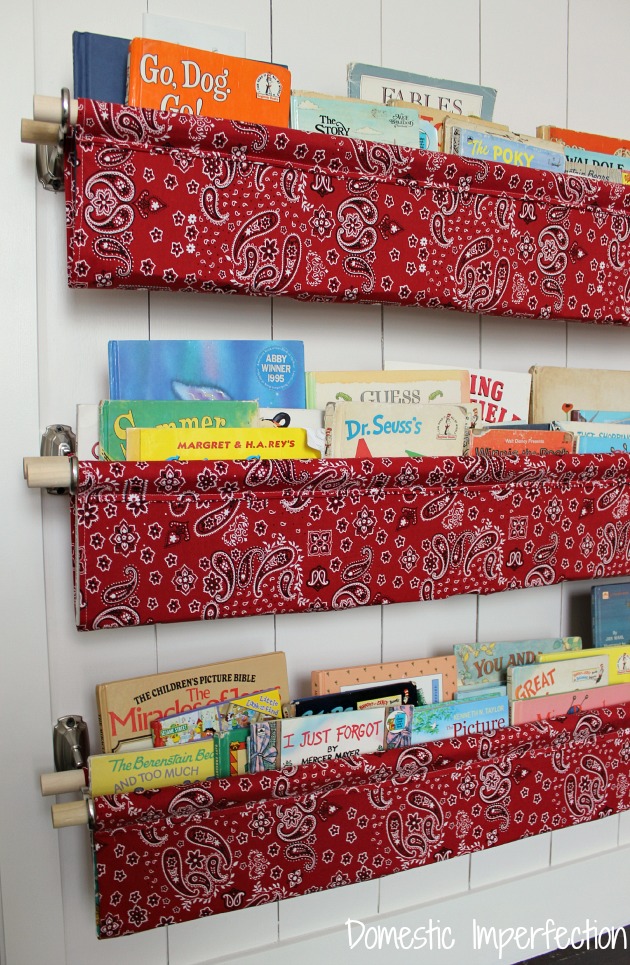 These slings hold a ton of books and are surprisingly sturdy, we've had them for about 2.5 years and they haven't sagged at all. Plus I love that the covers face forward, instead if being squished against each other and out of sight. It makes it really easy for my kids to pick a book at night and keeps them from pulling every book off the shelf to find the one they want. Not that my boys would ever dare be so messy, obviously. They also never rip pages out of books or beat the stink out of each other. And every night they thank me for cooking a healthy dinner before quietly putting themselves to bed.
Ha!