Painting RV Cabinets (and what I did wrong)
Y'all…I did it. I finished painting the cabinets in the RV. Somebody get me a drink.
I'd love to tell you a wonderful, uplifting tale about how it was an easy project and I enjoyed every second of it, but that would be a lie. This project sucked and I'm really glad it's over. I CAN tell you it was worth it though, so at least this story has a happy ending. I mean, just look at how much brighter and less depressing the kitchen looks with bright white cabinets. Worth it.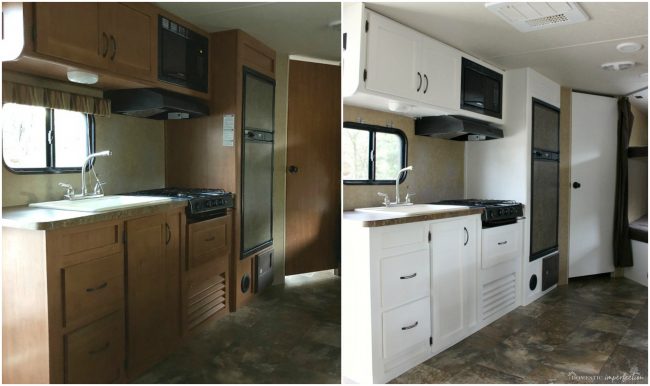 Alright, let's talk details (so you don't make the same mistake I did).
As it turns out, RV cabinets aren't the best. I'm sure there are RV's out there with decent quality cabinets, but ours is not one of them. The cabinetry in our camper is made to be extra lightweight, so it is made of thin pressboard and covered in a wood look paper. These cabinets make cheap laminate cabinets look like the holy grail of quality craftsmanship.
So when we decided to paint them I wasn't really concerned with them turning out perfect, because that just isn't realistic. The goal here is to remodel the RV as cheaply as possible, while having it still look freaking fantastic. And the cheapest way to do something is by using what you already have.
So I went up to the attic and sifted through all the leftover paint, and came down with a bucket of primer and a bucket of leftover latex shiplap paint. I figured these would work well enough…after all, they're just crappy RV cabinets that will only be taking intermittent abuse.
I started by giving all the cabinets a light sanding to help the primer stick to the slick paper. Then I taped everything off and started in with the primer, which was a water-based Kilz.
I primed the entire kitchen with this stuff before giving it the scratch test …and realizing that the primer did not even remotely adhere to the cabinets. Instead, it came right off at the slightest touch. So me, being me, decided everything would be okay in the end, and adding latex paint over top would probably solve the problem.
As you may have guessed, more paint was not the solution. It still scratched right off, revealing my nemesis…that stupid, slick, fake wood paper. I, of course, have zero photo evidence of this, which I blame on my overly optimistic denial of the problem.
Time for plan B, which involves doing things the right way. For $8.
That's right, $8 worth of oil-based primer is all I needed to end the shenanigans.
This primer is amazing, it is what I used for all the cabinets in the house and it is pretty much bulletproof. If you are painting anything that isn't drywall or bare wood, use this. The downside is that it is oil-based, so it smells terrible and is a pain to clean up… but a disposable foam brush and some good ventilation will make it bearable.
Anyway, I primed the rest of the RV with this stuff. I didn't even have to sand first, that is how well it worked. As far as what I had already primed, some of it I left, some of it I sanded and re-primed, and some of it I re-primed without sanding. How it all holds up will be an interesting experiment.
Despite the excellent primer, it still took five coats to cover the dark wood. FIVE COATS. If you are wondering what I did with my little bit of kid-free time this summer….well, this is it.
Also, caulk + painters tape is your best friend in situations like this, it makes your "I'm so over this" sloppy paint job look much more presentable.
Anyway, here are some more pictures of the finished product!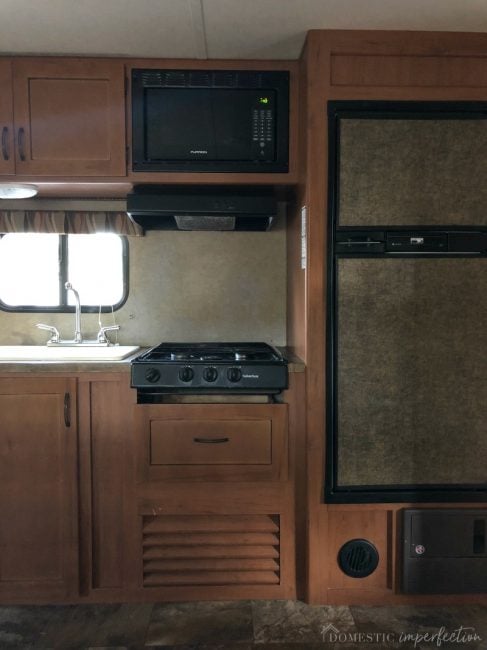 The color on the cabinets is Alabaster by Sherwin Williams, and I didn't seal them. Not sealing cabinets is a really bad idea, but since this kitchen isn't used often, I'm willing to risk it. Plus I just couldn't bring myself to spend any more time on these cabinets…I'm ready to move on to the walls!
If you prefer your information in video format, I have that too –
[adthrive-in-post-video-player video-id="jSOL6Ulo" upload-date="2022-05-12T15:47:31.000Z" name="Painting RV cabinets" description="How to paint RV cabinets (and what I did wrong)" player-type="default" override-embed="default"
*** CLICK HERE TO SEE ALL THE RV REMODEL POSTS ***