Our DIY Farmhouse Laundry Room – The Reveal!
It's a big day around here, because it's room reveal day! Our farmhouse laundry room is completely finished…man it feels good to type that. Room reveals are my absolute favorite, not only because they mean I get to check another space off my to-do list, but also because I get to move onto a new space and appease my project ADD.
So here is the finished laundry room…check out this before and after!
Looking at the photo makes me smile so hard…what a difference!
To get a better idea of the layout, here is a birdseye view of the space –
And here is the sketch Adam and I drew up when we were planning the space (also, our fourth son's name isn't John Wayne, it's Abram…Adam just put John Wayne in as a placeholder since we had just found out I was pregnant with #4) and also my mood board.
Here is the official before photo. I snapped when the builder was finished with our house, just a short time before we moved in. If you are new around here, my husband and I designed our house ourselves and then hired a builder to build the shell of the home. He took it to the drywall stage, and after that Adam and I took over. That was three years ago… the jury is still out on if we are idiots or not, haha.
And now, just a few short years later, it's finally complete!
Ahhh…..so pretty right?! I'm thrilled with the way it turned out. Not only is it easy on the eyes, it's so functional. If I had to design this space again I don't think I would change a single thing.
As a refresher, here are the posts I have already written about the laundry room –
Alright, so let's take a closer look at the elements in this space, starting with the washer and dryer area.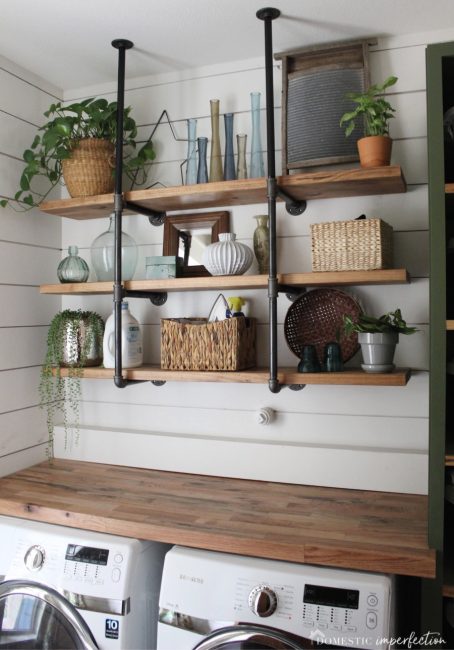 The first thing you probably notice is the shelves. I love the shelves, though admittedly they serve almost no purpose. There are three useful things on here…the laundry soap, the basket full of laundry accessories (iron, stain remover, etc) and the basket on the second shelf that is full of socks that don't have a mate (so basically, all my kid's socks). The rest is all just useless pretty stuff that adds interest and spreads around the colors in the curtains.
The countertop exists mostly to make the area look more pulled together, but publicly I'm going to claim its for ironing and folding. I try not to do much of either, I usually just take the clothes out of the dryer and toss them into the correct laundry basket.
That brings me to the laundry tower, which I'm in love with. It's SO useful and helpful. In our last house the laundry would end up in big unfolded piles all around the house (I know I'm not alone in this…doing laundry, no big deal. Folding and putting laundry away? I'm going to need at least a week). Since becoming the proud owners of a laundry tower I can honestly say that unfolded laundry mountains never happen. Seriously never, in italics and bold for emphasis and everything. It's glorious.
Now I just take the clothes out of the dryer one at a time, chucking then into the correct basket. I never fold them. Each day my two older boys are responsible for putting away all the laundry in their basket, and the two little boys and I put away their laundry together. Before too long they should all be laundry self-sufficient and I will just be responsible for me and Adams stuff. That will be a good day.
Working our way to the right we have the laundry sink/guest bathroom sink. It is kind of a unique setup, the guest bathroom has a toilet and a shower in it (the shower still doesn't work….it's on the list) and the sink is out here in the laundry room. I really wanted a laundry room sink, and putting two sinks so close to each other seemed silly. So instead we just did one shared sink and put a shower in the guest bathroom. Currently, the shower in that bathroom has never been used and seems unnecessary…but we have four boys sharing one bathroom, and one day when they are all stinky teenagers I think we will be really glad we threw in a second shower.
My husband built all the cabinets in this space (and the whole house), and the green is the same green that is on our kitchen cabinets. The countertop is DIY white concrete that we poured at the same time as our kitchen countertops. The kitchen ones turned out decent, but this one got a little forgotten in our haste to smooth the out before they dried, and it turned out terrible. We seriously thought about tearing it out and replacing it, but I decided to try and just paint it first. I used a concrete patch to level it out, then painted it with Rust-Oleum countertop coating. It turned out okay… it's not my dream countertop or anything, but it's white, inoffensive, and is good enough.
There isn't much to see on the other wall, just a storage closet, door the guest bathroom, and a full-length mirror for those last-minute checks before you dash out of the house. Through that doorway you can also see the mudroom, which we finished last year. You can read more about the mudroom HERE.
I really think the shiplap and brick floor make the space. I'm a big fan of making the house itself interesting (walls, floors, ceilings, etc) and letting the things in it take a backseat. I feel most homes start off as a big blank drywall box, and decorating something like that is expensive and stressful, because all the emphasis is on the "stuff". If the house itself is interesting, beautiful, and maybe a little bit quirky, then the rest of it isn't so important and easily falls into place.
ANYWAY….now let's get to the nitty-gritty details. Below is a list for where you can find all the items and tutorials for the laundry room (some of these links are affiliate links, just FYI) and then the price breakdown. I'm not organized enough to keep receipts and all that nonsense for years on end, so the price breakdown is round numbers and my best guess.
Laundry Room Source List
Price Breakdown
Floor – $1,100
Countertop – $15
Shiplap and trim – $300
Paint and supplies – $70
Sink – $160
Faucet – $260
Shelving – $120
Window treatments – $ 175
Laundry baskets -$40
Mirror – $30
Accessories – $80
Cabinetry – $350
Total price – $2,700
$2,700 for that before and after picture actually seems really great to me. I'm trying to pick better quality finishes in this house than our last house, but we also still have a budget and can't go crazy. I feel like this space is a great mix of splurges (the brick floor) and money-saving solutions, cheap countertops, DIY cabinets, etc). Three years wasn't exactly my goal timeline, but it is what it is, and the journey is half the fun.