I logged onto my website this morning to publish this post and saw that it has been a month since my last one. I would have sworn it was only a week or two….time is flying. Flying. Anyway, progress is still happening around here despite my blog neglect, and the shiplap in the laundry and mudroom is painted and officially checked off the list. So here it is!
Before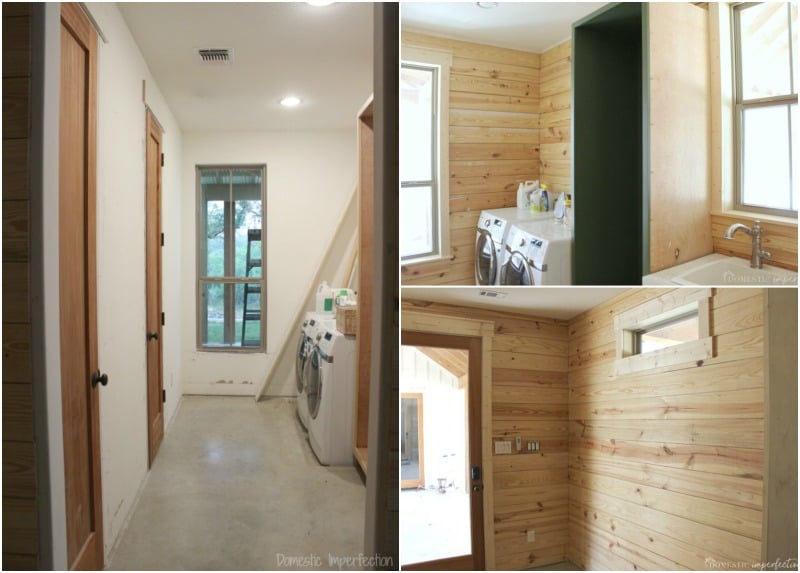 and after!
I love it, it's so fresh and clean and just a great starting point for the rest of the makeover. Here is a close-up so you can see the texture and character.
Anyway, instead of just showing you pictures I thought I'd share some tips for painting shiplap. It seems like this would be unnecessary…I mean, painting is painting, right? Roller meets wall, rub it around, color happens, done and done. Painting is pretty simple and self-explanatory…but also? It is such a pain in the butt, and painting planks adds an additional layer of pain.
Tips for Painting Shiplap
Paint the wall the color you plan to paint the shiplap.
This step varies in importance depending on which kind of shiplap you are installing. If you are doing the faux planks (like we did here) then you will see the wall between every board, and painting it beforehand is so much easier then painting it afterward. Not only will painting it after not work all that well, it will tear up your brush and take forever (if you are using faux planks make sure and sand the edges before installation as well). After learning our lesson the first time, we wisened up and painted where the cracks would be for this vertical installation. It doesn't have to be a great paint job, it just has to be the same color (or close enough).
For this new house we used real shiplap instead, which doesn't leave a gap where you see the wall, so painting the wall beforehand is much less important. There are still knots and cracks where you would be able to see bits of drywall, so depending on how much of a perfectionist you are you may still want to take the time to paint it.
Patch the holes and caulk the cracks
Installing the planks will leave you with a ton of nail holes, plus there will be cracks in the corners, along the ceiling, and a variety of other places. The process of filling them all is tedious and slow, but in my opinion very necessary. You will want to use a paintable caulk for the gaps and cracks, and for the nail holes this 3M patch + primer is my absolute favorite.
Often when you use a patch you can see it after you paint, the sheen is never quite right and it just looks like a patch. This one includes a primer though, and it works amazing. Just push little into each nail home, let dry, sand smooth, and paint. And if the stuff in the tub dries out you can just add a little water and reconstitute it indefinitely (I've reconstituted this tub no less than 20 times).
My other favorite thing? 8-year old boys that think this kind of tedious work is thrilling.
Don't skip the primer
Priming might seem like an unnecessary step, but it is actually very important. Pine absorbs paint (and stain, and everything) really unevenly, so the primer will help to even it out and give you much better coverage. It also helps with adhesion, gives you a smoother finish, and stops bleed-through. And if nothing else primer is cheaper than paint, so you really can't go wrong. My primer of choice is Kilz 2, which is water based. Oil based stuff is good but also a horrible, stinky, messy pain that's not worth it.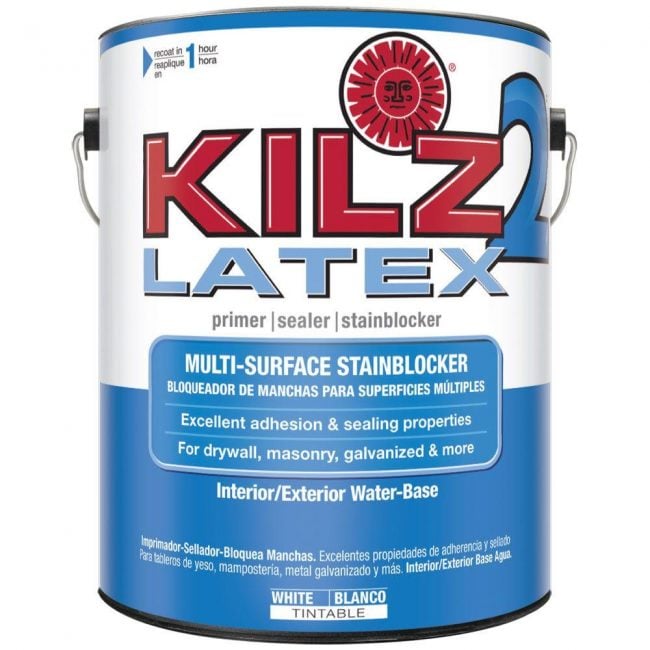 Don't bother painting the boards beforehand
When we shiplapped the walls in the living room we thought we were so smart painting the boards beforehand. The walls is 27 ft at the peak, and painting them at ground level and not in the sky seemed like the only intelligent way to go about it. So we set them up on racks and primed and painted them all with the paint sprayer, and gave each other a high five for being so awesome.
Then after being moved around, stacked, cut, and otherwise abused they needed to be painted again by the time they made it up on the wall. Of course they did.
If possible, use a paint sprayer
After painting a few rooms full of shiplap with a brush, I can safely say that spraying is better. Much better. Painting by hand takes a few days at least (for me, with normal life distractions), and painting with a sprayer takes about 30 minutes for both primer and paint (we have this paint sprayer). Also, the finish is flawless. If it sounds too good to be true though it probably is, and the downside to spraying is the prep work.
Everything that you don't want to get paint or overspray on needs to be covered with plastic and taped securely, plus you have to thoroughly clean the paint sprayer after using it.
I have to tell you though, this paint sprayer info is secondhand. My awesome husband did the 95% of the prep and painting by himself while the boys and I spent the day on the couch with fevers. It was actually a pretty terrible day all around (who am I kidding, the sickness hung around for weeks) but now its over, everyone is healthy, and the room is painted. (We used SW Alabaster in a satin finish, BTW).
So those are my tips! In other news, we got the brick flooring in and I am happy to say that it has all the color variation I hoped it would.
Adam and I have decided to hire this job out, so as soon as our tile guy has an opening the floor will get installed. I'm excited.
The mudroom lockers are also here and assembled.
After spending FOREVER looking for used ones (I really wanted some beat up character) getting quotes (all well over $1,000) I finally found some new ones on sale at Home Depot for about $500. All that looking and I got them at freaking Home Depot, the place I'm already at multiple times a week. The downside is that they are gray and I really wanted blue, so painting them is on the to-do list. Adam feels fairly confident that I'm going to ruin them, which means I definitely have to paint them just so I can prove him wrong. It's one of my great joys in life, proving my husband wrong.
You may also like –
My failed attempt to whitewash shiplap
9 Room Painting Tips and Tricks