RV Remodel – Dark and Dated to Bright and Inviting!
It's finally RV reveal time! Are you ready for some serious before and after pictures?! In case you haven't been following along, here are all the posts about the RV remodel.
RV Remodel Posts
When Adam and I were RV shopping we had a list of must-haves. We wanted a pull behind camper that could sleep all six of us (without having to convert everything into a bed at night), a dining table that could seat all of us, something pretty light and (reasonably) short, and under 10K.
This camper fit all of that, plus more. In addition to all the features mentioned, it also came with a stunning brown color palette….. just layers and layers of beautiful brown, greige, taupe, camel, and burnt sienna. A complex yet soothing monochromatic look, something that only the best and most highly trained RV designers can pull off. Let's look at some more pictures to truly appreciate the skill and detail put into the interior finish choices.
Before
Gorgeous, right!?! Riiiight. I'm obviously being sarcastic because this thing was butt ugly. Adam and I didn't plan on remodeling the RV we bought, but then we brought it home and started dreaming…. that's just what we do.
So we spent the last eight months or so slowly remodeling it, mostly with paint and sweat equity. I tried to use products and supplies that we already owned in order to do this as cheaply as possible. Anyway, it's finally finished and looks like a different trailer!
After
Okay, so let's just do a quick run through of all the projects that went into this remodel. Also, if you want to see more I have an Instastory highlight reel saved of the whole process. Go here to view it.
The first step was to come up with a plan. I started off with the curtain fabric (the geckos) as my inspiration and worked from there. I wanted the interior to be bright but cozy, and colorful without being over the top.
The first project was painting the cabinets, and it was definitely the hardest and most time-consuming part. Confession – midway through this project I was highly regretting starting this remodel, because it wasn't going well (read more here). In the end it all worked out though, and the lighter color made such a huge difference (and cost nothing). Here it is with just the cabinets painted and everything else the same.
Next came the walls. I was convinced this would also be a huge pain, but it was actually incredibly easy (and also cost nothing). The color is Silvermist from Sherwin Williams, same color we used in a few rooms of our house.
After that I painted the laminate countertops, taking them from a brown faux granite to plain black. For this I used chalkboard paint and sealer.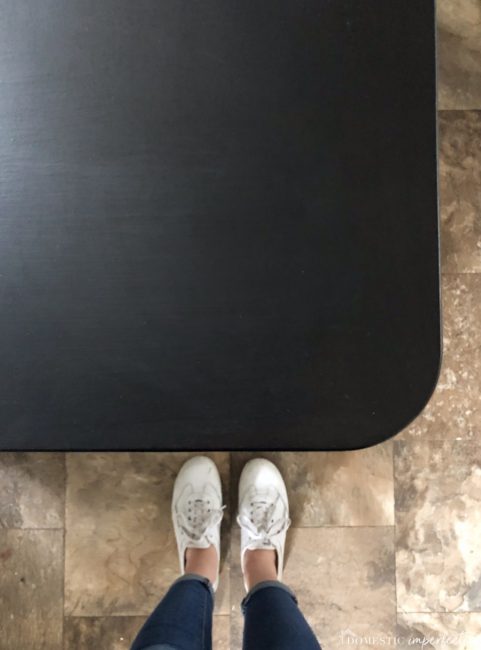 Then it was time for my very favorite part, the rustic wood accent walls. These planks are made by Stikwood and are real reclaimed wood, cut extra thin. To install it you just peel and stick…it's super simple.
I also removed the blinds and replaced them with curtain rods and curtains, replaced the bedroom "doors" (curtains) with leftover ones we had lying around the house, and reupholstered the banquette.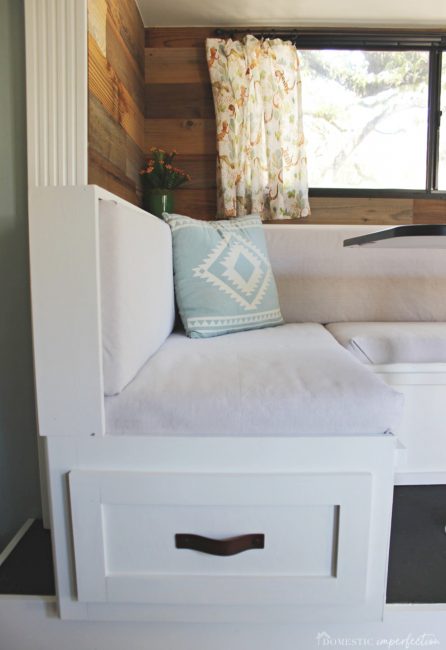 Lastly, I added some organization, storage, and decor.
Most of this was accomplished with Command strips/hooks. I've never really used them before, but I can see why they are so popular…they work great and can be installed in like five seconds. So now they hold our kitchen utensils, towels, toothbrushes, hats, picture frames…. need I go on? I used them everywhere.
The bedroom got a new mattress and bedding, and it is very comfortable now. The mattress was the biggest chunk of money we spent in the RV ($322) but was completely worth it. The bedding was all really budget friendly (all items are linked at the bottom of this post), with the exception of the brown waffle weave line blanket. The was sent to me by Magin Linen and is incredibly nice…. it has a great texture and more weight than your average linen blanket. I styled it in here but it's definitely going to end up in our master bedroom.
The faux plants are another one of my favorite things. I love using plants in decorating, but real ones would never make it in an RV. Nearly Natural sent me these to use in the remodel, and while I love them all, this String of Pearls plant is fantastic. It looks legit and hangs beautifully.
I obviously want them to stay put on the road, so I attached them to the shelves with velcro. They are really light to begin with, so hopefully it holds. (The pearl plant is getting this as well. That sucker isn't going anywhere).
Anyway, here it is completely finished!
RV Remodel Source List and Cost Breakdown
Cabinet color – SW Alabaster ($0)
Wall Color – SW Silvermist ($0)
Countertop color – black chalkboard paint ($11)
Banquette foam – Home Depot ($50)
banquette batting – Amazon ($20)
Banquette fabric – dropcloth, Home Depot ($30)
RV mattress – Overstock ($322)
Television – Amazon ($139)
Blue RV size sheets (short queen) – Amazon ($27)
White duvet cover and shams (king) – Amazon ($28)
Linen blanket – Magic Linen ($0, sponsored – $152 value)
Orange ombre pillow – Homegoods ($0, already owned)
Rustic wood walls – Stikwood, reclaimed sierra silver ($0, sponsored – $850 value)
Curtains rods – Walmart ($18)
Curtain rings – Amazon ($12)
Curtain fabric – Spoonflower ($70)
Bunk Sheets – Walmart ($40)
Orange velvet throw pillows – Amazon ($45)
Blue southwest throw pillows – Etsy ($0, already owned)
Faux plants – Nearly Natural ($0, sponsored – $90 value)
Leather drawer pulls – Amazon ($14)
Wood trim – cedar, natural pecan stain ($15)
bedroom door curtains – JCPenny ($0, already owned)
Runner rug – Article ($0, already owned)
Mirror – Walmart ($5)
black frames – Walmart ($10)
Hooks, etc – Command Strips ($30)
Total – $886
(Total including sponsored items – $1,978)
Honestly, Adam and I were surprised when I totaled this up. I felt like we did this really cheaply…mostly with paint we already had on hand. Things add up though, and we spent it slowly over eight months, so it makes sense. Also, the mattress and TV are like half the budget…those dang mattresses will get you every time. Obviously getting some items sponsored was a huge help (especially the Stikwood), and really took the final product up a notch!
I'm in love with the end result and have zero regrets. Not only is the RV beautiful and great for camping, but it is the ideal space for guests. We have people stay with us fairly often but don't have guest room in our home, so this has been and will continue to serve as a comfortable, private space for family and friends to stay.
So that is a wrap on all things RV! Whew! I hope you enjoyed following along…now let's move on to new projects, shall we?