How to Refinish Outdated Tile (yes, I painted my shower)
Who here has outdated tile in their bathroom but doesn't want to rip it out and replace it? Did you know that you can paint it? Painting shower tile is an involved process but not a hard one, and for about $100 you can give your shower a complete makeover.
I wavered about doing something with the tile in our master bathroom for a long time. It's not terrible and I don't hate it…but by the same token I don't love it either. I didn't want to rip it out and re-tile…in our forever house, yes, in this house, not gonna happen. I finally decided to give painting it a whirl, mostly because I like to experiment and I thought some of y'all might be curious about the process. Plus I figured solid white would be an improvement over the blue, gray and swirlies.
So let's get started. First off, you need supplies. Quite a few of them.
How to Paint Shower Tile
Supplies –
RustOleum tub and tile paint (I used almost two boxes and did three coats)
Cleaning Supplies – bleach, Comet, and Lime-A-Way
abrasive pad/sponge
400/600 grit wet/dry sandpaper
3M™ Safety Products – a respirator, safety glasses, and gloves
brushes (I used foam)
rollers (I used foam)
paint tray and liners
You may or may not need –
tools to remove caulk
grout
caulk
dropcloth
Step one – Prep work
Preparing the tile is critical, and if you don't do it thoroughly the paint won't adhere properly and you will have a mess on your hands. Don't be lazy with your prep.
Remove caulk/replace grout
The very first thing you need to do is remove all the caulk from the areas you will be painting, since you can't paint over it. This should be in all the corners of your shower. (You can go back and add it after your shower is painted and dry). We didn't have caulk in those areas, but rather cracked, chipped, and missing grout.
My husband decided to go ahead and remove and replace the grout in those areas. He said it was for the betterment of the tub… I think he just likes destroying things.
Here is the official before picture, after a few hours of prep work.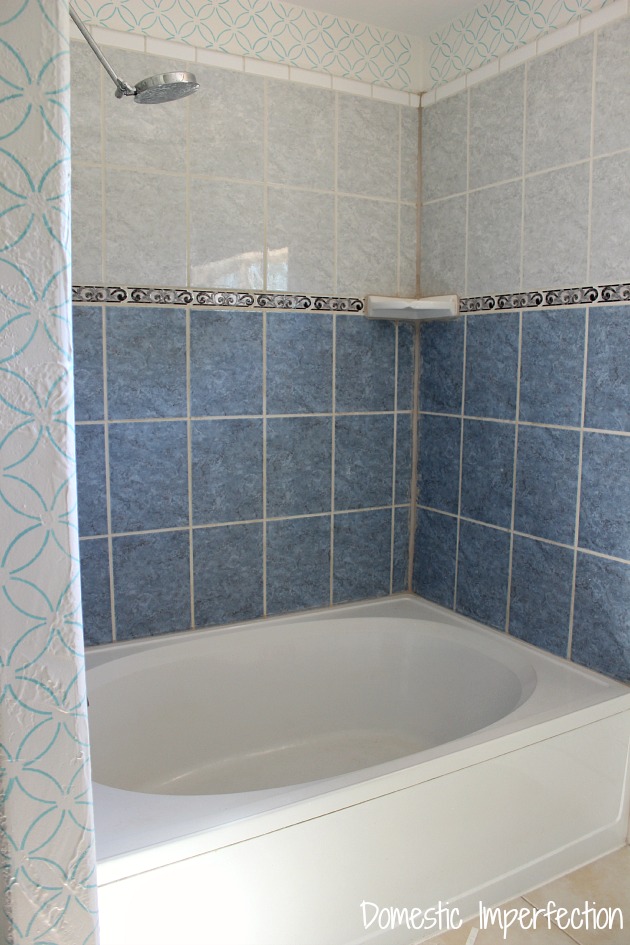 Cleaning
The first non-optional step to painting shower tile is cleaning it. (Actually, the first four steps are cleaning.) This was new territory for me, I am terrible at cleaning our showers. Terrible meaning I just never do it. If I don't make something a top priority around here it doesn't get done, and scrubbing showers is never a top priority. In my opinion, you shouldn't even have to clean showers. Their whole existence is centered around soap and water…they should be self-cleaning. Can I get an amen?
Here are the cleaning steps, I simply did exactly what the box told me to do.
Clean with bleach water to remove mildew. Rinse.
Scrub with Comet and an abrasive pad. Rinse.
Clean with Lime-A-Way. Rinse.
Sand with 400/600 wet/dry sandpaper. Rinse.
Let dry for at least an hour.
The result? Insanely clean tiles. Literally so squeaky clean that I could have used the refection to do my make-up. So beautifully clean that I may just go completely crazy and scrub my shower once in a while.
Tape Off the Area
Next I taped off the shower with ScotchBlue™ Painter's Tape.
Here is what I was thinking when I did this…
I wanted to paint the tiles, but I didn't want to paint the actual tub (except for the front, because it had some discoloration). The tub was already white and not in bad shape. No need to fix what isn't broken, right? Also, the tub and tile paint has great reviews online (you can read them here on Amazon) but whenever I read a negative review it said something like "it's been a couple of years and it's holding up great except for some chipping and peeling around the drain." If the floor was everyone's problem area, then I wanted to avoid painting the floor.
Step two – Paint
Mix the Paint
Shower paint is a two-part epoxy paint that you mix together by pouring part A (the activator) into part B (the base). You can use it on porcelain, ceramic, and fiberglass.
Start Painting
First, use your brush to cut in the edges and corners, just like you would if you were painting a wall.
When that is done go after it with a roller…
Painting a tub may sound a little scary and intimidating, but really, it's no different from painting anything else and it doesn't really take any longer. (You only need to wait about an hour or two between coats).
Okay, I lied a little…there is one major difference between painting shower tile and painting a wall.
THE SMELL. The tile paint is so freaking ridiculously strong; it's insane. Do not even think about doing this without a respirator. I used this mask and could smell it a bit, but it wasn't bad. I would think that a mask like this would do a much better job. The fumes were so strong that my eyes teared up a bit and I seriously considered putting on my snorkeling mask. I thought the Waterlox we used to seal our butcher block countertops and farmhouse table was bad, but it has nothing on this tile paint. You can tell I'm a mom because the only comparison I can make is comparing Waterlox to newborn diapers and tile paint to toddler diapers. Neither are pleasant, but as soon as you graduate to solid food toddler diapers you realize those newborn diapers basically smelled terrific.
Step Three – Finish
As soon as you are completely finished painting, remove the tape. Then you just need to wait for it to dry for a few days before you start using your fresh new shower!
Here are two things you should NOT do when painting a shower.
Do NOT use a roller that isn't foam.
I did some research before starting this project and it was recommended that you use a low nap roller over a foam roller. That's all fine and dandy and obviously worked for some people, but my roller left tiny raised hairs all in my paint. Literally everywhere.
I ended up sanding again after the first coat with the 600 grit sandpaper to smooth them out and using a foam roller for the rest.
Do NOT use the same paint tray for consecutive coats.
Use a liner and throw it away after each coat, even if the paint in it looks dry and safe to pour over. The new paint will re-energize the old stuff, just enough to leave tiny, bumpy, gelatinous spots all over your nice smooth paint job and make you want to hurt somebody. (I couldn't get a good picture of this.)
Final Thoughts
With that being said, here is the final product…it looks so bright and clean! Perhaps a little too bright and clean…I think I have to paint the tub now. I used to think it was white, but against the ultra-white paint it looks gray and dingy (it looks better in pictures than in person).
The finish on the paint is surprisingly great. It's smooth and shiny and really doesn't feel like it's going anywhere. Adam was very skeptical before we started, he told me "just because you can fix things with paint doesn't mean you should." Now that is complete he suggested we do the guest bathroom as well.
If y'all have any questions just leave them in the comments and I will do my best to answer you!
UPDATE – Is shower paint durable? CLICK HERE TO SEE HOW IT IS HOLDING UP AFTER A YEAR!
Update #2 – I just saw that Rustoleum now makes a touch-up kit for this product! Now if I do get some chipping I can easily fix it without buying and mixing up a quart of paint.
Have something besides a shower you want to paint? Rustoleum also makes kits for –
You may also like –
How to Make Dirty Grout Look New
Paper Bag Flooring – A Tutorial
My Painted Kitchen Cabinets – Five Years Later
How to make your kitchen look custom for under $50 (hint: It's not paint!)
How to turn a dresser into a bathroom vanity