Let's talk about that space above your cabinets for a second…that useless space that does nothing but collect dust and cause design dilemmas.  Do you decorate it? Leave it? I have always left it, I love to decorate but I'm not a fan of having stuff just for the sake of having stuff. When Adam and started the kitchen remodel I had a lot of ideas and things I knew I wanted, but my number one thing was to make those cabinets touch the ceiling, somehow.  Adam and I found a solution…the perfect solution really. It is easy, cheap, provides usable storage, and most importantly eliminates that awkward, dusty, eyesore of a soffit.
I apologize in advance for the pictures being completely random…I had to combine old pics from both our kitchen and laundry room to make one thorough tutorial.
HOW TO RAISE YOUR CABINETS TO THE CEILING
The first step is removing your cabinets. I know this sounds scary (like you are ripping your house apart), but to remove a cabinet you literally just have to unscrew four screws.
Then place the cabinets where you want them on the wall and screw them back in. Make sure you use a level for this step…ceilings aren't always flat, even if they look it. We left about an inch gap between the top of the cabinets and the ceiling on order to leave room for the moulding. We used a 1×2 as moulding, if you are going to use something beefier than will need a larger gap between the cabinet and the ceiling.
Since the cabinets are so close to the ceiling you won't be able to screw them in from above the cabinets (like they were before), you are going screw them in from the inside. The cabinets should be reinforced along the top two inches or so, that is where the screw needs to go.  Make sure you screw all four screws into a stud on the wall, you will need the strength to fill it with all your kitchen goodies. The easiest way to do this would be to find the studs beforehand and mark a line, if not it's going to be a bit of a guessing game. You can tell from the pic below which route I chose…
Then, when your cabinets are securely back up on the wall you will be left with something lovely and patchy, like this…
This is where you do whatever you are going to do with the backsplash area. We planked our walls in the kitchen and painted in the laundry room.
And that's it, your cabinets are now touching the ceiling. Hallelujah!
You can't stop there though, because now there is a massively awkward gap between the countertop and the upper cabinet. So…
HOW TO ADD A SHELF BELOW YOUR CABINETS
There are so many different ways you can make shelves, and the way we did it is just one super easy way to do it.
First we hung up a wood strip (screwed into studs) as a support for the back of the shelves…
Then made the shelves out of two pieces of MDF glued together.
Why MDF? It's cheap, mainly. It also doesn't bow like plywood, and since it doesn't have any grain it looks really nice painted. We used two pieces for strength and to mimic the width of the face frames on the cabinets.
Then we added hardware and daisy chained them to the top cabinets (more info in THIS POST).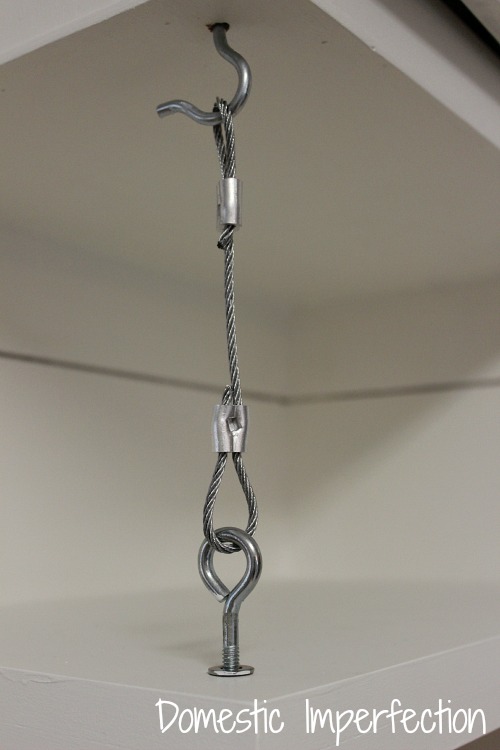 We're not finished yet though. Did you notice in the above picture that the bottom of my cabinets looks, well… amazing? Probably not, but if I had skipped this next step you would have noticed them for sure. Because of the ugliness, that is.
When you raise your cabinets suddenly the ugly underside becomes very exposed. If your cabinets are wood this might be a non-issue, but we painted ours and it looked terrible. You could just paint the bottom, but we choose to add skins to them instead.
Adding skins is simple. You just take a thin sheet of plywood, cut it to size, and brad nail it to the bottom of the cabinets.
Then paint and caulk and you are good to go.
For the final finishing touch add your molding to the top of the cabinets. I wanted something simple and clean, so we used a 1×2 piece of trim.
And that's it! (Except for all the sanding, painting, and caulking, of course.)
Some extra information – The shelf in the kitchen is 18 inches off the counter, and the bottom of the shelf to the bottom of the cabinets is 10.5 inches. We have standard 8-foot ceilings. If there is something I forgot to cover then leave a comment and I'll get you an answer!
You may also like –
My Painted Kitchen Cabinets – Five Years Later
Designing our (Budget-Friendly) Dream Kitchen