Paper Bag Flooring, Part III – Sealer Options
Welcome back to the paper bag flooring series, where I provide more information than you ever needed to know about installing a paper bag floor in your home. If you only have a minute, here are the big takeaways from this post –
Which sealer should I use for my paper bag floor?
If you want to dive in and get all the info on sealer options for your paper bag flooring project, then keep reading!
Today's post contains more information than you ever wanted to know about different sealers. Seriously…feel free to skim. Although this particular part of the paper bag floor experiment is the one I have the most interest in, since my floor is having some sealer problems, not to mention that and most of the questions I get about paper flooring have to do with sealer. Not for long though!
At this point in the experiment all the combinations are getting a little crazy and my brain is turning into mush… I'm going to need a good creative project soon to balance out all this science. I'm not used to over analyzing things…for this project I had my scientific notebook near and madly scribbled notes as I worked, took way too many pictures, and labeled everything with permanent markers to try and keep it all straight. Suffice it to say that I'm glad this project is behind me, and I'm glad to have a sealer solution for everyone!
So here are the contestants…
What I did was try each sealer with a water based and an oil based stain, and applied two coats. This experiment (unlike the others) is really hard to describe with photos….all the products in this post are clear, and while could tell a difference in person those differences are hard to photograph. So bear with me.
To test the durability I applied two coats of sealer to my sample boards and let it cure for a few days. Then I grabbed a couple of items and gave them a years worth of abuse in about 30 seconds.
I scratched them with a fork, beat them with a rock, tried to pull up the sealer with tape, and poured water of them. Some of the sealers really impressed me….some not so much. Also, in order to keep your sanity please don't think about the different kinds of paper or horrid looking stain…all we are worried about here is the sealer and oil based and water based stain. Don't make it more complicated than that. Your brain thanks you.
Lets get right to the results, starting with the ones you should avoid.
#8
Parks (RustOleum) Water based Poly for Floors – $40 a gallon
Look familiar? That's because it is…this is the sealer that I used to seal my boys floor. It finished dead last, much to my horror. Although there is a silver lining – I was somewhat impressed with it after a year of use, so if the worst performer held up alright then you really can't go too wrong when you pick a sealer. And in its defense this bottle is a year old, so that may have affected its performance a bit (though some of the others are old as well). Basically it scratched really easily, came up with tape, and is cloudy.
#7
Lundmark All-Wax Floor Wax – $17 a gallon
I put this at number five, but honestly I don't know where to put it. It freaked me out during application and I instantly eliminated it, but I decided to go ahead and apply a second coat and abuse it with the others…and it held up okay.
This is the first time I have ever tried wax…I've never even waxed furniture before. I was hesitant to try it because I though application would be a pain (with all the rubbing and whatnot), but it is really watery and easy to apply. It acts the same on both oil and water based stain, is anti-slip, and best of all it is insanely cheap.he
Here is what happened when I initially applied the wax to the paper…
It wrinkled… a lot. I almost stopped experimenting with it and label it a complete failure, but then when it dried all the wrinkles smoothed out. This is what it looked like after I went after it with my tools of destruction.
The marks obviously show, but they seem less permanent than the poly ones…like the wax is just moving around and not really coming off. Confused yet? Me too…I honestly have no idea what to think about the wax, and since this is my first time using wax I don't really know what to think or whether I should recommenced it or not. So there is all the information I have…your call.
# 6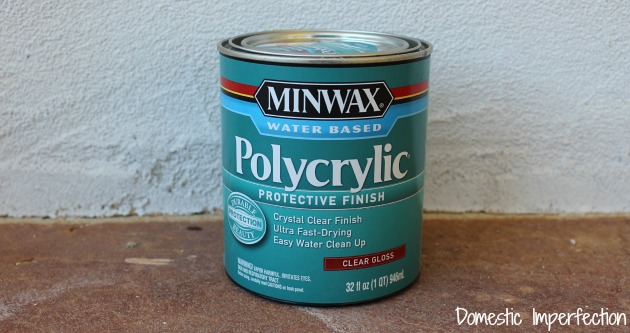 Minwax Polycrylic – $50 a gallon
Here it is, Polycrylic…this is what I use to seal all my furniture and really like it. Unfortunately I can't recommend it much for sealing floors because it scratched really easily and came up a bit with the tape. Here is the oil based stain…
and here is the water based…
Yeah, not great. Next.
#5
Minwax Water Based Poly for Floors – $63 per gallon
Is one is a water based floor poly, but it's unlike the others I tried. The other water based sealers are whitish in color and go over oil and water based stain, this one is amber colored, looks like oil, and yellows. It cannot be used over oil based stain though, here is what happens when you try…
This is the only sealer that beaded up, all others went over both stains (though some held up better than others.)
Here it is over the water based stain after getting beat up, it came out with light scuffs and scratches (there one on the top left) but overall it did really well. Too bad it you can only use it over water based stain (which didn't do too great in my stain experimenting).
#4
Varathane (water based) Polyurathane – $50 a gallon (there is also a floor version for $52 a gallon that I didn't see before)
For a strictly water based sealer Varathane performed pretty well (and did the same over oil and water based stain). I did scratch though, and there are better options.
#3
Minwax Fast-Drying Polyurethane – $55 a gallon
This poly is oil based, and not surprisingly it held up extremely well. Oil based stuff can really take a beating. Here are the scratches, I had to get creative with lighting to even be able to capture them…
There are a few reasons I didn't put this higher on the list….
I claims to be fast drying, but it doesn't dry that fast. After using all the water based sealers (which dry in a few minutes), waiting for this to dry between coats seemed to take forever. Waiting for this to dry on a floor you are waiting to use would be frustrating.
It's smelly, and you have to be more careful with application so it doesn't get gloppy.
The reviews for it are terrible. This floor version on Amazon has some of the worst reviews I've seen.
#2
Minwax Water Based Oil-Modified Polyurethane – $50 a gallon
This is a water based poly (which means easy clean up, less smell, and fast drying) with oil added in (which means better durability). It scratched a bit more than the straight oil version, but I'm rating it higher because it's much easier to work with. It goes over oil and water based stain but it does yellow, so using it over light-colored floors (like the white paper) isn't recommended. Overall I think it's a really good choice, plus the price isn't bad either.
#1
Bona Traffic – $150 a gallon
Let's just get two things out of the way right off the bat….1) this stuff is really expensive, and 2) it is totally worth it. You should basically forget everything I said about the other sealers and just buy this.
Before I started this experiment I did a lot of reading on different types of sealers. I read reviews on amazon, articles on google, and lots and lots of flooring/DIY/contractor forums. Opinions varied on all the sealer options, except one… Bona Traffic. The one I tried here is professional grade, you can't buy it at hardware stores. It took me awhile to actually order it, (since it cost so much), but I with all the rave reviews I decided I wasn't buying it to experiment with, I was buying it to use when I paper bag my guest room. Much to my relief it works amazing and I feel confident recommending it. Here are some notes about it…
comes in two parts, which you mix together before application
goes on easily and dries perfectly clear (other sealers are somewhat cloudy)
One gallon covers 350-400 feet (you only need 2-3 coats)
must read directions carefully
does equally well over oil and water based stain
very durable and difficult to scratch
doesn't smell and dries quickly
basically the best thing ever
Even though the price tag is hard to swallow, I don't think it actually ends up costing you more than most of the other options. I applied 12 coats of poly to my boys floor, but this one only needs 2-3 coats. So even though it is twice the initial price of the other options, you would use less than half the product. As far as my math goes, that's basically even.
Here is the my experimental floor after going at it with the fork, rock, water, and tape –
water based stain…
and the oil based stain…
There are a couple of light scratches where I really dug in with the fork, but other than that they look perfect. I also appreciate that it is truly clear, here is the sample board with Bona Traffic on it on my boys floor with the Parks/RustOleum floor poly (same paper and stain).
Okay, so it didn't photograph that well, but my boys floor is definitely cloudy compared to the Bona.
And that wraps up the sealer portion of this experiment…whew!
So in summary…
Links to the other parts of this series –