Alright y'all, here comes one heck of a post. I've been chipping away at it for months…it's pretty much my masterpiece. Enjoy. 
2016 was a great year. Adam and I worked on building our house, moved into it, sold our old house for more than we thought we would, had a baby, and  generally lots of amazing things happened. That being said, it has been one of the hardest years of my life. Not hard a because things were bad, but hard because it was so crazy busy. Our year was packed full and most of the time it was completely overwhelming and Adam and I spent most of the year stressed out.
Truth be told, we are exhausted. In 2017 I hope to slow down. I want to enjoy the little moments, because in a house with four little boys my days are compromised of little moments. With each baby I have it becomes more and more evident just how quickly kids grow, and even though I'm currently surrounded my sticky little monsters, my house is always messy, and I never get enough sleep…one day I will be well rested in clean, quiet house and I will miss these crazy days. At least I think I will miss them…either that or Adam and I will be on a beach in Mexico loving life.
Anyway, lets look back over the year. I'm going to combine blog stuff and personal stuff all into one post, so here we go…
January
We started out the year with a house that had just been freshly painted, with just studs on the inside.
In January Adam started building the kitchen cabinets (yeah, the ones we are still not finished with over a year later. Life.), the house was insulated, and exterior rock went up (a decision we our exterior we seriously struggled with).
In January the boys were 5, 4, and nine months. Just look of sweet and small my Judah was…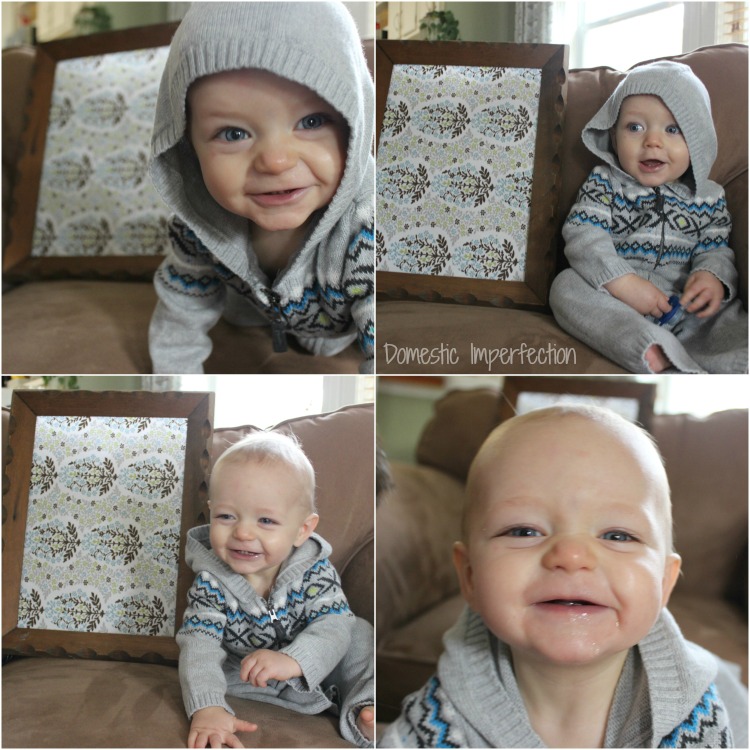 Time flies, doesn't it? Here are a few more pictures from January…
Judah getting into the leftover Christmas fudge
Family photo, this is about the best you can do with small kids.
Scraping our concrete floors so we can cover and protect them before drywall goes up, on the coldest night that winter.
6am flashcards before school, and everyone is up.
January blog posts –
February
In February our house was drywalled and instantly felt like an actual house that we might live in one day.
February is also when I found out I was pregnant. I happened to get the positive (after about month of negative tests) the night before I went on an overnight bar-hopping bachelorette party for my soon to-be sister-in-law, so I spilled the beans early since I wan't going to be able to hide it. Still had a great time, of course.
That's all I can really remember about February, except for acquiring some weird pregnancy aversion to the new house (I think it was all the drywall dust) and not visiting it for nearly a month.
Lots of books, snuggles, and sickness in February.
Levi and Judah watching me do a project.
Judah climbing ladders before he can even walk, in true Judah fashion.
Levi being curious, in true Levi fashion.
Posts from February –
March
In March the house got textured, Adam painted and started installing trim, and the interior stone and tile went in.
(I'm really slow about blogging though and I didn't post about this stuff for a couple of months, so you won't find it in the list of posts from this month.) We also got serious about getting the old house ready for sale, and started going through all the little things we had never finished or ignored over the years. It was a lot….we are terrible about finishing projects 100% of the way before moving on.
Also in March, Judah turned one…
Elijah turned six…
and Adam turned 32 all within ten days of each other. (I really should have taken a picture of Adam with his age and weight for posterity sake, haha). I honestly can't even remember if we did anything for any of their birthdays. I know we didn't have any big parties, but I'm guessing we did something…this is 2016 in a nutshell.
Judah started walking just before his first birthday, and I love those wobbly first steps. They don't last long before they start running and then never slow down.
Oh, Adam and I also went on an overnight trip to the huuuuge Round Top Antique Fair and had fun but came home with nothing. I still think about this door though, I really wanted it for the barn door to the laundry room.
More from March…
Blogging while Judah naps
Judah enjoying the stink out of a blueberry pancake on Elijah's birthday morning.
 The bog boys watching a tractor create our driveway.
The boys talking about all the "marine reptiles" that must live in that water (they are big fans of nature documentaries).
Posts from March –
April
By this time the new house is pretty much at the point where the builder is finished and it is up to us to complete the rest of the house, and we are also working our butts off at the old house to make it beautiful.
The big news from April though is that Adam's brother Taylor got married. He and Haley had a seriously gorgeous wedding, and I gained another sister-in-law. Growing up I always wanted a sister, and now I am lucky enough to have five amazing ones.
I'm in the "safe(er) zone" of pregnancy now and decide to announce it publicly with a big brother photo shoot…
and a few more from April…
Sweet brothers
Levi (4 yrs) doing his 1st grade workbook. He loves learning, this is him doing his multiplication tables. That kid is going places.
Parents picnic at Elijah's school.
Shoebox parade at Levis pre-school.
Posts from April –
May
In May we were planning to list our house for sale, but the last day of April a giant hailstorm hit and destroyed our roof, broke windows, tore up the landscaping, etc. It damaged both houses…isn't mother nature the best? I spent most of May purging and packing the old house and dealing with insurance companies while Adam worked at the new house.
Also in May Adams sister Meredith got married. She is the youngest and last one to tie the knot, and she chose a great guy…who my kids lovingly refer to as "Cowboy Austin". They've been calling him that for three years now, so I'm pretty sure he's stuck with it.
I started dating Adam when Meredith was six, and I was thinking about that during the wedding and just has fast she's grown….then I realized that I have a six-year-old, and in the blink of an eye he will be getting married just like Meredith. Ugh, Meredith… your wedding gave me all the feels.
More from May –
I'm about halfway through pregnancy now and have perfected being super awkward for bump photos.
They like to pretend they hate each other, but then they watch TV snuggled up pretzel style.
 Meredith's "sisters" bachelorette party.
Adam and I at the wedding.
The only post from May…
June
In June we finally listed our house, and it sold the first day for over asking. Hallalujah…I was so relieved to not have to pack up my crew and be out of the house for showings for weeks or months on end. By the time the house was listed we had cleaned out most of our stuff, only leaving the very bare necessities. The boys didn't seem to notice or care that there are no toys in the house, they just seemed to enjoy the open space.
The new house is chugging along, slowly, and looks like this…
Adam and I were also married 12 years in June, which we celebrated by ditching the kids (aka, dividing them up between willing grandparents) and going to a water park all by ourselves. There are no photos to prove that this actually happened, so you're just going to have to trust me. Even if there were photos it would be of me pregnant and in a bikini, so yeah…not going on the internet.
We also went camping with my family and had a great time. Really, June was mostly us being relieved that our house sold and we only had one house to work on from now on.
More from June…
Elijah graduated from Kinder.
Judah, 15 months
20 weeks
We would have never co-slept with kid 1 or 2… but this kid is in our bed 99% of the time and the crib is where Adam keeps his police uniforms.
Posts from July –
July
July was all about getting the new house livable enough to move into. We finally got around to some of the important things like locks on doors and working toilets. It's a beautiful thing when you can stop using the disgusting construction zone port-a-potty at a house you are at most of the time, pregnant, with lots of kids…especially when said port-a-potty bakes in the Texas heat all day every day. Most of our time was spent concentrating on the kitchen though….cabinets, countertops, appliances, etc. July is when we poured out concrete countertop, which was by far my most popular post of the year (read the series here).
July is also when we changed our mind about the beams and decided to put real ones in while the roof was off (thanks hail!). There is nothing quite like being a few weeks from move in and watching people rip giant holes in your house.
In July I also went to Des Moines for a couple of days for the Better Homes and Gardens Live Better Network. As you may know, I do a post every other month for BHG and have been for nearly three years now. They fly us up there to hang out at the BHG headquarters and get introduced to the new products, and not only is great to see the stuff and take the classes, but I can't take my kids, I have a hotel room all to myself, and I get to talk to adults.
More from July –
I think this is my favorite picture of Judah all year, because it perfectly sums him p during 2016. He basically just meanders around while we work at the new house, following his big brothers and being ridiculously cute.
Levi catching some ZZZ's while we work.
24 week hotel room mirror selfie
Watching the metal ceiling in the living room being installed.
Posts from July –
August
In August we officially closed on our old house and moved into the new one. It was really REALLY unfinished at that point and although I expected to sigh a huge sigh of relief when we moved, I didn't. In fact, I wrote a post about this and never published it because I didn't want to come off as an ungrateful complainer, but I just went back and read it and I think I'm going to just publish it right here in this post instead. It's how I felt at the time and I want to remember it…which is kinda what this whole 2016 post is about.
We moved into the new house last week, and although I should feel nothing but over the moon elated, I'm not. All I'm feeling right now is overwhelmed. I look around and the house is a disaster. All our stuff is in boxes and scattered about. I can't find anything I need…but I can't unpack, because we have no cabinets, furniture, rods or shelves in our closets, or anyplace to put anything. The whole house is still dusty from construction. The kitchen isn't functional yet…we don't even have the oven that we ordered and paid for over two months ago. The house is completely unfinished, and I'm sitting here wondering how we are ever going to finish. I mean, I have a husband that works crazy hours and a six, four, and one year old (who suddenly decided that sleeping isn't something he needs to do) and I'm seven months pregnant. When in the world are we ever going to find the time or energy to finish a whole freaking house? I mean, really…what were we thinking?

BUT

We sold and closed on our previous house, so that is completely off our plate.

We have family that is willing to help. A handy family, the kind that calls us up and says "So what are we working on today?"

The toilets, sinks, a shower, and air conditioner all work. So does the refrigerator. And the washer and dryer.

We are good. We have everything we need. I just need to embrace the chaos…and maybe even try to enjoy it. One day the house will be finished and the kids will be gone, and Adam and I will look back on this crazy time and think "those were the days"…and we will miss them. (And then we will sleep in as late as we want and pee without a tiny army of boys staring at us, and that will be great too).
I also took this video of the old house on the day we closed, which I intend to post but never did. So if you want to see it clean and empty (or just get a better feel of the layout) then here ya go…
(There may be a short ad that plays before the video because…well because we gotz bills to pay and video ads are $$$.)
What else happened in August? Gah, it's hard to remember this stuff six months after the fact. OH, we went to the beach with Adams mom and stepdad for a few days before school started and had an awesome time. Adam and I marveled at just how much fun the kids are when we can concentrate just on them and aren't being pulled in a million different directions. We need more days like those.
A few more from August –
The new house a few days before we moved in
This picture pretty much sums up August…and the rest of 2016
What happens when you paint with curious, helpful toddlers around
Curious helpful toddler, in the flesh
Posts from August –
September
September was all about getting settled into the new house (I need to call it some thing besides "the new house", any ideas?) and being super pregnant.
If I remember correctly, September was all about trying to close on our construction loan and convert it into a mortgage, which we had a huge amount of trouble with. They kept sending out inspectors and refusing to close because they house wasn't 100% finished, and we kept scrambling to do the things that the inspectors wanted complete…which is the exact reason why we painted the inside of the kitchen cabinets (so they would look "finished" without doors), painted the plywood floors in the loft (paint counts as flooring, evidently), and stapled drop cloths to the ceiling in the master bedroom (one day they will be wood or metal). Eventually we just stopped and said "this is stupid…we are living in the house, there are zero safety concerns, and we are only borrowing a quarter of the home's value." Eventually we got it closed, but just keep this in mind if you are DIYing a house and using borrowed money to do it. This is the exact reason Adam and I try to pay cash for things.
The good news is that now I have this sweet drop cloth ceiling to stare up at every night from bed…
Also in September, Elijah started 1st grade, and Levi started his final year of preschool (two mornings a week)…
More from September –
making dinner int he new house (we finally got our oven, woohoo!)
34 weeks pregnant, gender still a surprise
Judah helping assemble our master closet
I'm not sure what is happening in this pic, but I think this is called "getting along". A rare enough sighting that it needs to be documented.
(an example of those little moments)
Posts from September –
October
In October the weather was gorgeous and we spent lots of time outside, mostly continuing to clear our lot. This mainly consisted of Adam chopping down cedars with the chainsaw and a 40 week pregnant lady and a six-year-old dragging the branches and throwing them on the fire…a ridiculous way to get things done, but getting them done nonetheless. Also in October Levi turned 5, so we took the kids to a theme park so they could play and I could walk out my overdue baby (which totally didn't work).
At a week overdue we decided it was time to evict this kid, and on October 26th Adam and I had our sweet 4th son, Abram.
He is the most laid back baby ever, and at three months now he is the most smiley baby yet. So sweet, I wish I could keep him like this forever.
More from October –
I'm not even going to label these, they are all about the new baby (and Judah's big blue eyes).
Posts from October –
November
"Holy crap, we have FOUR kids" was pretty much the theme of November.
Adam took most of the month off from work to and I was so SO happy that he did, because it was a crazy month. Abram has an episode where he stopped breathing and turned blue (scariest minute of my life) and we took him to the ER. We were told it was reflux and handed a $3,200 bill. Then a few days later Judah fell and hit his head on a rock in our yard and has to get five stitches, then Elijah came down with walking pneumonia, then Levi got sick and passed it to Adam and I and Judah got Croup. At some point Adam and I looked over at each other and said "I think we are in over our heads with this four kids and building a house thing"….so we decided to go ahead and host Thanksgiving too (which I love doing, don't get me wrong).
(For a more in-depth look at November, you can read this post.)
More from November –
Did I even take any pictures of my other kids this month? Pretty sure I didn't….
Posts from November –
December
I'm not even sure what to write on these months that are post-baby, they were just so crazy that we were (and still are) pretty much just in survival mode. Dishes, Laundry, making sure nobody dies, and trying to get some sleep is pretty much what we've been up to. Not many projects happened these months, and not much blogging either…I think I only posted once in December and it was a roundup of old posts.
We conquered the holidays though, and all the family birthdays (including my own), and even decided to get the boys some kittens for Christmas. They're been asking for a pet for years, and since I am in no way capable of caring for a dog (and we already have a fish) we decided to get cats. Adam and I were was super excited to give them to the boys, and we managed to keep them hidden until Christmas morning when we placed them in a wrapped box for them to open. Their reactions weren't quite what we thought though, we expected excited screams or something, but instead they open the box, a kitten jumps out and Elijah says "Why is there a cat in my present?" Then the other hopped out and Levi was like "There's two cats in the present…how did they get in there?" Anyway, they were a big hit once we explained that the cats WERE the present, and they have been great additions to the family.
More from December –
21 months and 2 months
Family outing to see the lights
My dad reading to the boys
Every time Abram cries Judah yells "bink!" and desperately tries to find him a pacifier. It's super sweet, although Judah definitely has a pacifier addiction we are going to have to deal with a some point….in the future.
Whew….and that was our 2016! I can't believe I finally finished that post, it's been in the works for way too long. For next years review post I need to write these recaps a month at time and not all at once, trying to remember what happened and hunting down loads of pictures. Anyway, how was your 2016? What was the biggest/best/most memorable thing that happened to you last year? Seriously, I want to know!