My Painted Kitchen Cabinets – Five Years Later
Since we have been on the subject of kitchen cabinets lately, I thought perhaps y'all would appreciate an update on the ones I painted five years ago. Truth be told they aren't holding up that well, so if I can keep someone from making the same mistakes I did, that would be great.
So five years ago Adam and I took this dated, boring, builder-grade kitchen…
and turned it into this…
The total price on the kitchen renovation was about $3,800 ($2,200 on new appliances + $1,600 on everything else), and one of the biggest changes was the cabinets. We decided just to paint (and raise) the ones we had, which cost basically nothing and made a world of difference.
So five years ago, as a young and innocent DIYer, I ventured into Sherwin Williams and picked out a paint color for my new kitchen renovation. I talked to the guy that worked there, told him that I was painting cabinets and needed something that would hold up. He said "You definitely want our Duration paint then, it will hold up to anything." "Great" I said "So I just sand, prime, paint, and seal?" To which he says "Oh this paint doesn't need sealer, it will do great without it". And for some reason, I believed him (don't worry, I am much older, skeptical, and pessimistic now, haha).
So we sanded, primed, and painted our cabinets… and didn't seal them. Honestly the paint went on like a dream and I had no doubts that my Sherwin Williams guy was wrong.
But wrong he was.
Fast forward five years, and this is what they looked like…
Don't see it? How about a closer look?
Yeah….they looked terrible and didn't hold up at all. The main problem was the top of the doors where the baby proof latches were. Years of fiddling with those latches and constantly rubbing the cabinets in the same place took its toll. Even without that they wouldn't look great though, you can see that they are also worn around the drawer knobs and edges.
Since we were about to list our house for sale Adam and I decided it was worth redoing the cabinets, correctly this time. So we spent many nights removing cabinets parts, sanding, priming, painting and sealing.
I don't have any pictures of the process besides the one above, since it was one of the first times Judah pulled himself to standing and had to be caught on film.
After the lower cabinets were finished the white uppers started to look a little dingy, so we took those down and painted and sealed them as well.
Then the fresh white cabinets made the shelves and backsplash look dingy, so I repainted those too. Then all the planked white walls in the kitchen and dining room looked off, so everything got a fresh coat of paint. Moral of the story is, if you don't do something right the first time you will end up spending a week repainting entire rooms of your home. You've been warned.
Anyway, after it was all said and done our kitchen looked like this for the listing photos…
So fresh, so clean…and entirely for someone else.
We also decided to put on new hardware and entice buyers with shiny new cabinet bling.
These are from D. Lawless Hardware, the drawers have these cup pulls and the doors have flexible stainless cable hardware.
I really love these, they are unique and kinda match the cable we used to support our floating shelves.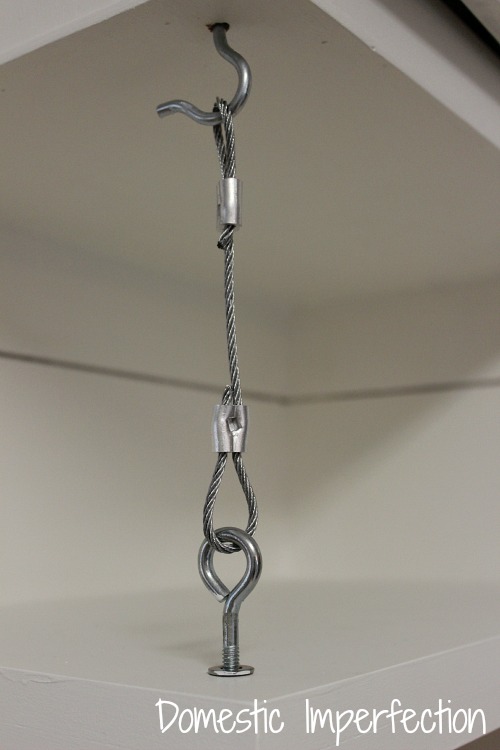 Now that we are building a home and DIYing another kitchen, I have jumped back into painting cabinets. This time though I have a lot more DIY experience and research behind me and feel very confident that our new painted cabinets will hold up. So here are the correct steps (and products to use) if you are planning to paint your cabinets.
So there you go, that is my brain dump for all things cabinet related…hopefully you find something in it helpful!