Last time I did an overall kitchen update we had just installed the cabinets and it looked like this….
Well now we have not only moved in, but I've painted the cabinets, we poured our concrete countertops, added a wood island top, bought appliances, and installed our island lighting.
First thing first, the cabinet color. I wrote a post a few weeks ago about how I went from wanting a light airy green to something dark and dramatic, and I have to say that I'm pretty pleased with my decision. It's exactly the look I was going for, and since the rest of the kitchen will be white and wood I don't think the green will be too much. Adam has given my choice some serious side eye ("That is the most 80's color I have ever seen"), but when I offer to compromise he just tells me that colors are my department and if I'm happy he's happy (and then he makes fun of it some more… that's just the man I married).
Of course, the cabinets are far from finished…doors and drawers and lots of toddler proof storage is definitely in our future. Painting the insides isn't normally something I would do (especially considering it took FOUR coats to cover) but the bank has been giving us grief about the house not being finished enough to close on the construction loan, so I painted the insides so we can say "It's finished, we totally planned to have all open cabinets from day one!"
That is of course a complete lie, and the doors and drawers are already in the works. We are ordering doors instead of building them, and Adam has already made most of the drawers….here they are sitting in our mudroom next to our future pantry door.
He also built these cool wooden crates…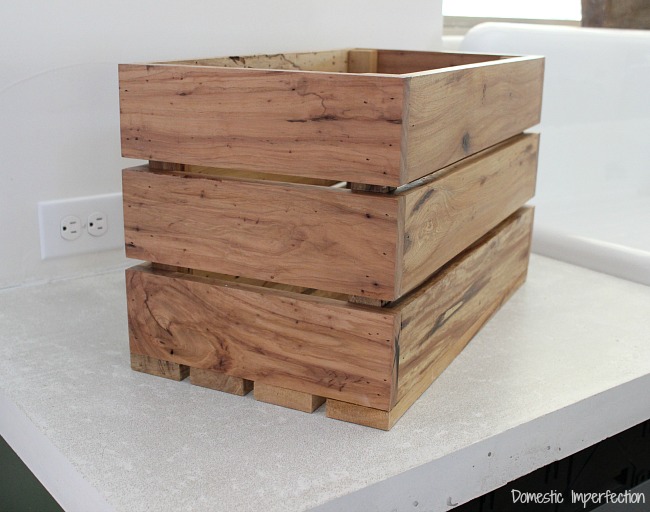 Remember the inspiration picture I showed you saying we wanted some unique storage solutions in our kitchen?
Does my man deliver or what? They are an exact replica and will go on drawer slides so they are easy to use. I'm pretty excited about them…actually I'm pretty excited about storage in general, because keeping the toddler away from all my "floor storage" is getting old fast.
Up next is the island top.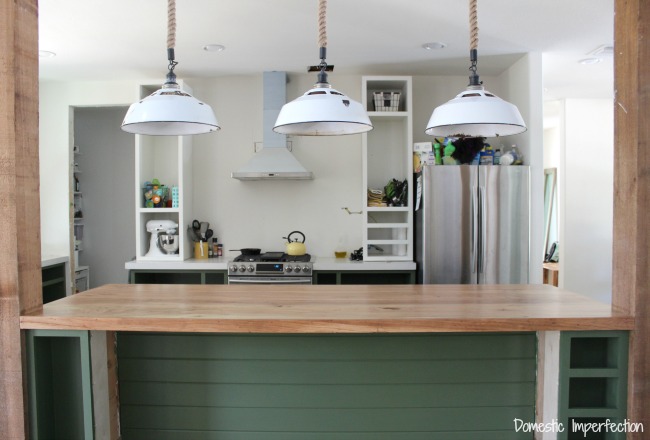 It's solid pecan, and we didn't make it. Time is running short these days (gotta close on that dang loan) so we bartered with our friend Darin and he made it for us. If you want a tutorial on how it was built I do have that though, it was made much like the pecan farmhouse dining table from a few years ago.
The main difference between the two is the finish. The dining table was finished with Waterlox (which is a wonderful sealer) but this time we wanted the wood to be more natural looking, lighter, and less orange. We recently discovered a sealer called Vermont Natural Coatings and have been using it on everything (cabinets, furniture, and now countertops) and it works really, really well.
It also gets bonus points for being a green product that is water based, ultra-low VOC, and easy to clean up. We applied a few coats and the countertop and it cleans up like a dream.
So what about cracks in the wood…how do I keep food and crumbs out of them? I know at least some of y'all are wondering, because I get e-mails about the various rustic wooden tabletops we've made. Truth be told, I've never been able to keep food out of them. Stuff inevitably gets in cracks…it's gross and annoying and you can only get so much out by digging away with a toothpick. Luckily Darin came up with a solution to that problem.
Before we finish sanded or sealed the countertop, Darin used a fiberglass resin to fill every nook and cranny. After it dries you sand the entire top, and the result is a perfectly smooth work surface that is free of crumb gutters and bacteria conventions…but still looks like a cracked old wood countertop. It's the best of both worlds.
Okay, last update….the lights.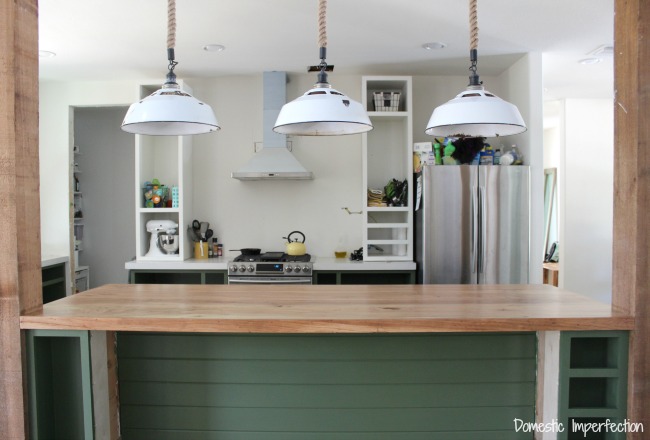 The rope pendants are from Pottery Barn (which I stalked forever waiting for a sale + coupon, because they are kinda pricey) and the white barn lights I found at an antique store for $10 each.
Originally the two didn't fit together because the hole in the barn lights was too large, but my awesome dad rigged up some custom washers and they went together perfectly. Here they are all lit up in the evening…
So that's what has been going on with our kitchen couple of months. We are getting there, slowly but surely.

SaveSave