It's been a while since I've posted a furniture makeover on the blog, even though redoing furniture is one of my favorite things. We've been so busy building our house for the last year that I've barely posted about anything else or done any projects just because I enjoy them. So this table…I actually finished it about six months ago, but with all the craziness I never got around to blogging about it. Better late than never though, right?
So last spring my in-laws house flooded and they lost everything. Lots of people came forward to help them, and they also received many furniture donations…sometimes more than they could use. So my MIL offered me this donated dining set, and even though I had no use for it, I took it. Of course I did.
I wish I knew the back story on this table, because I bet it is interesting. On each side of the table there was a little drawer, and written in one of them was a big bold note that said "Quit hiding food in this drawer!", and the other drawer had a date scratched into it followed by "kicked Boo outta the apartment #aintnobodygottimeforthat." Ha…the stories this table could tell.
I decided to give the table a total facelift and attempt to stencil it using gold leaf. I had never seen it done before and thought it would be pretty and different. Luckily I've wizened up over the years and decided to try it first on a canvas first (which I actually blogged about) and quickly realized that the reason I hadn't ever seen it done is that it doesn't work.
Bummer. But in the process I did find a paint product that simulates gold leaf and is actually usable with a stencil.
So first things first…I sanded, primed, painted the table.
Better already.
The stencil I chose to use is a delicate, feminine stencil from Cutting Edge Stencils called Stephanie's Lace.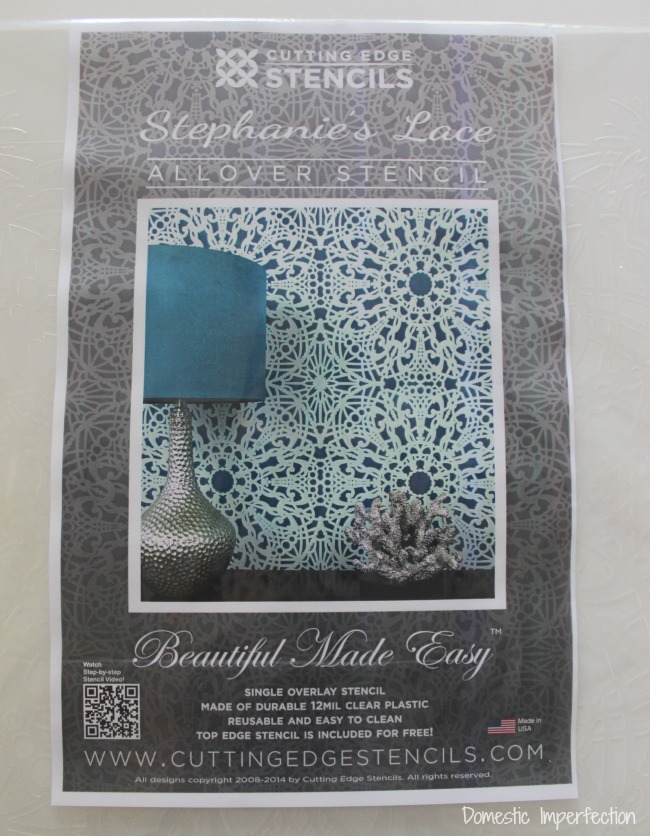 Then I gathered the rest of my supplies, which consisted of a stencil brush, painters tape, spray adhesive, and gold leaf paint.
Next I taped off the sides of the table where I wanted the stencil to end, then lightly sprayed the back of the stencil with the adhesive, stuck it to the table, and did my stencil thing.
It was pretty tedious, I'll admit. I would normally use a small roller to stencil because it works well and is crazy fast, but it also wastes a ton of paint and my little gold jar was too small and expensive for that…so the small stencil brush is what I used. Here is a picture of two of my boys watching me work, and Levi's face pretty much sums up how I felt about halfway through it.
I ended up with some paint build up around the edges of the design, which made the table really rough and not really usable (or more so, wipeable).

So I took some fine grit sandpaper (220? 400? I can't remember) and gave it a light sanding…just enough to remove the ridges but not enough to ruin the design. Then I sealed it with Varathane to make sure everything stays put and wipes clean.
And here it is!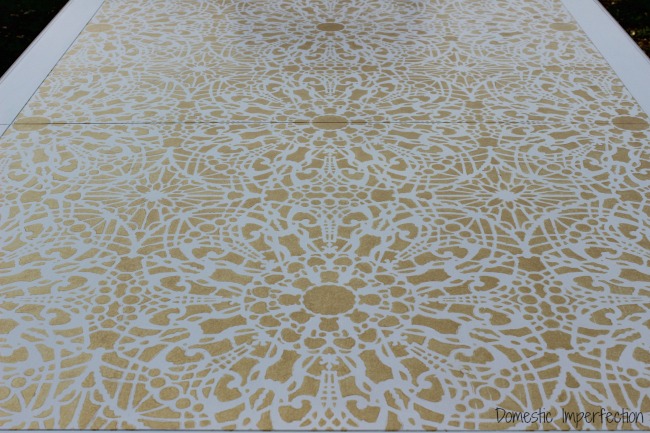 I ended up giving this table to my brother and his wife (remember their living room and office?) because they needed one, which makes four family members that have a Domestic Imperfection stenciled table. Oddly enough I've never owned one, I just like making them….either that or I just have a really needy family (kidding!).