Prepping to Sell – Curb Appeal and Porch Updates
When it comes to selling a house, I feel like curb appeal is the most important thing. Buyers make snap judgements on houses just like they do on people (even if we don't want to admit it, we do.) If you pull up to a house and it looks overgrown and uncared for, you're going to decide (probably subconsciously) that the owners aren't excited about owning it and you're not excited about buying it. Once you get inside, any features you don't like about the house are going to stand out even more, because you already decided, right when you pulled up, that you didn't really like the house.
On the other side of the coin, if you pull up to a house that is clean and well maintained, you're instantly going to have positive feelings about it. Any features you don't like inside the house are going to be more easily overlooked or brushed off, because you already decided you liked the house the second you pulled up to it.
Now, this is all just a hypothesis from yours truly, but I'm pretty sure I'm right on the money.
When we first bought our house it had zero curb appeal. It actually had negative curb appeal, if that's possible, and it sat on the market for a loooong time (years?) before we got our hands on it.
Then we set out to make it pretty…
Looks so much better right? Like a house you might be excited to buy? Well unfortunately that picture was taken years ago, and since then we have let it fall apart a bit. The flagstone path was overgrown and slowly disappearing…
The landscaping was either dying or taking over….
And the rock border on the driveway? Practically gone, as all the grass had grown right over it and the rocks sunk into the ground. Rock borders kinda suck, come to find out…but it was free, so I'm not all that upset about it.
You know when you see something everyday, and after a while you just kinda stop noticing it? That was definitely what was going on with our front of our house. It's looked terrible for a long time and I was kinda fine with it, but now looking at the before vs the after…it's embarrassing. I wonder what the UPS man thinks of us.
So me, Adam, and my mom set out to make it right. We spent hours digging, weeding, trimming, and rock stacking, and I'm happy to say that I'm excited to pull up to my house again (which hopefully means other people (cough-buyerswithlotsofmoney-cough) will be too.
I mean just look at this path, how much better does it look? Why did we wait so long to fix it?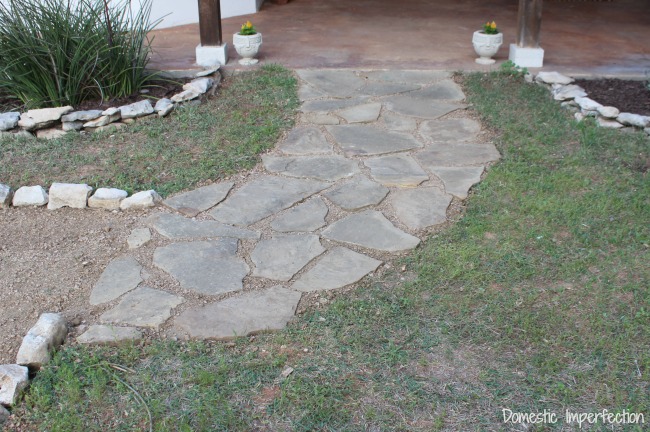 The landscaping was given a significant haircut, and the dying ones were replaced.
And the driveway? The difference is night and day.
Then there is the actual porch. This porch has been through quite a lot in the 7 years we have owned it…it's been a workshop and a storage facility, it's been pretty at times and a mess most others. (If you want to see the many personalities of the porch, this post covers it quite nicely.) As of recently it was looking…medium. Certainly not the worst it has ever looked, but it wasn't exactly inviting either.
The pillows I made a few years ago were looking a little faded and gross. Also, why did I make so dang many? That's a lot of pillows.
Just look at what the years have done to my placemat pillows. Before…
Now…
The sun is a cruel, cruel lady.
So with a little elbow grease and a few new items, the porch is looking like it has owner that care.
My favorite part is these new outdoor pillows. They are made by BHG and sold at Walmart, and I pretty much love them. How perfect are the colors? Also, they are only $9 a pop…I don't care who you are, $9 for a nice outdoor pillow is a great deal.
I also picked up this lantern, also by BHG (this is the small one).
I stuck a plant in it for pictures because I couldn't find a candle, and Adam dubbed it the "plantern". I kinda love the term…10 points for the husband. He also spent a lot of time digging driveway rocks out with a pick axe and pressure washing the porch, so let's just add 100 more points to that 10 so he doesn't get grumpy.
A little bit of curb appeal goes a long way, and hopefully the updates will help it sell for more….or if not more, at least faster. I mean, you can't tell me that path #2 wouldn't lure you in more than path #1.
And hey, if nothing else…I bet the UPS man will appreciate it.

For even more inspiration follow Better Homes and Gardens at Walmart on Instagram, Pinterest, Twitter and Facebook.
*This post was sponsored by the BHG Live Better Network. All opinions are 100% my own.