House Regrets, Second Chances, and Glorious Glorious Beams
I have a story for y'all. It's a story about regret, catastrophe, and despair. A story about second chances, a story about hope, and redemption.
It's a story about beams. Glorious Glorious beams.
So a couple of months ago our area was hit by a series of massive hailstorms. The kind of hailstorms that hit hard and fast at 3am, bringing baseball sized hail to pelt your house and terrify your children. The kind that slams into your roof, breaks your windows, turns your car into a golf ball, and trashes your trees and landscaping.
It's the kind of storm that creates a whole new to-do list on a house that you were days away from listing for sale, and the kind of storm that causes the house you are building to require a new roof mere months after receiving it's first.
(Don't worry, this story has a good ending.)
About six months ago, I wrote a post about all the beams in our house. Adam and I have always had a soft spot for old rustic beams, and we planned to put some in our ceiling. But when the time came that didn't work out, because the framer didn't want to put them in (they weren't officially in our framing blueprints, even though we had always planned on them). Also the house progress had moved so quickly that we couldn't get our hands on them before the roof went on….and once the roof goes on you lose the option to put in real beams.
And so we put in fake ones, planning to skin them later.
It wasn't the end of the world, but it also wasn't what we wanted. When I Adam and I would talk about the house the fake beams would always come up as our biggest regret.
Then the hailstorm happened, and when I learned the roof had to replaced (and was thankfully covered 100% by insurance) I had an idea. If the roof had to come off anyway, and that was one of the main reasons we had fake beams…could we possibly put in real ones while it was off? I knew that our builder has had the framer put real beams in a house since ours…so…why not? So I went and found Adam and told him my idea. I mostly expected him to laugh at me and tell me my dreams were not based in reality (that happens sometimes) but instead he loved the idea and said it might actually be possible. So Adam called our builder, and even though I expected my idea to come to a screeching halt at this point, it didn't.
Instead he said "If we plan and time everything just right, I think we might actually be able to make this happen. Go get your beams."
And so we did.
Now rustic antique beams can be kind of hard to find. And not only did we want genuinely old beams, but we also needed them to be 30 feet long….and somewhat affordable. So we headed back to the place where we bought the other beams for our house, which we used for window headers and the fireplace mantel.
and also the ranchwood siding we are putting on the bumpout.
We bought them all at a place called Antique Timberworks in Fredericksburg, Texas.
They had just what we needed, and we ended up getting three 30 foot beams that had just been shipped in from Canada. We paid a little under 4K for the three beams and the six queens to go with them (the short vertical support beams). I know that seems like a ton, but shop around for beams and you will see that is a great price. I've gotten a few e-mails from readers asking where we've purchased our beams from, so there it is. Also, they ship nationwide. So if you are in the market for beams call them at (830) 997-0999, ask for Rowdy,  and tell him I sent you.
Anyway, here are our beauties being delivered. They are truly massive.
Then our (amazing) builder lined everything else up. He had to schedule the framers, roofers, and a crane to all be there at the exact same time on a week where there was a zero percent chance of rain (so basically, summer in Texas).
And so they ripped off the roof. Then they ripped off the roofing paper, and the decking. Then they tore out our spray foam and cut our wiring.
It was kinda weird walking into my house (that we are a couple of weeks away from moving into) and seeing the sky. I think everyone there was a little apprehensive about the whole thing…no one had ever done anything quite like this before. Beams go in during the framing process, and we were very, very backwards.
Here is the first one going in.
The second that first one was set into place the guy on the scaffolding did a Napoleon Dynamite-esque "Yesssss!" and all the crew members sighed a collective sigh of relief.
After all three beams were installed they put in the queens, which are the vertical support beams. You can also see that the roofers weren't washing any time and starting reinstalling the decking the second the last beam was in.
And here they are, in all their crappy, old, rustic glory. So awesome (and so much better than the fake ones).
(view from the foyer)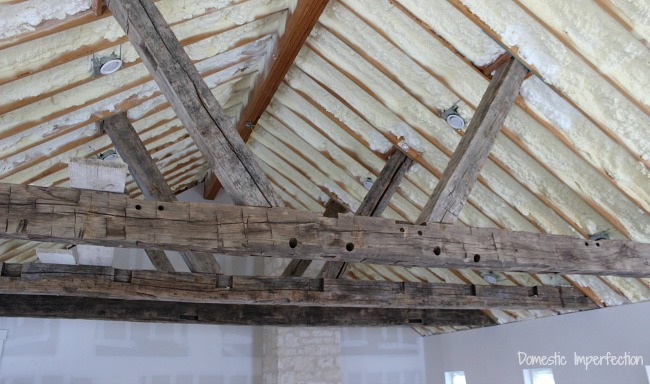 (view from the loft)
The beautiful thing is that these beams didn't end up costing up any more than the fake ones would have, since the bids to skin the fake ones were coming back crazy expensive. Yesssss.
Just a few more elements to go and our textural living room will be complete. We still have to install the corrugated metal on the ceiling (that will be done in a few weeks) and eventually the white shiplap on the fireplace wall. Combine that with the limestone fireplace, industrial metal railing, and rustic beams and I pretty much can't stop grinning.