*Thank you to Floor & Decor for sponsoring this post. 
Alright, so it's time to start diving into all the finish selections for the inside of the house. Up until now we have concentrated on exterior stuff, but the exterior is almost finished and so is the builder… which means that Adam and I have a whoooole lot of work to do in a relatively short amount of time. (We're only having the builder  build the "shell" of the home and are doing most the interior work ourselves). We have a lot to talk about, as my head has been exploding with decisions lately.
We're going to start with the tile selection for the boys bathroom, and to make that decision Adam and I (and Judah) headed to Floor & Decor.
First of all, the place is HUGE. There are an overwhelming amount of options, and the second we walked in I knew that we didn't give ourselves enough time to shop before we had to pick the older boys up from school.
The prices are great and everything is in stock and on the floor, which means you can leave with what you need and don't have to wait weeks for something to be ordered.
We started off in hardwood flooring (even though we were there for tile), because I've been on the hunt for the perfect flooring for forever now and have yet to find the perfect one. (That's a lie, I found lots of perfect ones, but they are $$$.)
They have a ton of options…rows and rows and rows of options.
My favorite was these two oak ones, mostly because I like how matte they are. I'm really trying to avoid a floor with any amount of shine. The one on the right is the Montpellier Oak engineered (I can't remember the name of the other).
They also have butcher block countertops, which is what is in our current kitchen.
We installed cherry, but as soon as I saw the walnut I was all over it. It's SO pretty. I like it loads more than the cherry…ahhh, hindsight.
I was also drawn to this display…
You may remember that I'm really hoping to put a brick floor down in our mudroom/laundry area. I really  liked the top brick, and it probably would have come home with me if it came in a herringbone pattern rather than just straight (it comes in a veneer on mesh sheets). I'm pretty stuck on having it in a herringbone pattern.
Okay so onto tile…I'm not even going to attempt to show you all the tile isles or we would be here all day.
Our first mission was to find the flooring, and we were armed with this inspiration picture from Houzz…
Before we went in I had ordered some samples online and really liked a one called
Terra Nuova brushed marble
, but I only had a little piece of it and wasn't sure it was "the one". Adam had thought it wasn't rustic enough, so I looked it up on their website to show him better pictures and had to laugh when I ran across their example of it in a room…
I showed it to Adam and was like "yeah….I'm pretty sure it's meant to be a rustic tile."
I loved it in the store though, and Adam agreed. Plus it's just so soft to the touch…I know that makes absolutely no sense, but you would just have to feel it for yourself. It's like the stone version of a warm fuzzy blanket. So we loaded up the cart with a bunch in just the 8X16 size.
Okay, so now we needed a tile for the shower walls. I had been thinking that we could do a wood look tile, and they had plenty to choose from.
My favorite was this one, the quarter sawn oak for $2.19 a square foot….
During his Floor & Decor wanderings Adam the ran across the Botticino Marble Tile, which are 3X6 marble subway tiles for 52 cents each.
He declared it his favorite tile, and when the designer that was helping us (all the designers are free at Floor & Decor and super helpful) agreed that it was also her favorite tile in the store, we decided to take it home as well.
So here are all the tiles we choose for the boys bathroom…
That blue one is an accent tile for the shower. They had lots of glass options in the store but not this exact one, so I ordered it online.
Aren't they pretty together?
Here is the bathroom they are going in…
And here are the niches that are getting the glass tile accent.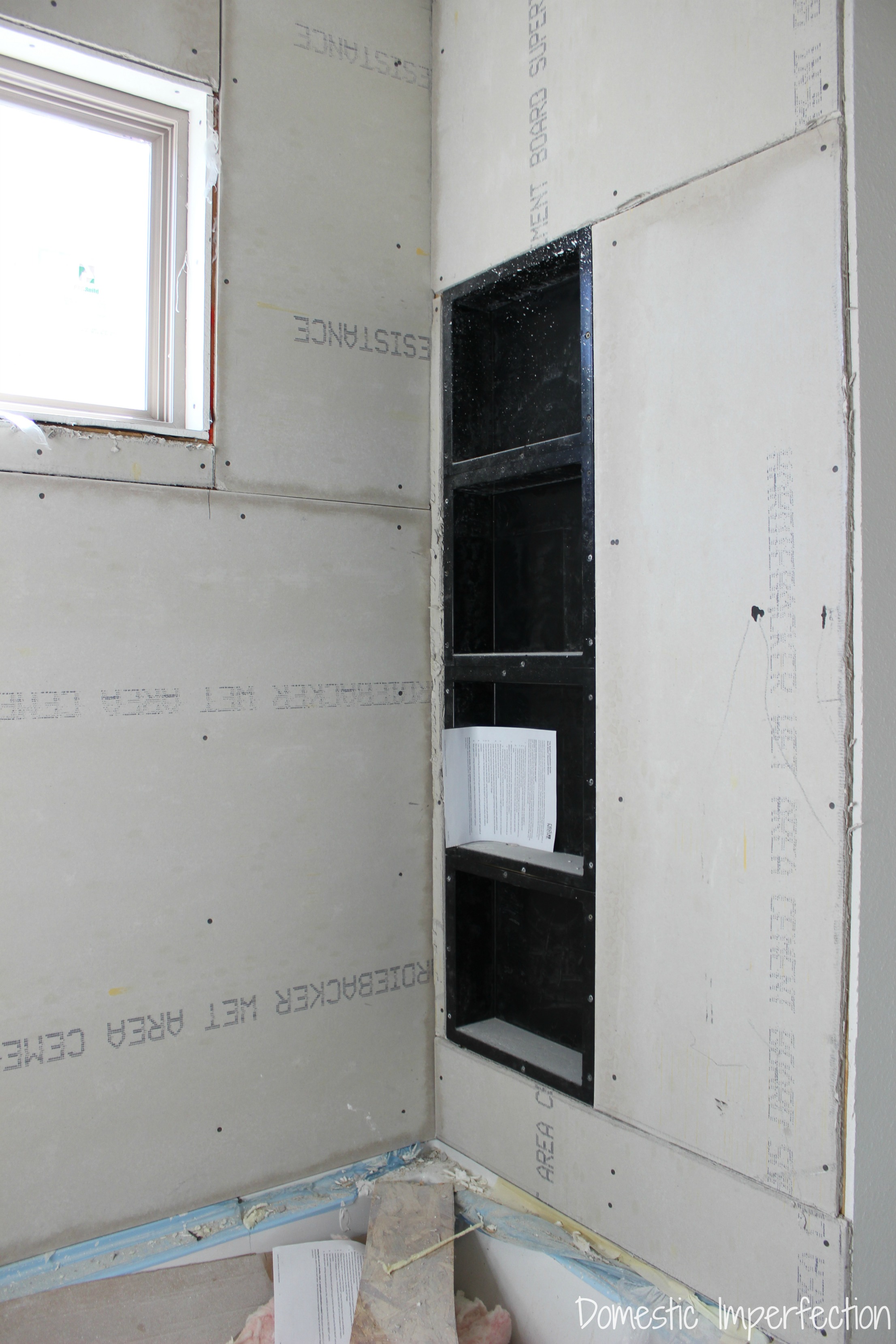 These are four individual plastic niche boxes that Adam installed before the cement board went up, they just screw in between the studs and you tile right over them. Four niches is probably overkill, but I wanted to put the blue glass tile in vertically for a fun waterfall effect, and the taller the waterfall the better. Plus I'm thinking that one day (hopefully) we will have four teenagers sharing this bathroom, and maybe they would each like their own shelf. I know, I'm so thoughtful. It's all about the kids, really.
So anyway, we gathered up all our tile and loaded it into the van. Floor & Decor sponsored the tile for the boys bathroom, but we bought quite a bit more than that. The van was stuffed full, and the tile we picked was heavy. So heavy. We crawled home at a snail's pace and did just fine…until we got to our driveway. We pulled in and almost immediately heard a grinding sound and could no longer move. Not forward, not backward, we were completly high-sided on a concrete drain pipe in our driveway.
We were already running behind to pick up our kids from school, so we started bailing out tile like water from a sinking ship (the above picture was just the beginning). We bailed tile until we could get off the drain pipe, picked up the kids, came back and loaded the tile back up (after going past our friend the drain pipe), drove down the driveway to the house, and started unloading tile into the house. I was sore for days. Good times building a house!