Eric and Kelsey's Budget Living Room Makeover
Most of you know that Better Homes and Gardens is one of the main sponsors of Domestic Imperfection. Every other month they send me a Walmart gift card, then I incorporate some their products into a project I'm working on and write a post about it.
So for my June post they e-mailed to say that they were going to send me a bigger gift card than usual and wanted me to makeover my living room. That sounded pretty darn great…except for one little problem. Even though I technically own two living rooms right now, I don't actually have any to decorate. One living room looks like a semi-empty room full of boxes, and the other looks like this…

So I wrote them back and said that I couldn't participate, and they said "no worries…it doesn't have to be your living room".
"Well then", I thought, "I know exactly what living room to do."
You may or may not remember that I have a younger brother, Eric.
(He's the tall tan one, I'm the short pink one, obviously)
Last August he married Kelsey.
Eric and Kelsey are also building a house.
(Did I mention it's about half a mile from the house we are building?)
They are doing basically the same thing we are, having a builder build the shell and doing all the finish work themselves. They've been living in a RV on their property since getting married and just moved into their house about a month ago. He and Kelsey are cash flowing finishing their house just like we are, so we are both going to be working on our houses for a very long time. We are also keeping our very helpful parents very very busy.
Here is their current living room….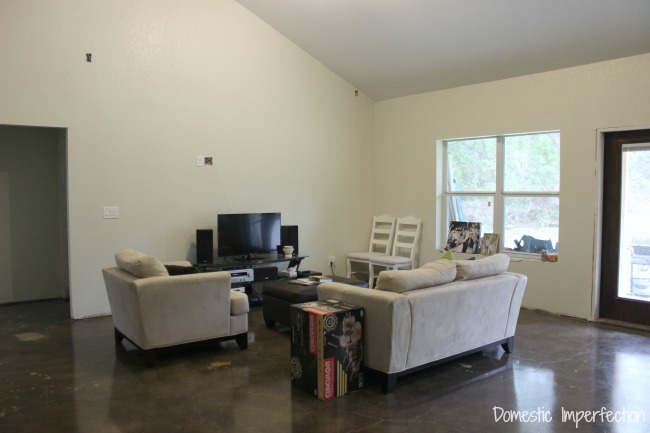 As you can see, it looks like…well it looks like two newlyweds moved a bunch of hand me downs into a shell of a house. I mean, their end tables are boxes and their kitchen is random old appliances, a mop sink, and a card table. I'm not judging…I've been there. I'm about to be there again. It's all part of the process.
Our goal was to make this corner of the house feel more like home with a Walmart gift card and a very tight budget. This is what it looks like now…
I have to say, I think we hit the nail on the head.
The first thing you probably notice is the rustic wood accent wall. When I sat down with Kelsey to pick apart her Pinterest page and see what she likes, two things kept popping up…neutral white interiors and rustic wood walls. Most of the wooden shiplap walls she liked were over a fireplace mantel, but there isn't a fireplace in their house… so we faked it and made a TV wall accent plank strip thingy (I'm pretty sure that's the official name). It makes a huge difference in the room and cost a total of $30. I found the wood at a local fencing company that was selling old boards for 59 cents each, but even if you bought them from a big box store this would be a cheap project. Eric simply brad nailed them to the studs, and, well…thats it. Super easy (says the girl who did nothing).
It adds so much to this room, without it the room would still be nice, but a little barren.
Also, if they ever decide they want something different it is easy to get rid of. All they have to do is pull the boards off the wall, and aside from the small holes left by the brad nails there's no damage done.
The shelves are very simple (and cheap) as well, they're just some white-painted boards and metal brackets. You could do bigger bulkier ones if you need them to hold electronics, but Eric thought ahead and designed a IT closet for all that stuff just off to the left (though he does still need to mount speakers in the living room).
The main pop of color in this room comes from the two accent chairs.
These are from BHG at Walmart and are super cute. They're $129 each, these are the "Seafoam" ones and they also come in navy, gray, and paisley. I particularly like the weathered wood legs, which just so happen to match the wood on the end tables…
These are also from BHG at Walmart and fit perfectly into their farmhouse living room. Also, they are quite a bit nicer than the previous end tables…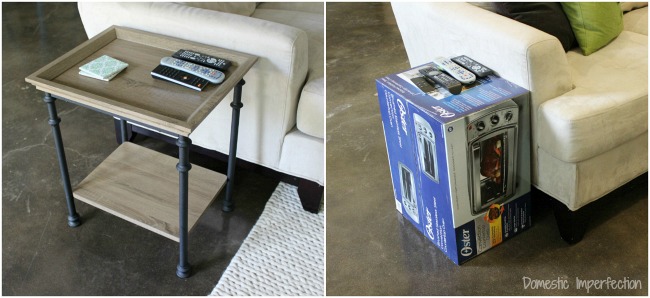 They also added some curtains and curtain rods, a rug, and some accessories and greenery to round out the makeover. Oh, and trim, I can't forget the trim….it's chunky and beautiful.
Total price, including everything (trim, Walmart gift card, rug…everything) is right at $1,000. Not bad, especially when you compare the before and after…

For even more inspiration follow Better Homes and Gardens at Walmart on Instagram, Pinterest, Twitter and Facebook.
*This post was sponsored by the BHG Live Better Network. All opinions are 100% my own.