The Search for a Vintage Farmhouse Sink
From the time I started sketching up our new house on graph paper nearly two years ago, I knew I wanted a vintage farmhouse sink for the kitchen. Not a modern apron front farmhouse sink that are popular today, but an antique one from the 20's or 30's. Those weren't my only demands though, no…I also wanted it to have a single basin, high back, and double drainboards. I was basically searching for a needle in a haystack….a very expensive needle, as it turns out.
SOURCE – $2,695.00 + plus shipping
SOURCE – $2,395.00 + shipping
Aren't those sinks gorgeous?! They are vintage sinks that have been professionally refinished and the price reflects it. So then I started searching for vintage ones that hadn't been refinished, and didn't have much luck there either. They were still expensive ($500 – $1000 or so) and most were in the northeast (I'm in Texas) and the owners either only wanted to sell locally, or shipping was crazy expensive.
SOURCE – $695 local pick-up only (NY) or $845 + shipping. Still needs refinishing ($$$).
I almost gave up on my search and settled for a regular, non dream sink, but then in my searches I stumbled upon a blog called Retro Renovation that had done a post about farmhouse drainboard sinks. And buried in that post was a link to a company called NBI Drainboards that makes vintage sink reproductions.
I quickly searched the site, clicked on the "early century models" button (they also had mid-century) and there it was…exactly what I was looking for.
Also, it was only $1,000, brand new and ready to go. Admittedly this price would have knocked the wind out of me before I started my search for a vintage sink, but after lots of shopping and disappointment this seemed like a pretty solid deal.
So just to be clear, these are reproductions…which means that they're not actually vintage sinks. They're also not made of cast iron or porcelain, but rather an acrylic material called Bio-Lok. You can read all about it on this page of the NBI Drainboards website, and it also includes a couple of videos of a sink being beat up with a hammer, boiling water being poured all over it and a hot pot being left on it's surface, all without damage. The sinks also had excellent reviews, so I showed Adam and we agreed that these sinks were the best solution.
Now for the disclaimer – I ended up contacting the company and speaking with the owner (it's a very small company) and we agreed that in exchange for a using, photographing, blogging about, and generally spreading the word about NBI Drainboards he would send me a sink for free. So this sink ended up costing me nothing, but that doesn't change my review or story about it, promise. Okay, now that we got that out of the way, lets continue…
A few weeks later I received my sink, and I immediately ripped it open to lay eyes on my beauty.

I instantly had two thoughts, the first being that it was beautiful, exactly what I wanted, and I couldn't believe it was actually sitting on my front porch and going into my new house. The second thought was that the bowl was insanely shallow and I had to return it.
In our last house we had a huge abyss of a sink. It was a gaping black hole that I cold pile dishes in and still not be able to see them from across the room. I loved it.
This sink basin was nothing like that. When Adam got home he agreed it was crazy shallow…and then proceeded to remind me that this is an exact replica, and if I wanted a vintage drainboard sink then I was going to end up with a shallow sink basin. At least this one had the advantage of having an enlarged drain hole so that you can have a garbage disposal, something that you couldn't do with a real vintage sink. So crisis number one adverted…time for sink crisis number two.
While designing our house Adam and I spent months….years…saving inspiration pictures (mostly on Houzz, the best site for this kind of stuff). We saved the picture below as what we wanted for our sink/cabinet setup…
Adam, being a cabinet guy, liked the custom look of this. The vintage sink was on it's own cabinet, which was slightly lower than the other cabinets and slightly deeper. The countertop came right up to and slightly overlapped the edge of the sink, and the whole thing was very well designed and had a furniture quality to it. You can see how Adam drew it into his sketches…
Adam started building our kitchen cabinets in January, and as soon as we knew what sink we were getting and the dimensions he went ahead and built the sink base cabinets.
Then the sink arrived, and we quickly realized that there was only one way to install the sink, and that was as a drop in. Our custom cabinet and design was not going to work. Such a bummer.
So Adam built new sink cabinets, regular height and flush with the other cabinets. I don't have pictures of the original cabinets in place (because they never made it to install), but here is the second set.
(The first set didn't go to waste, we ended up using them on our laundry room.)
Here is the sink in place after we poured the concrete countertops…
As you can tell, we are not finished installing it. We still need to tile the wall, frame the window, and do some sort of trim behind the sink so there isn't a gap.
We knew that filling a gap between the back of the sink and the wall was going to happen no matter what, because vintage sinks aren't as deep as countertops and cabinets….every installed vintage sink I've seen had some sort of box built behind it. We plan to trim out the sides after it is all tiled and then add an extra deep windowsill for plants and whatnot.
Although, sink crisis number three might get in the way…
Adam and I did a ton of math and figured out exactly how high the window had to be so that the back  of the sink stopped exactly underneath. The good news is that we were right on the money, the bad news is that we had to install the sink as a drop in and now the back of the sink is taller than the window. I was pretty much convinced the sky was falling when we realized this and Adam seemed unconcerned…so we will see. Usually I'm the calm "it will all work out" person when it comes to projects, but this time it's him…so I'm guessing he has a secret genius plan or something.
So, now that we've been moved in for almost two months, what do I think of the sink?
I actually LOVE it, I'm pretty sure it's the most functional thing I have ever owned. Why did we ever move away from double drainboards and high backs? It makes so much sense.
The shallow sink basin isn't a problem at all…actually kind of the opposite. We use the drainbords for piling up dishes (dirty on the right, clean on the left) and that leaves the sink open for other things or for rinsing stuff before it goes in the dishwasher. Also, I don't let dishes pile up like I used too, because now they are right there in my face.
It also wipes up beautifully. No longer do I have that grimy strip of countertop between the faucet and the wall that is hard to clean, it's all one solid piece. The Bio-Lok material seems to hold up really well and I don't foresee any problems…although I do have a scratch on the basin because I was dumb and scrubbed a super heavy cast iron griddle in it without putting a rag down first. You can't see it because the color goes all the way through the sink, but I know it's there.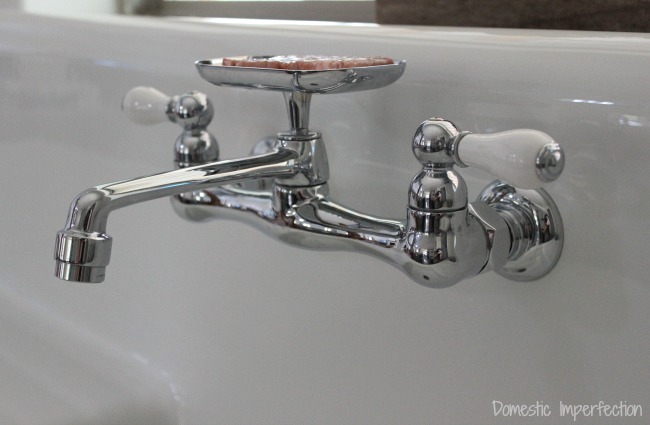 I also discovered that very very few faucets will work with a vintage high back sink….you pretty much have two or three to choose from (nearly all faucets have a reach that is too long). The faucet I bought is by American Standard and I found it on Amazon, it's very heavy and well made…but I mostly love it for the porcelain handles and charming soap dish.
And so, that is the story of our sink. If you are in the market for a vintage sink of any style I urge you to check out NBI Drainboards, they have it all.