DIY Concrete Countertops, Part III – Sealing
If I've learned anything about DIY in the last 5.5 years of writing this blog, it's that it's all about the sealer. You could do the most awesome job ever on a project, and if you don't seal it correctly it's all for naught.
I knew I needed an amazing sealer for my concrete countertops, for three reasons….
Concrete is a porous material, so it's susceptible to stains
Not only are our countertops concrete, but they are also white
I'm messy
So even though Z Counterform sent me a sealer along with the countertop supplies (which has awesome reviews), I still researched sealers on my own to find the best one ever. My research lead me to a very complicated, very expensive, three-part epoxy sealer called Stonelok. This is supposed to be THE ONE, which I believed mainly because of the word "epoxy" in the description. I covered my penny countertop in epoxy, and my painted shower used epoxy paint, and both of those things were bulletproof…I couldn't believe the abuse they held up to. And so, I bought a kit from a website called V-Seal for about $160 total.
I let the countertops cure for about a week before putting on the sealer. They were extremely chalky to the touch, so I wiped them down with a dry cloth and then gathered up my supplies. Like I said, this sealer was really complicated…just looking at all the steps and instructions made me anxious.
In addition to the sealer you will also need a small low nap roller and tray. Here is a brief overview of the steps…I'm not going to go into a ton of detail here since that's would make for a crazy long (not to mention boring) post.
Step One – Concrete Conditioner
This one was easy, just mix with water and roll it on. Not scary.
Step Two – "E3″
For this one you mix the two bottles and wait a certain amount of time for the reaction, then roll on. The instructions made the rolling part sound a little scary (they made me worried about roller marks and lines), but it went on just like anything else and there are no roller marks. Also, each step in the process looks like a milky substance.
After the E3 was dry it felt smooth…but I knew it could be smoother, so I sanded it.
The instructions didn't say anything about sanding between coats, but it was definitely much smoother after I sanded and I'm glad I did. Just make sure you use a fine grit sandpaper (like 400) and sand very lightly.
Step Three – "2K2″
This one was like the previous step in that you mix multiple bottles together. I followed the instructions perfectly – mixing the first two bottles, shaking for five minutes, and then letting it sit for 15 minutes before adding the water and rolling on. Except that I didn't even make it to the "let it sit" part before things went awry. Near the end of my shaking the bottle started to get very hot, and very hard. I put it down to let it sit thinking it was just part of the reaction, but then decided to remove the lid and see what was going on in there.
And what was going on was the final coat of my sealer was busy exploding into a rock hard foam inside the bottle…
…which left me both confused and disappointed. First, I had followed the instructions perfectly. Second, I was on a tight timeline and need the countertops sealed that day so that it could cure for a week before we installed sinks and moved in.
So I got on the phone and called the company to ask what happened. They were very helpful and came to the conclusion that it was too hot in my house and the heat had caused the reaction. The instructions said to make sure the sealer was kept between 60-80 degrees and my AC was set at 78, so I don't know…but either way they sent me another set of the 2K2 to try again.
So when it arrived a few days later I set out for try #2. I set my AC for about 74 to make sure it wasn't too hot, and had my mom and Adam carefully read the instructions to make sure I wasn't misunderstanding anything. Then I mixed…and it worked.
(Here I am looking like a magnificent pumpkin at 30 weeks pregnant in my husbands oversized shirt)
I sealed all three sections of my kitchen countertop, then I went to pour more mix into my tray to seal the small countertop we poured in the laundry room. I went to dump out the rest of the bottle, and….foam.
It was wet sloppy foam (unlike the last time) but still foam and still unusable. Pot life is supposed to be 45 minutes after you mix it, but it had only taken me about ten to roll all the kitchen. My only guess is that it was hotter in the bottle than out and I should have poured it all into my tray at once…but DANG, this stuff is fickle.
So I grabbed the sealer from Z Counterform to do the final coat in the laundry room. No mixing, no pot life…just roll it on for as many coats as you want and go ahead and whistle while you work, because it's not going to explode in your hand.
It was way more watery than the Stonelok and doesn't feel like it would hold up as well (pure speculation), but it's also not a gamble when it come to the application process.
Anyway, here are the finished countertops…
I ordered the "Extra Low Gloss" Stonelok because I didn't want shiny countertops, and I have to say I'm pleased with the finish. Here is a (fuzzy) picture of it catching sunlight to show you the sheen.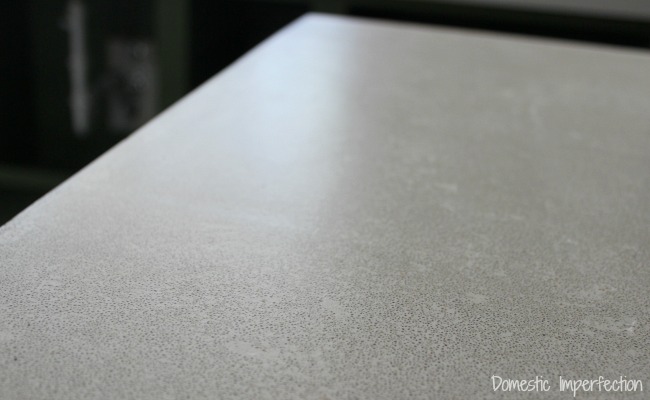 We have now been moved into our construction project house for a week now, and the countertops wipe up beautifully. I definitely don't foresee a problem with stains, the epoxy finish seems pretty bulletproof.
I would recommend the Stonelok sealer… just be aware that the application process can be kinda a beast and a gamble. It's important to follow the instructions perfectly and make sure your house is COLD when doing it. Making sure your house is cold is probably a good idea for both this process and the actual pour, since I think the heat also affected how quickly our concrete dried.
Anyway, that wraps up my series on DIY concrete countertops! Hopefully you found it helpful and interesting, and if you missed anything you can read the other parts by clicking below…
DIY Concrete Countertops, Part 1 – Setting the Forms