When designing and planning this house Adam and I knew we wanted a lot of rustic features inside our home. Metal ceilings, antique beams, shiplap siding, brick flooring, rock walls, and rustic wood ceilings and floors were all things we wanted to incorporate in one way or another. We particularity wanted an entire rock wall on one of the walls in the main living space. After finalizing our blueprints we were like "We're going to put the rock wall HERE. Okay, no… here? Well, that won't work…how about here?" In the end, none of the walls in the main space were going to work either for structural reasons or monetary reasons, so instead we decided to just put rock on the fireplace (and plank the wall behind it.) Here is what the fireplace looked like right after the drywall was installed…
Then one day Adam and I swung by the house to check on progress, and this was happening…
I think I audibly squealed when I saw it, which isn't normally a thing I do…but if this isn't squeal-worthy then I don't know what it. It's just so pretty. Also, I was a little in awe of the guy up at the top. I mean….he's up there, and he has to haul heavy rocks and mortar up there with him. No thank you.
The next day I came back to check the finished product, which was pretty much amazing…except for one tiiiiny little detail.
The mantel was really high. It's hard to tell from the picture because there is nothing to compare it too (I would have taken one with me in it but I was there alone), but it was about 2 feet over my head. Actually, see that doorway on the right? That is an 8 foot doorway, and the mantel is almost as tall as it is. After going back and forth about what to do Adam and I decided to ask the rock crew to lower the mantel the next time they were there.
Much better, right?
The hearth is a big limestone slab (well, two actually), and we had it made at chair height so it can serve as extra seating. So far so good, it's currently the only seating in the house and gets used nonstop (for sitting, eating, putting all our junk, coloring while your parents work, etc.)
Here is the view from the dining room…
That's not all we ended up putting rock on though, as a somewhat last-minute decision we decided to go ahead and have them do the main wall in the master bedroom. It was pretty much the perfect place for it, plus it would satisfy that rock wall craving we had going on.
Here is something I didn't know before building a house… when you when you see a home with a masonry, the rock isn't actually touching the house (usually…I'm sure there's plenty of exceptions).
The rock is it's own, self-supporting wall. I had just assumed it was mortared to the wall (like I did on the wall in my guest room), but I was wrong. It is attached to the wall every so often with a little metal brace, but other than that it's just standing there on it's own (they did it the same way on the outside). I'm sure there is a great reason why they do it like that, but I have no idea what it is.
Anyway, here is the finished product. It's amazing and I can't believe it's in my house.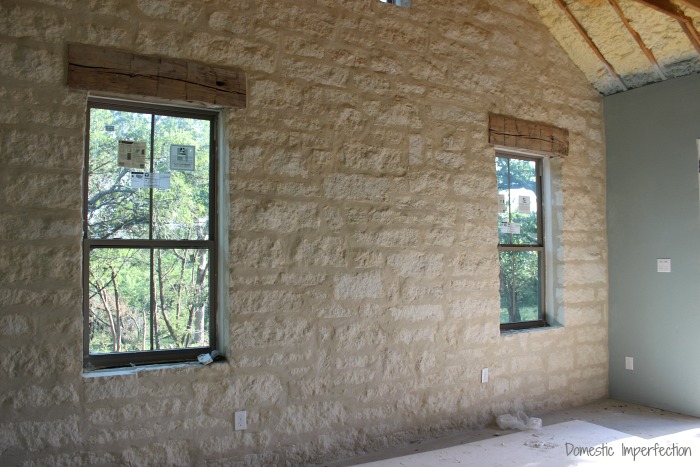 I love the thick "German Smear" mortar, it's much thicker than on the outside of the house and I like it much better. To get it that way Adam and I had to stop worrying about being "those people" and stand over their shoulders saying "more, more, more.." until the mortar was just how we wanted it. Sometimes you just gotta.
We still have a few finishing touches to put on the wall, like figuring out windowsills and what to do about the drywall that shows around the windows.
I'll probably just paint the drywall to match the mortar so that you don't notice it, and the windows sills will most likely just be white wood. We thought limestone slab sills would be cool (like on the fireplace hearth), but they would be too thick add the windows wouldn't function. So wood it is.
So, price….I know y'all are probably wondering how much dough we sank into this because it looks expensive. Truth be told it was much more affordable that we thought it would be, each one (the fireplace and bedroom wall) cost a little over a thousand each. Considering the Airstone wall I did a year or so ago was about $500 and half the size (and included about a month of my labor while pregnant), this was a steal. And while I still really like that wall, the two just don't compare.
Am I right or am I right?