Industrial Pipe Kitchen Shelving
From the time we started designing our house I knew I wanted some open shelving in the kitchen. Not all open shelving (because it would look cluttered), but just enough for our everyday dishes. We put open shelving in our last kitchen and really loved it, I liked having the dishes out in the open, and since we used them everyday dust was never an issue. So Adam and I designed the sink wall in the new house to have a big window with a view and shelving on either side.
I've always loved industrial pipe shelving, so that was the plan all along. I know it's not a new idea and you've probably seen it done a million times (particularly on Fixer Upper), but whatever…love is love.
So that is a pretty finished kitchen with good lighting and a better photographer… and here is mine before the shelving.
Not exciting or pretty…though we did kinda nail the view part. It's not easy to find a grove of moss-covered oak trees in our dry part of Texas.
Here is the same wall after we added the shelving…
So much better! (Although the lighting and photography could use a little work).
So here is a quick tutorial on how to make the shelving –
First you will need supplies, which all come from the hardware store.
You will need –
(we used 3/4 inch pipe)
four flanges (4.30 each)
two T fittings (2.71 each)
one 90 degree elbow (2.07 each)
five 12 inch nipples (4.71 each)
one 24 inch nipple (6.58 each)
Keep in mind that this is for ONE side of ONE shelf, so you will need to double the recipe for one full shelf (and quadruple it for two shelves, like we have). The total price for both of our shelves, including lumber, was about $240.
You can have the pipe cut to any size your heart desires, and that was our original plan. However, 12 and 24 inches are standard sizes that they have in stock, so I decided to go with those just in case I screwed it up and had to return them. You can return standard ones, but not ones that are custom cut (and they're relatively expensive, considering).
Next we hung them. To do this Adam first had to add some blocking in the ceiling so they could support themselves and the weight of dishes. If you make these you can hopefully use a stud that is already in place, but we didn't have any wiggle room with these so we had to take the extra step. After that is was just a matter of screwing them in and making sure everything was level.
For the shelves we used a pine 2 x 12, cut it to size, sanded smooth, and stained and sealed. Here are the products I used –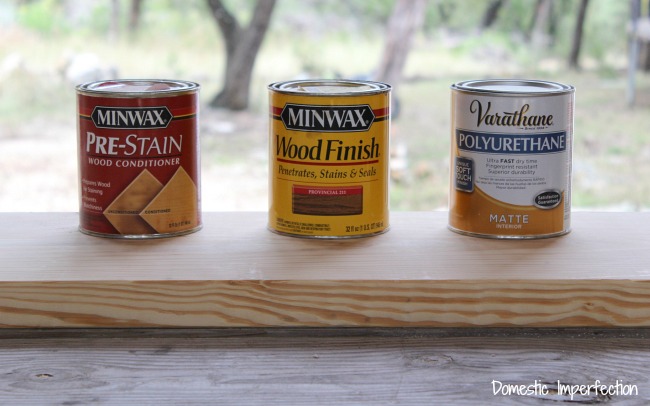 If you use pine it is SUPER important to use pre stain, it gives you a nice uniform finish instead of the blotchiness you would get if you skipped the pre-stain. Here is an example from years ago…
That is actually maple and not pine (another hard wood to stain), but you can clearly see the difference.
Anyway, I then used two coats of stain and sealed them with the matte sealer.
Here they are completely assembled…
I love them. I love the way they look and that we are one step closer to a finished kitchen…and I especially love that I have a place to put my dishes that the toddler can't reach.
I loaded the bottom shelves up with all our cups, plates, and bowls…but it turns out that I don't actually own that many. It's everything we use and need, but it's pretty much just two shelves worth. So the rest of them I went ahead and decorated for Christmas, and now – for the first time ever – I'm a step ahead when it comes to the holidays.
So there you have it, another thing crossed off the kitchen to do list! There is still loads to do in the kitchen, on this wall alone we still have to tile, add window and sink trim, a light fixture, roman shade, and cabinet doors. But hey, the fact that we are getting anything accomplished with a newborn and three other kids in the house is good enough for me.
SaveSave