(I started writing this post mid-December with the best intentions of getting it out the first week in January, but that obviously didn't happen. Each time I sat down to collect pictures I got super distracted looking at old photos. I was even going to make a year in review video (I have so many videos!) but I eventually had to tell myself it was never going to happen. Anyway, here is a little bit about our 2015…)
2015 was quite the year for my family. It had wonderful parts, hard parts, and everything in between. If I had to come up with one word to describe the whole year it would be busy. It doesn't look like 2016 will be much slower, but I'm holding out hope for 2017. So this is going to be a long rambly post about all that has happen this year. If you're into that sort of thing or have been waiting for me to finally post adorable baby pictures, then hold onto your britches…. it's going to be a wild ride.
The very fist big event of 2015 was us closing on our land.
We closed mid January, and Adam was itching to start clearing it. The first available weekend after closing he was trying to decide between working on the land or helping a friend build his house, and he decided to help the friend and clear the next day.
Long story short, he ended up falling off a ladder that day, had emergency surgery (you can read the full story HERE), and spent about a month recovering.
He had terrible timing and did this in my last few weeks of pregnancy with our third child. This meant February wasn't the easiest month, Adam was on bed rest and I was taking care of him and the kids, and the end of my pregnancy wasn't showing me any grace. God knew just what we needed though, and I was induced at 42 weeks (two weeks overdue, when Adam was mostly recovered) and had the easiest labor ever.
On March 18th we welcomed our third son, Judah (full story HERE).
Shortly after having the baby Adam returned to work, officially starting his new career as a police officer. Two years ago he quit his job to go to a police academy (more info HERE…is that getting annoying yet?) and since then he has been in training or working other police related jobs (like security), waiting for a spot in patrol to open up. One opened up right before his accident, and he started after he (and I) were all healed up.
Adam loves his job, though the new schedule has probably been the hardest adjustment of the year. Throw in that and a third kid at the same time, and you have one very, very tired family.
(Evidently Elijah only sleeps when he is supposed to. That's so Elijah.)
(Me selfie-ing with a sleeping Levi, and Levi revenge selfie-ing with a sleeping mommy. That's so Levi.)
In August my younger brother (and only sibling) got married. His wife, Kelsey, is completely amazing and I am stoked to have her as a sister.
Their wedding was great, the perfect combination of formal, casual, practical, and whimsical. Well done y'all, well done.
Also, I feel like I have to mention just how adorable their ring bearers were….
The rest of the year was all about the new house. We spent the summer clearing our lot and then broke ground in September.
I'd go more into depth about that, except that's basically the entire blog. (If you want to read more, go here.)
And then, of course, there's my boys. My sweet, adorable, rambunctious, full of life, crazy little men.
My oldest, Elijah, started kinder in August.
Elijah is my sensitive rule follower, and since he's my first this school thing was new and a huge deal. Adam and I spent all kinds of time researching schools to send him to. We visited private schools, contacted co-op schools, researched the local public school, asked experienced moms way too many questions, and basically fretted over the entire thing (Okay, so really this was just me. My husband is a cool cucumber and doesn't worry about the kids like I do.) In the end, after all that, we came to the conclusion that we couldn't afford private school, co-op school (where they go to a private school 2 days a week and you homeschool 2 days) sounded great but was also pricey and far away, and the local public school was the way to go. Besides, just because we make a choice for this year doesn't mean we're married to it for life.
Anyway, it has been great. He loves school, does really well, and has an amazing teacher. I was worried that eight hour a day five days a week would just be too much for him, but it hasn't been a problem. He does have an INSANE amount of homework for a 5 year old (seriously…is eight hours a day not enough??), but he's happy and we're happy.
Then there is Levi, who goes to a preschool program 2 days a week.
Haha…have you ever met a more ambitious preschooler?
Levi is…sigh…Levi challenges me. Let me just get that off me chest. He is not my easiest child. But the qualities in him that make me want to both rip my hair out and curl up in a ball and cry are the same qualities that will one day make him into an amazing, hardworking, passionate, successful, and honest man. He is extremely smart (sometimes I think he is smarter than both Adam and I combined) and he loves to learn…when Elijah comes home with a huge packet of homework, Levi makes me photocopy each page so he can do it too. And he does do it, well. He is learning to read, right beside his older brother.
I was a bit worried about how he would do with his playmate gone at school everyday, but it has been really really good. So good, in fact, that I'm kinda glad the co-op school thing didn't work out. Levi needs some time with just him and me (and Judah, but he barely counts) before he heads off to kinder in a about a year and a half. He thrives on one-on-one time and can be so incredibly sweet and snuggly. He is also hilarious (like legitimately funny) and loves to sing at the top of his lungs. Oh, and he loves to dance. He will come up to me when I'm doing a sink full of dishes or something else equally terrible and ask "Mom…do you want to have a dance party?" And we will dance, in the living room, in our PJ's, like no one is watching. I love that dang kid.
Then there's the new addition, Judah. He is turning a year next month and I can not even handle it. It's gone by in the blink of an eye.
(Speaking of eyes…Judah at seven months)
I know everyone thinks their baby is the cutest, but y'all, seriously…look how cute.
Here are a few of Judah's (who pretty much exclusively goes by JudahBear) favorite things…
throwing laundry
stealing cell phones
playing in the dishwasher
crawling at lightning speed, peg-leg style
not sleeping in his crib
giving sweet, sloppy, open mouth kisses
taking bites of whatever I'm eating
snuggling
I totally get (now) why parents are easier on younger kids. It's not purposeful, it's just that you realize (more and more with each subsequent kid) that the first year (and all the years, really) FLY BY. They are little for like, a day, then it's gone forever. With Elijah I was all "cry it out, kid", and with Judah I'm like "come to mama, sweet little man." That dude barely even knows what a crib is. Elijah walked at 8 months because I didn't want to spoil him by holding him all the time, Levi walked at 11 months because I snuggled him more, and Judah is 11 months now with zero interest in walking. That kid….he lives in the Ergo (because I need both my hands for other things.)
When I was going through pictures for this post I quickly realized that there are very few pictures with me in them….and any picture with Judah and I was a phone selfie.
We did have a legitimate attempt to get a good photo, but as you know, babies rarely cooperate when you want them to the most.
With each of my boys I have taken a monthly photo to document their growth. I've never done baby books or scrapbooking, and I couldn't tell you when any of my kids got their first tooth or started sleeping through the night…but I have monthly photos.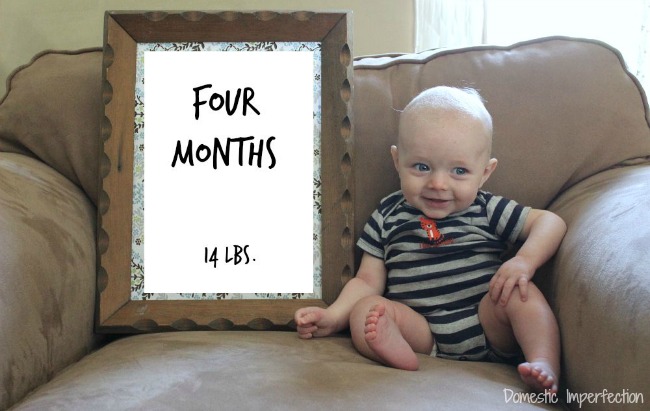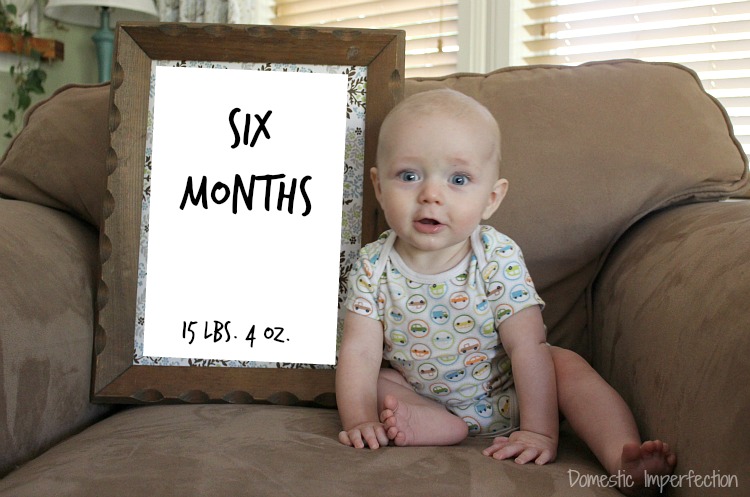 Here are some bloopers from his nine moths pictures…look how cute.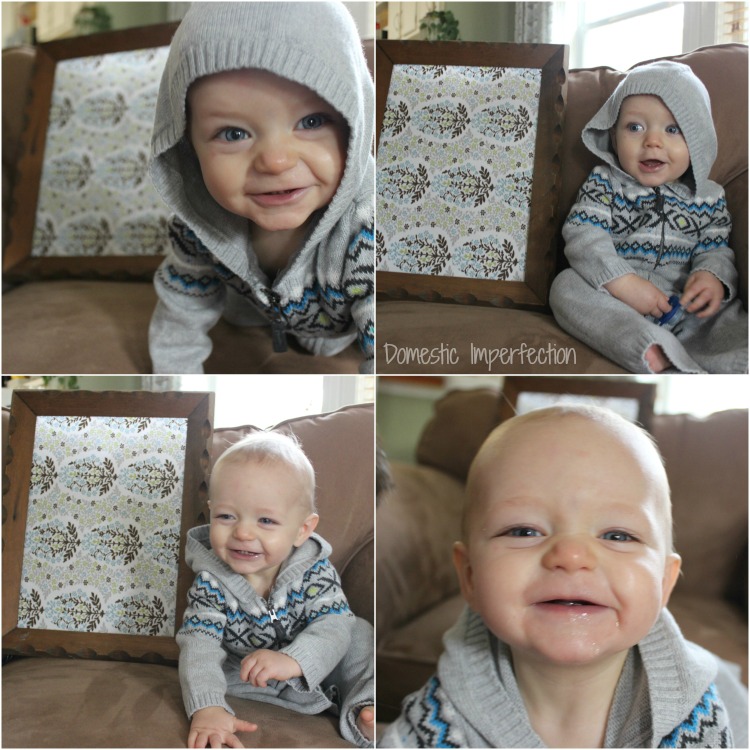 That last one is what we call his "old man smile" which he does when he is super happy…but has only been caught on film this once. It's ridiculous and I never want to forget it.
Well, that in a nutshell was our 2015. There is so much more I could write about, but I need to stop before this becomes the longest post ever. I'll leave you with this Christmas family selfie, and surprise surprise…Judah is in the Ergo.