2018 Review and 2019 Goals
Last year around this time I wrote about our home goals for 2018. Now that 2018 is over, I thought we should take a look and see how we did!
Here was my list for the 2018 projects that I wanted to get finished.
Mudroom
The mudroom was #1 on my list, since I felt like finishing this would go a long way in making our house more organized and functional. The good news is that we finished it, and I was right. It's crazy functional. We are so organized now that we can leave the house without first spending 15 intense minutes searching the house for lost shoes. Life is good with a mudroom.
Mudroom before –
Mudroom after –
Laundry Room
We did not finish the laundry room last year but we did get a solid portion of it knocked out. I'd say we still have about 40% of it left to complete, but it looks good enough now that it isn't the eyesore that it once was.
Laundry room Jan 2018
Laundry room Jan 2019 –
Guest Bathroom
I almost said that we got zilch finished in this room this year, but that isn't exactly true. Here it is Jan 2018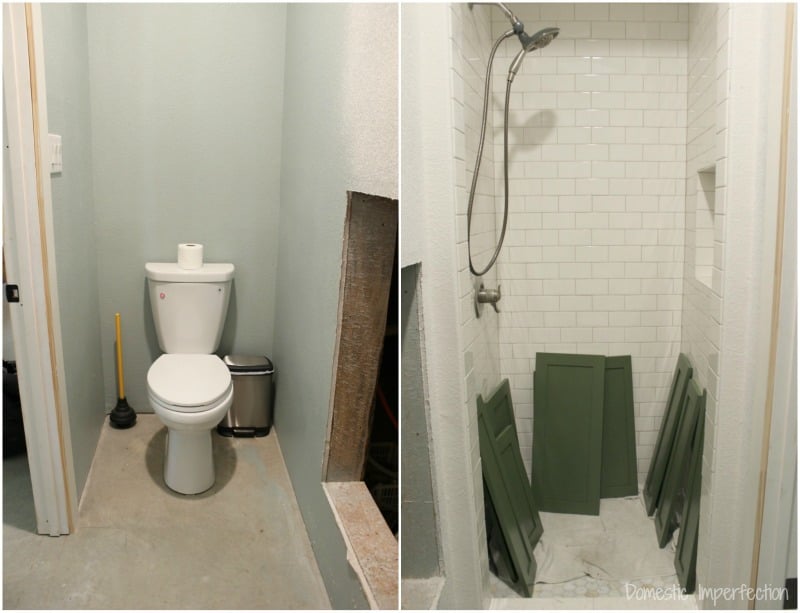 And here it is today –
We only accomplished three things in here this year…adding a brick floor, adding a glass shower door, and adding more trim and cabinet doors to the shower for storage. Two steps forward, one step back. I'm going to give us a C in this room, since the things we checked off the list were the big expensive things. Now comes the sweat equity.
Kids Bedrooms
The kids bedroom are where I failed big this year. I didn't touch either one of them AT ALL. I feel bad about that, and these two rooms are on the top of my list this year.
Here is what they look like now. This first one is my big two boys "underwater" themed room. You are going to think this looks decent, but the truth is I did all this in 2017 and didn't touch it at all last year. I'd say it's about 50% complete.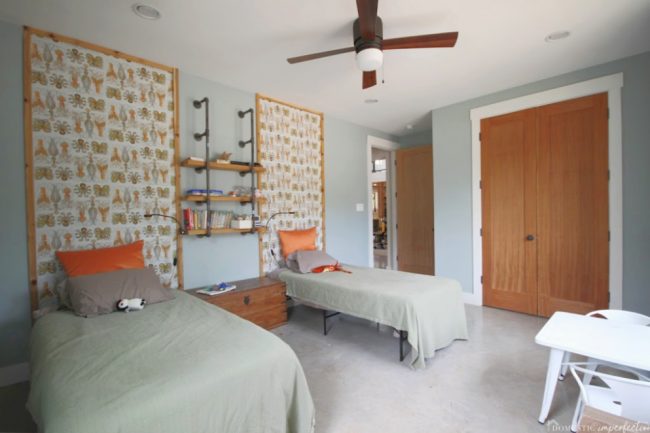 And here is my younger boys dinosaur room. This one is sad. It does at least have a dinosaur tapestry on the wall, but it's not even hung straight. FAIL.
Landscaping
I did do some landscaping this year, though I never blogged about it. I'd show you a picture, but everything is dead for the winter and looks terrible. I'm giving us an A for this though, because I finished the one area that looked the worst, plus Adam and I spent lots and LOTS of time still clearing the property of cedar and rocks.
Bedroom Ceiling
Is there a grade that is higher than A+? Like 3x higher? Because we went way above and beyond this year in the bedroom (stop it). All I wanted last year was to rip down the stupid blue dropcloths off the ceiling and put up wood, and instead finished the entire bedroom.
Here is the dropcloth ceiling I was so tired of looking at –
and here is the bedroom now –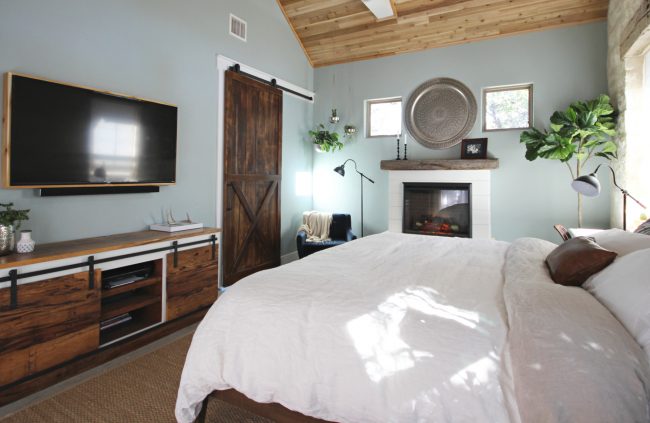 RV Renovation
We did start an unexpected project last year, which is the RV renovation. We didn't plan on buying an RV last year, and we definitely didn't plan on renovating one, but here we are, currently about 80% finished.
Overall, we didn't complete all our goals for last year, but I still think we did a really great job. No regrets.
2019 Goals
I'm feeling really good about this year.
I feel like the fog is finally clearing a bit and I'm starting to feel more like a person and not just a just a mom zombie. Don't get me wrong, I love being a mom. It's my biggest joy in life, and I'm extremely lucky that I get to stay home with my boys (and also make money and have a bit of purpose writing this blog). But the last 8 years haven't been the easiest, and at times have been very lonely and isolating. The boys are now 8, 7, 3 and 2, and we are getting out of that newborn stage where no one sleeps and everything is a messy disaster all the time. I shower every day now. I wear real clothes. I see adults and have adult conversations. All four boys are all in school at the same time for 8 hours a week, and having that time (even it's just to work, clean, and run errands) without any kids is a serious game changer. And now that they are getting older I can get people to watch all four of them at the same time (hence Costa Rica). My parents also sold my childhood home and moved about five minutes away from me and my brother, so we see them all the time, which is great and super helpful.
The biggest change in 2019 is one I am extremely excited about. For the last 4+ years, my husband (law enforcement) has worked the night shift….a long night shift. He would leave for work around 5 pm and get home around 6:30 am, go to bed, and then do it all over again. He worked different days each week and every other weekend. It was not an easy schedule, and it was completely impossible to have any sort of routine. About two weeks ago he moved from working patrol to being a detective, and with that came an 8-5, Mon-Fri schedule. Y'all. Y'all. It's so much better. It's amazing. If it was appropriate for me to string together every curse word I know in order to emphasize how much easier life is now, then I would.
It's going to be a good year. As far as projects go, here are the ones we want to finish in 2019. Spoiler alert – it's pretty much just finishing up the 2018 list, haha.
Finish the RV
This one shouldn't be hard since we are almost finished. I'm a little behind on blogging about it, but I hope to be finished by the end of the month.
Finish the Laundry Room
We lost momentum on this room and neither one of us is feeling that excited itch to get it finished. I want to check it off the list though, because dang does it feel good to have a room be 100% complete. Here is what is left to do –
baseboards
large wall shelf above washer and dryer
countertop over washer and dryer
finish cabinets
refinish countertop (somehow)
replace sink (already own the new one)
Guest Bathroom
It's on the list again, same as last year. Here is what is left to do –
baseboards
repaint
make hidden door/shelf for access below the stairs
Kids Bedrooms
This year I'm making the boy's rooms a priority. Kids rooms are fun, and I know that once I get into gear it will be easy and fun…I just have to get started.
Here is what I have already finished in the big boy's underwater room
beds and bedding
paint walls
octopus fabric on the wall above beds
pipe shelf between beds (well, most of it)
Here is what is left to do
built-in aquarium/bookshelf (bought them a 55-gallon aquarium for Christmas, have some cool plans for it)
Decor
Flooring (not sure when this will happen, probably not this year)
rug
trim windows
woven wood roman shades
finish shelf
Netting on the ceiling
floor to ceiling seaweed (no idea how I'm going to do this, but it should be fun!)
closet system (eventually)
I'm actually really excited to do the little boys dinosaur room, for two reasons. 1) It's mostly just decorating and not a lot of DIY, and 2) They are SO OBSESSED with dinosaurs that I can't wait to see how excited they get for their room to be filled with dinosaur goodness. I have done a tiny bit of shopping for their room, just snatching things up when I find ridiculously good deals on things that would work well enough. SO far I have curtains, some art, and curtain rods, plus the giant wall mural.
Here is the to-do list for the dinosaur room
paint walls
curtains and decor
mount and frame wall mural
2nd twin bed and bedding for both beds
accent wall behind beds
add shelves to wall nook
growth charts
rug and flooring
trim windows
closet system (eventually)
wood flooring (one day)
Here is the list of stuff we would like to do/might start this year
Finish the Kitchen
The cabinets are still not finished, which you know because the doors are sitting in my mudroom shower. I'd like to button it all up, but I'm not putting that on the official list since that is 100% an Adam project.
DIY Backyard Hot Tub
We have always wanted a hot tub, and Adam has this plan to make one out of a stock tank and an instant hot propane water heater. I'm not sure if it will happen or if a hot tub will happen another way, but he is excited about this project, which means we might have a redneck hot tub before we have kitchen cabinets. I'm oddly okay with that.
Attic Game Room
The attic in this house is absolutely huge, probably close to 500 sq ft. We left it unfinished when we built the house to save money, and planned to turn it into something, someday. Now looks like we will turn it into a bunkroom/game room/future teen hangout room. My Mother-in-Law got us a very nice, very huge ping-pong table for Christmas, and the attic is the perfect place for it. However, the attic is just studs and insulation right now, and it's full of crap that I have to go through and purge. We might only clean out the attic and add a ping pong table this year, but a plan for the space is forming.
Living Room Entertainment Center
Our off-center fireplace looks extremely off center without something to balance it out on the left side. Adding a large built-in cabinet would not only look better, but the extra living room storage would be nice. Only time will tell if this project gets checked off the list in 2019.
And just because I like lists and looking back, here are the Domestic Imperfection top ten (calculated by number of page views)
Top 10 Posts from 2018
Most Viewed Posts in 2018