I've never been big on setting New Year's resolutions. I don't like making commitments if I am not 100% certain I can stick to them, and New Years resolutions have like a 99% failure rate. Plus I figure that if you need to make a change in your life you should just do it, no need to wait until the new year. But 2017 felt particularly crazy, mostly because I'm the opposite of type A, lack a routine, and have four kids. The combo of those things led to an uphill battle all year, always REacting to things instead of getting out in front of them. I never got ahead and just felt like I was struggling to keep my head above water. Not that it was a bad year by any stretch of the imagination, I just want more for 2018.
ANYWAY, all that to say that this year I'm setting some goals and making a plan to achieve them. I want my family and home to run smoother (my personal goals) and I also want to eventually not live in a construction zone.
So here it is, my 2018 house goals!
Mudroom
The mudroom is number one on my "must finish in 2018" list. We planked it about a year ago, which was a great start, but then progress stopped. Right now it's just an empty hallway that has shoes scattered all over it 90% of the time…but it has so much potential. The plan I have in my head is beautiful (herringbone brick flooring? Yes please!), but even more importantly it will be so crazy functional that the rest of my house will never be messy again. That's a thing, right? Just nod in agreement and give a girl some hope.
Update: It's finished! Click here to see the final product!
Laundry Room
The laundry room is in a sad, sad state. It's embarrassing really. Even though pretty much everything still has to be done in here (even the countertop and sink have to be replaced) I really don't think it will be that hard of a room to finish. That's the good thing about teeny tiny rooms. Although now that I've said that this will probably turn into the biggest nightmare room ever, because that's how life works. The general plan in here is white planked walls and herringbone brick floor (like the mudroom), green cabinets (like the kitchen), and some storage and decor. Done and done.
Guest Bath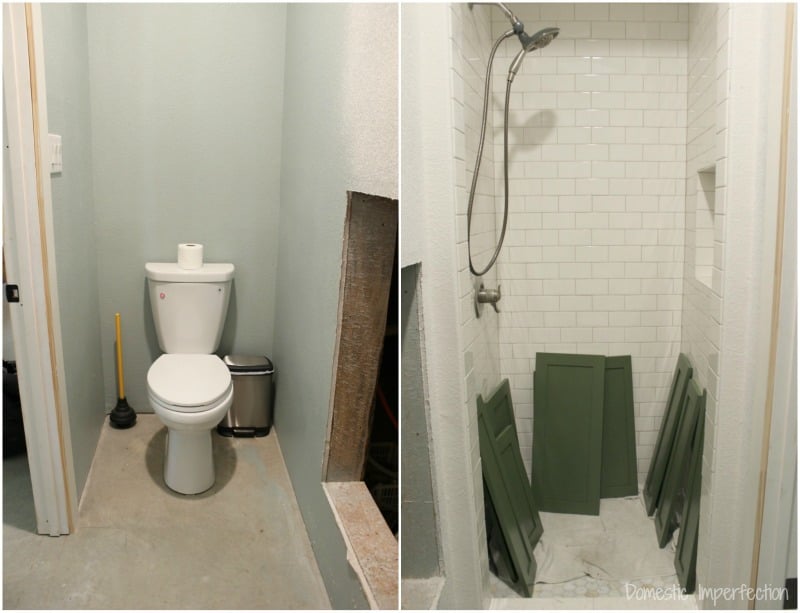 The guest bath is off the laundry room, and it is the tiniest room of all. The brick floor will continue in here, and it needs to be painted, but the shower is good to go besides needing a glass door. Also, that hole in the wall gives you access to under the stairs, and the plan is to build a shelving unit that is also a tiny little door.
Big Boys Underwater Room
I shared the plan for my older boys room before, and this year I intend to finish it. Truth be told I'm about halfway done already and it is looking really great. I haven't posted anything about it because I want to blog about the room from start to finish in a timely manner (so unlike me!) instead of dragging it out for forever.
Little Boys Dinosaur Room
Just this week Adam and I finally moved the baby from sleeping in our room (the closet actually, don't judge) to sharing a room with his older brother. It is going…okay. They mostly ignore each others cries, except that now they are both up at about 6am rather than sleeping blissfully till 8am in their own rooms (slash closets). Anyway, my two-year-old is crazy obsessed with dinosaurs, so that is what this room is becoming. For Christmas I bought him a giant dinosaur wall tapestry, so that will be the jumping of point for the decor. Here is a video I put together of Christmas morning to show you just how dino-obsessed Judah is …
And here is a closer look at that wall tapestry…
Master Bedroom Ceiling
Right now the ceiling in the master bedroom is just the spray foam insulation covered in blue dropcloths. Why? We had to have a "ceiling" to close on the construction loan, and since we were in a hurry we did this. It checked the box, and now I've been staring at it as I fall asleep for over a year. Adam and I have gone back and forth about what kind of ceiling to do in here, but as soon as we finished the wood ceiling in the kitchen we decided to do the same in here, since it was very budget friendly and somewhat simple. We will skin the beams in plywood and paint them white…sometime in 2018. Mark my words. Also, we really need a ceiling fan in here, so that is another reason for putting this on the to-do list. I'm one of those people who needs moving air while I'm sleeping, the stillness of no fan is almost suffocating. Is that weird?
Landscaping
Landscaping will be an ongoing project for many, many years. This spring I would like to add some greenery to the front, between the mini rock wall and the driveway. I think that will go a long way in adding some softness and life to the front.
There is also a hideous area on the side of the house where all the water flows when it rains. We have plans to make some sort of pretty fake river thing out of river rocks and mulch and whatnot, but putting that on the 2018 list feels a little too ambitious. We will see where things lead when spring rolls around.
Anyway, thats the list! I showed this list to Adam to get his thoughts and make sure he was on board, and he said it was ambitious but doable. Then I asked him what project we should start with, and as he was thinking I was sending him all the 'mudroom locker" vibes I could muster up. Finally he answered and said "Maybe with building a new dining room table." I was all ready to respond with "That's what I was gonna say!", but instead I was like "BABY! That's not even on the freaking list!" Anyway, we will see how this goes…
You may also like –
Floorplan and elevations for the new house
Double Bypass Sliding Barn Door – A DIY Fail
My husband really likes to build tables